A landmark moment in Major League Baseball (MLB) history, the Yankees and Red Sox traveled across the Atlantic for the first MLB games ever played in Europe. The two teams squared off in a two-game series June 29-30 at London Stadium. A result of various MLB rules, this was one of the few annual games that is flooded with sponsor signage around and on the field, including series presenting sponsors, batting helmet sponsors, and more. With this being a speciality event in sports, we used the Zoomph platform to track activity on social and the top social accounts.
Social Summary
Below is an overview of the statistics regarding tweets from the official MLB Twitter account (@MLB) that included #LondonSeries, the official hashtag of the series.

Mitel
The presenting sponsor of the series, Mitel had their logo on sight to see surrounding the entire event everywhere. From banners to helmets and even social graphics, you couldn't follow the event and not see the Mitel name. Over the series, Mitel received over 18 million projected impressions on Twitter, matching to an impressions value of over $96,000. We also were able to find a video posted from the official MLB Twitter account that featured Mitel's logo on the side of the helmets of the Yankees' outfielders Aaron Judge and Aaron Hicks. This tweet gained an impression value of $43.9K.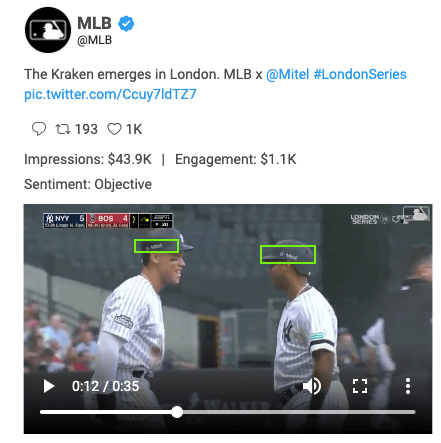 Cut4
Described as "MLB's burner account", if there is anything fun and exciting going on in baseball, count on Cut4 to be covering it. From fan videos in the stadium to videos of stars like Rams' running back Todd Gurley, and Prince Harry, Cut4 had all of the behind the scenes looks from this series. With over 120 million impressions on Twitter, Cut4 reached an impressions value of just over $630,000 for the series.

Invictus Games
Founded by Prince Harry, the Invictus Games Foundation is a foundation that allows injured, wounded and sick armed service personnel and veterans partake in playing sports. This weekend, the foundation took the chance to recognize their partnership with the MLB London Series. Among their posts included pictures of Prince Harry and its competitors on the field with players, one of the competitor's daughters placing the game ball on the mound, and the competitors playing a wiffleball game. The foundation's account was able to generate $70,478 in impression value over 13 million impressions.
For more social analytics and stories regarding the MLB and all things sports and social, follow us on Twitter @zoomph or check out our website Zoomph.com.
More Articles Like This