The Mariners and T-Mobile struck a 25-year naming-rights partnership to rebrand the former Safeco Field as T-Mobile Park. The company paid 87.5 Million for the field naming rights and after months of work, the park's Grand Opening took place on March 28. With the sponsorship costing the company a pretty penny, we wanted to see how much value the sponsorship brought T-Mobile during MLB Opening Day weekend.
It wouldn't be official if we didn't do ribbon-cutting, right?? Proud to announce that @TMobilePark is officially open for business!! ⚾️ Happy #OpeningDay everyone, and go @Mariners 🙌🏻 pic.twitter.com/uD5lEoLUkO

— Mike Sievert (@MikeSievert) March 28, 2019
Social Summary
We analyzed the conversation around the sponsorship using feeds tracking Tweets from or mentioning T-Mobile Park as well as keywords and hashtags refering to the park. We tracked the conversation from the morning of the Mariners Grand Opener on the 28th , until the end of Opening Day Weekend on the 31st and found some interesting takeaways from both the posts produced and audience of the conversation.

As seen above, the sponsorship of the park generated significant levels of engagement and almost 70 million impressions, resulting in an impression value of 364K for the brand.
Top Tweets
The top tweet from the event, aside from the Mariner's official accounts, was from Seattle Seahawks Linebacker KJ Wright, who threw out the ceremonial first pitch.
Thank y'all for having me https://t.co/xVasknrCC5

— KJ (@KJ_WRIGHT34) March 30, 2019
Top Hashtag
Naturally, the Mariners official Twitter hashflag stood out as the number hashtag used in the conversation. Followed closely by #mariners and #gomariners.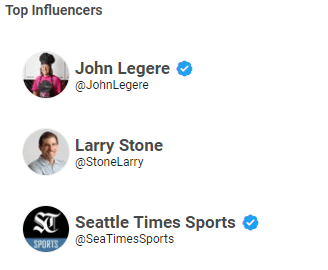 T-Mobile's presence was very present in the conversation on social as well. Outside of the official team and park handles, the company's CEO, John Legere was the top influencer during opening day, as well one of the highest mentioned accounts on Twitter, with over 350 tweets tagging the magenta-clad leader.
.@Macklemore performance? ✅ @MikeMcCreadyPJ National Anthem? ✅ Edgar Martinez first pitch? ✅ @TMobilePark's first @Mariners game is officially underway!! Look how incredible this park looks!! pic.twitter.com/XYQ4w27ZDZ

— John Legere (@JohnLegere) March 28, 2019
Other top influencers of the park's grand opening included Larry Stone, a columnist at the Seattle Times, the Seattle Times Sports account, and Greg Johns, an MLB.com reporter.
Sneak preview: A snippet of Pearl Jam lead guitarist Mike McCready warming up for his National Anthem gig today. pic.twitter.com/WRozOQz8nK

— Larry Stone (@StoneLarry) March 28, 2019
Sponsorship Strategy
T-Mobile took a differentiated approach to their naming rights sponsorship for T-Mobile park, something that should be no surprise for the self-proclaimed "un-carrier".
The company developed new and creative ways to weave their brand and product into the park experience, doing much more than just add their logo to the stadium.
Experience
Along with the large T-Mobile logo placement on and around the ballpark, the company layered their branding in different experiences throughout the stadium and an extensive program to reward its customers. Starting on Opening Day, the festivities began with a pre-game performance by Seattle native Macklemore in the brand new T-Mobile "Pen".
.@macklemore in the house!

Our OG @Mariners fan got the party started right at @TMobilePark. pic.twitter.com/MtioxRHEFD

— T-Mobile (@TMobile) March 29, 2019
This branded area will continue to open prior to prior to games, letting fans watch batting practice and pitcher warm-ups.
Furthering the partnership, T-Mobile customers will have their own dedicated entry to the 'Pen, along with occasional giveaways, free food, and drinks.
The heavy partnership ties benefiting their members continue with a T-Mobile Customer Entrance on the left side of the stadium, where customers can gain fast-track entry through the magenta gate by simply showing their phone.
The Pen entrance now includes a T-Mobile fast-track entry for T-Mobile customers. pic.twitter.com/VgXYvZuDUm

— John Trupin (@JohnTrupin) March 20, 2019
In alignment with their heavily advertised T-Mobile Tuesdays campaign, fans can be rewarded with VIP seat upgrades, free food, drinks, and Mariners gear. When it comes to drinks, the companies branding was even added to "The Magenta Mojo Cocktail", which was created by 2019 James Beard Award semifinalist Anu Apte.
Product
T-Mobile didn't stop at including their branding of different experiences throughout the park. The Uncarrier found ways to ensure their product was part of the partnership as well. T-Mobile tripled cell capacity at the ballpark to ensure that customers won't experience frustrating phone issues that are often present at sports stadiums. Continuing with the tech-themed involvements, they installed 19 high-speed charging areas where fans can leave their phones in a locker to charge. Finally, the company announced that they'll have tech displays at the park letting fans learn more about new technologies and capabilities.
The magenta isn't just for show - magenta-painted poles will indicate charging stations throughout the Pen: 32 outlets per pole. The traditional wall stations will be updated to have automated lockers so you can actually comfortably leave your phone charging! pic.twitter.com/SJ9xKqHoKg

— John Trupin (@JohnTrupin) March 20, 2019
Traditional Media
The Brand also ran a TV spot on ESPN which told the story of the preparations and excitement leading up to the opening of T-Mobile Park. The 60-second spot, created by the creative agency, Panay Films, tied in both their passion for baseball and the companies powerful network technology.
.@TMobile loves baseball and loves covering 99% of fans everywhere! Happy #OpeningDay, everyone!! pic.twitter.com/31Bthya5Vb

— John Legere (@JohnLegere) March 28, 2019
Audience
With a naming rights sponsorship for a professional sports team requiring significant financial outlay, we wanted to learn more about the audience that made up the ballparks opening day conversation, to learn who T-Mobile was hoping to increase their exposure too.
We found a higher percentage of Gen-X and Baby Boomer's in the audience compared to the U.S. baseline on twitter.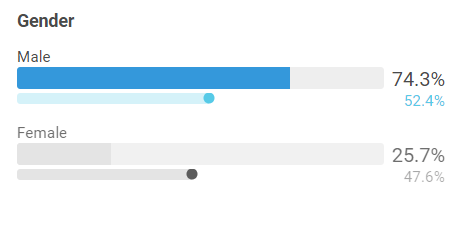 We found that the audience on opening day had a significantly higher Male audience compared to U.S. baseline averages.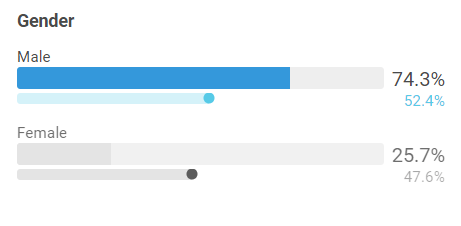 Interestingly, the audience had a higher than average percentage of both "parents" and "married" fans, which aligns with the companies attempt to rival competitors like Verizon and AT&T who heavily advertise family plans to attract and lock in customers.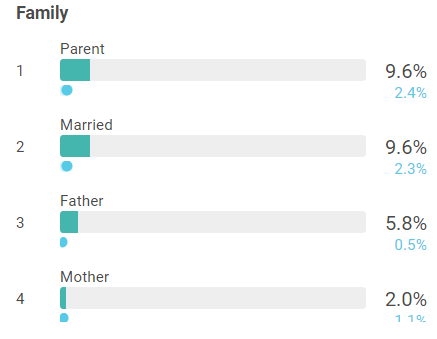 Finally, we found a high interest in Pop and Hip-Hop/Rap music, which makes sense when considering the genre of the pregame performer Mackelmore.

Key Takeaways
Based on the insights we discovered from T-Mobile's park sponsorship, here are a few final thoughts for brands taking part in naming rights sponsorships and other types of partnerships, to help get the most out of your marketing dollars.
Raise awareness of the partnership – ensure your partnership is visible by posting about it from your companies social media, as well as having social savvy team members share updates from their own accounts. If possible, make sure the agreement includes posts from the team/stadium featuring your company's involvement to raise additional awareness with their fans.
Showcase the product  – Rather than just having your company's name associated, find creative ways to tie your product or services into the experience. Whether it's in-game fan engagement, refreshments, or even pre or post-event experiences, find ways that make sense and become things fans appreciate and look forward too.
Align with existing campaigns – Tie in existing marketing campaigns with the partnership and vice versa. If there are ways to feature promotions or campaigns which are already in place, why not multiply the exposure of these campaigns in an environment where fans are more likely to be looking at the brand from a positive light, compared to just seeing an ad on TV or in their social feeds.