With the start of the new season, MLB's Opening Day was a big day for the league and on social media. With fans excited for a new season of Baseball, Brands and Advertisers saw an opportunity with many brands partnering with the league, individual teams, or even just activating on social.

To track activity surrounding Opening Day Weekend, we monitored the hashtag #OpeningDay from 3/28-3/31 as well as mentions of & posts from the league and teams. We also tracked their new emoji hashtags as well. Here are some insights we discovered  
Nearly 530 thousand

 tweets were shared over the course of the weekend, bringing in over 

$

74.1 million in impression value on Twitter for the MLB. 

 

The Dodgers generated more Twitter mentions than any other team this weekend

 (27K)

, followed by the Phillies

 (25K)

, Yankees

 (24K)

, and Cubs

 (19K)

.

 

The new emoji hashtags were a hit on social. The top ones were:

 
#PinstripePride (Yankees)
Top Sponsors 
For sponsorship activations, owned brand activity is not the sole way to measure and assess the value. Brands have earned value through long term-relationships with teams and positive interactions with fans. As a result, we looked at brand activity, brand mentions, and any unique hashtags and terms used to incorporate the brand into the social conversation.  
Sorted by total social activity, which is the total number of posts and social interactions generated around a brand, here are the Top 10 brands and sponsors surrounding the MLB's Opening Weekend.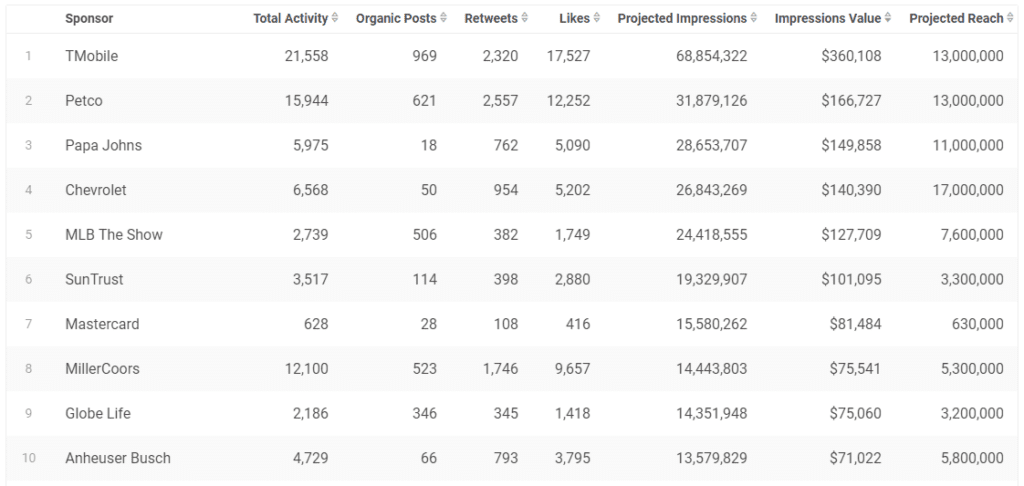 MLB The Show
The newest installment of "The Show" video game franchise was released just before the start of the baseball season. With the heightened attention around Opening Day, there were game giveaways through MLB Network. MLB The Show generated nearly 2x more Twitter activity than its competitor, RBI Baseball 19, despite RBI Baseball getting promoted posts from the Yankees and Rockies. 
Impressions Value: $

128

K

 

Total Social Activity: 

2.7K

 

Projected Reach: 

7.6

M
#OpeningDay. Is. Here!

Call out the plays you'd like to see featured as an #MLBTheShow Moment as you see them! pic.twitter.com/vwa2CSx6Zd

— MLB The Show (@MLBTheShow) March 28, 2019
Chevrolet
As an official partner of Major League Baseball, Chevrolet paired up with MLB for promoted content encouraging fans to be the "loudest in baseball" by using the new emoji hashtags. MLB and every team posted about it. Sponsoring something that initiates that much social interaction is going to get attention for your brand. 
Impressions Value: $

140

K

 

Total Social Activity: 

6.6K

 

Projected Reach: 

17M
The day we have been waiting for since October. #OpeningDay pic.twitter.com/hJxCxKA1SI

— Chevrolet (@chevrolet) March 28, 2019