As one of the most talked about sports events of the year, millions tuned in Saturday to watch the 145th Kentucky Derby. Knowing it'd make an impact on social, we tracked mentions of & posts from the Kentucky Derby official twitter account, as well as hashtags and keywords around the event from 5/4-5/6. Here are some insights we discovered.

Over 343 thousand posts were collected in our feed and generated over 5.5 billion impressions on social media, which we calculated equals over $29 million in impression value. With over 233.1 thousand people engaged in the conversation, our new engagement valuation capabilities measured the value at over 1.1 million during the weekend.
Top Posts & Influencers
As many read on Sunday, Donald Trump had weighed in with his thoughts of the race. President Trump's tweet ranked as the top tweet from the event, generating a social impression value of over $315,000.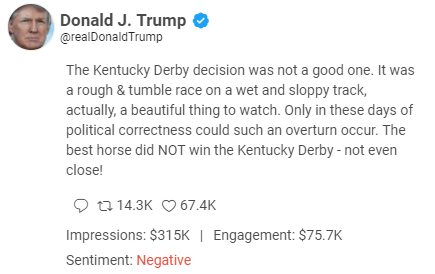 This was followed by a tweet from Barstool Sports founder, Dave Portnoy, which featured New England Patriot's Quarterback, Tom Brady and generated $31,000 social engagement value. in social engagement value. The 'barstool effect' was very apparent, as Dave Portnoy was the most influential sports media voice in the conversation on Twitter during the weekend, outside of the Derby official accounts due to his affinity to Sports and multiple posts regarding the Derby.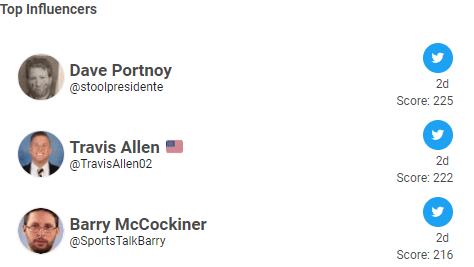 Top Activity
As you'd imagine, activity primarily occured on the day of the race, with over 240k posts being generated. Specifically during the hour of the race, conversation spiked with over 69K tweets occurring.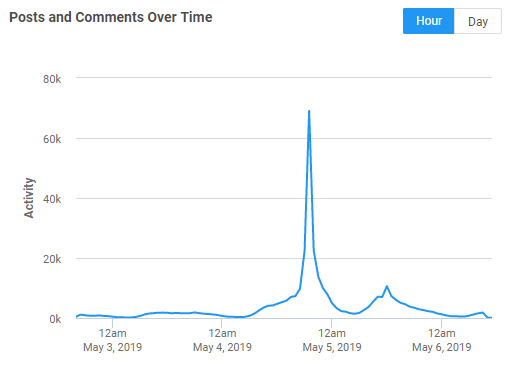 Top Sponsors
For sponsorship activations, owned brand activity is not the sole way to measure and assess the value. Brands create content that allows them to join the conversation and potentially attract attention from fans interested in the race. As a result, we looked at brand activity, brand mentions, and engagements.
Sorted by total projected impression value, here are the Top 10 brands and sponsors surrounding the 2019 Kentucky Derby.

1.Twin Spires
For brands, Twin Spires took first place on social, generating an impressive amount of activity and impression value. This was in part due to a major mention from the events top influencer and founder of Barstool Sports, Dave Portnoy. His tweet along generated over 31K in engagement value for the brand.
Impressions Value: 

$128K

Total Social Activity: 40K

Projected Reach:

 4.4M
Just a couple Michigan Men enjoying the @KentuckyDerby @TwinSpires

Oh and thanks to @TomBrady for letting me try on the custom 6x Super Bowl hat. Fits perfect by the way. pic.twitter.com/z7MsN5q3P7

— Dave Portnoy (@stoolpresidente) May 4, 2019
Runners Up
Woodford, Mass Mutual, Corona, Ram Trucks and a number of other brands activated on social and captured the attention of those in the conversation around the Derby.
Have the best view at @churchilldowns in a 2019 Ram 3500 with an available 12-inch touchscreen. #KyDerby pic.twitter.com/wzlLHuK4NZ

— Ram Trucks (@RamTrucks) May 3, 2019