With the first football-related excitement since the conclusion of the NFL season, the NFL draft marked the first opportunity for all football fans to start rooting for their teams once again. As the final draft picks were announced, we were excited to take a look at the social data we've been collecting since the morning of the draft. With NFL fans tuning in to see which college stars might be picked to give new hope to their team, brands and advertisers saw an opportunity to attract a piece of the attention, with some partnering directly with the NFL and individual teams, or even activating purely on social to stand out.

To track activity surrounding the NFL draft, we monitored mentions of & posts from the NFL and each of the 32 teams, as well as #NFLDraft and other related hashtags from the morning of 4/25-4/28. Here are some insights we discovered.
Over 425.4 thousand posts were collected in our feed and generated over 33.6 billion impressions on social media, which we calculated equals over $176.4 million in impression value. With over 1.1 million people engaged in the conversation, our new engagement valuation capabilities produced a value of $22.7 million over the length of the draft.
Top Sponsors
For sponsorship activations, owned brand activity is not the sole way to measure and assess the value. Brands create content that allows them to join the conversation and potentially attract attention from fans interested in the draft. As a result, we looked at brand activity, brand mentions, and engagements.
Sorted by total projected impression value, here are the Top 10 brands and sponsors surrounding the NFL Draft.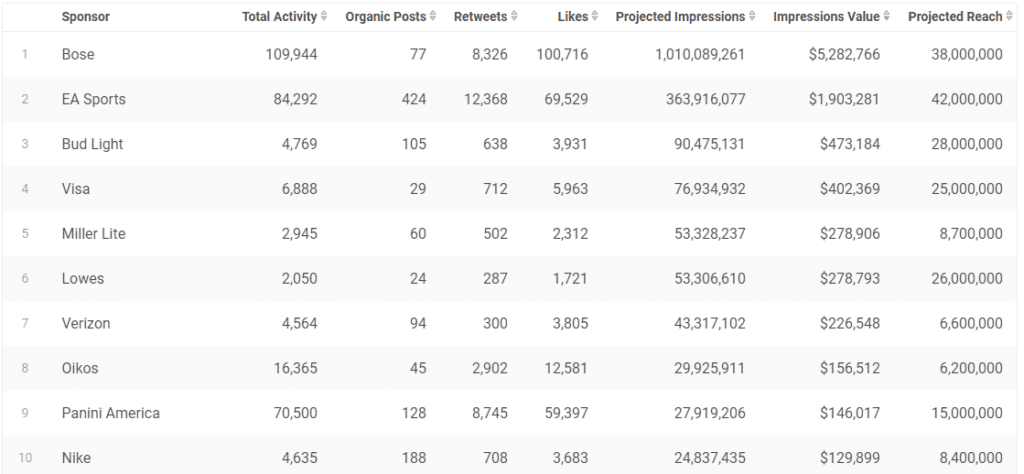 4.Visa
Apart from sponsoring content for the official NFL account, Visa took a unique approach to their draft and sponsored upcoming NFL players participating in the draft. Players like, Logan Ryan, Daniel Jones, and Derrick Henryv all posted about their time in Nashville and included the #VisaAmbassador hashtag.
Impressions Value: 

$402K

Total Social Activity:6.8k

Projected Reach:

 25M
Time is money 💰. Big thanks to @Visa for giving me faster ways to pay. At the NFL Draft, make Visa your first pick! #VisaAmbassador #NFLDraft pic.twitter.com/FQKqxTNKfg

— Logan Ryan (@RealLoganRyan) April 27, 2019
Takeaways
Investing in sponsorship of an event, team, or player, without developing a proper social campaign to amplify it, keeps your brand from tapping into a large amount of exposure. (Bose, EA Sports, Bud Light, Lowes, Verizon, and Nike got this right).
Higher indexing campaigns use display a greater level of creativity, whether it's product integration or powerful storytelling, it typically wins big with audiences, and feels less like an unwanted ad. (Bose, EA Sports, Lowes and Panini America nailed it here).
Find ways to showcase value. Whether it's headphones for watching videos, realistic graphics helping get a first looks at players in their new jerseys, building the event stage, or even getting to experience unforgettable events, it's a more meaningful way to position your brand. (Bose, EA Sports, Lowes, and Verizon led with this).
Involve influencers in your sponsorship and social campaign. Bringing in influencers related to the area of sponsorship, like pro football players or upcoming draft picks, help increase the authenticity that your campaign is presented to audiences with. (Bose, Bud Light, Lowes, and Verizon all did a great job of this).