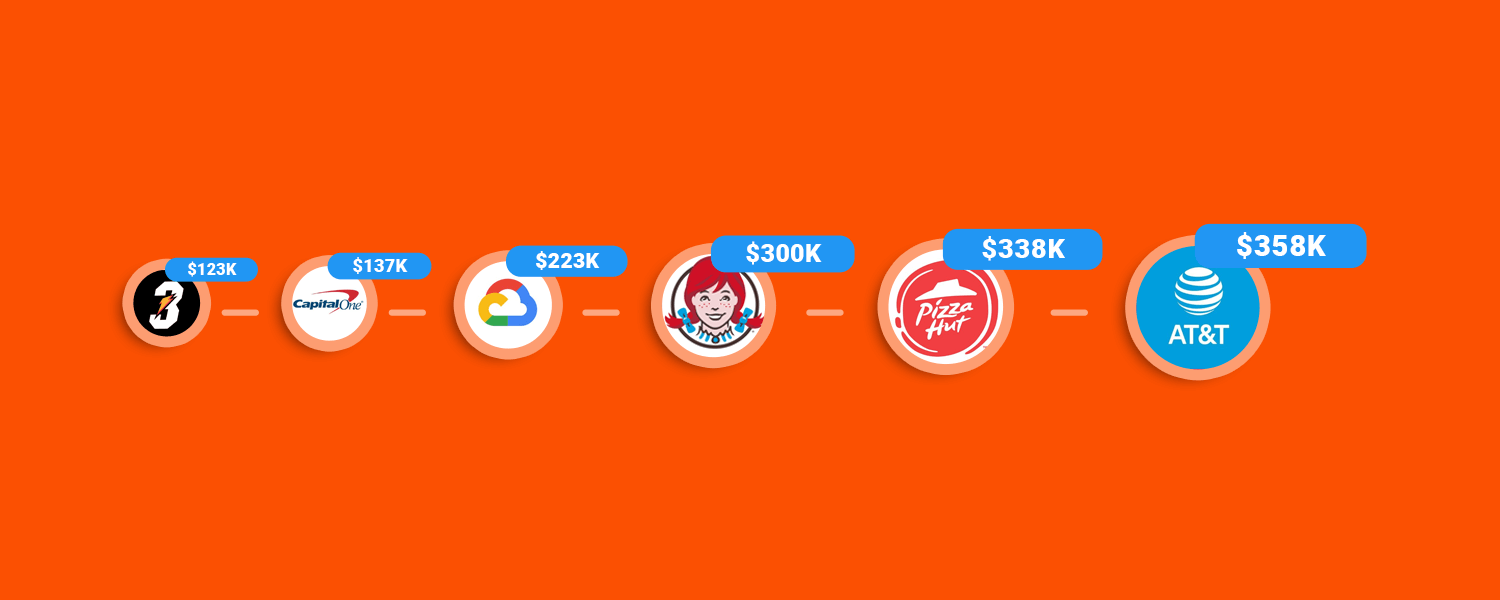 Uncategorized
March Madness Sponsors on Social – The Top 10 Brands From The NCAA Tournament
With the conclusion of the NCAA Tournament this week, we were excited to take a look at the data we've been collecting since it began on Selection Sunday. With college basketball fans on the edge of the seats, and social media erupting during the biggest moments, brands and advertisers saw an opportunity to attract a piece of the attention, with many brands partnering with the NCAA, colleges, or even just activating on social on their own.

Over 670 thousand posts were collected in our feed 

and generated 23.6 billion impressions on social media.

 

There were 23% fewer pieces of social activity generated from Week

end

 2 to Week

end

 1 and 34% fewer posts from 

Weekend 3 to Weekend 2.

 

According to our 

Social Media Value Index of the NCAA Tournament

, national champs Virginia were the most valuable team and school on Twitter. Behind them was Duke and their superstars followed by the three other Final Four teams: Texas Tech, Auburn, and Michigan State.

 
Top Sponsors 
For sponsorship activations, owned brand activity is not the sole way to measure and assess the value. Brands have earned value through long term-relationships with teams and positive interactions with fans. As a result, we looked at brand activity, brand mentions, and any unique hashtags and terms used to incorporate the brand into the social conversation.   
Sorted by total social activity, which is the total number of posts and social interactions generated around a brand, here are the Top 10 brands and sponsors surrounding the March Madness Tournament.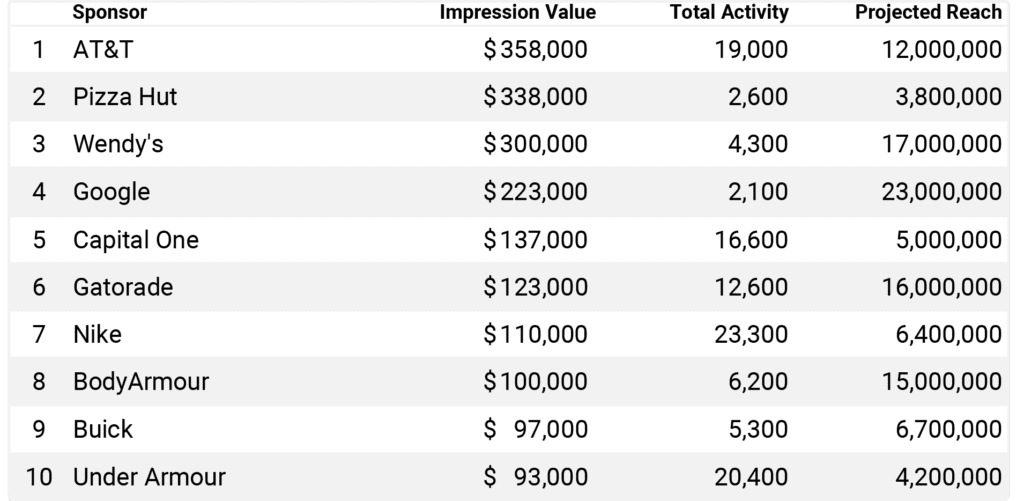 Pizza Hut
The official pizza provider of the NCAA, Pizza Hut brought a lot of diversity to its sponsorship marketing campaign. They sponsored the student section of fans at the stadium. They tapped into a few social media influencers on Twitter and Twitch to advertise new products and tweet about the games. Plus, they offered  free P'Zones to reward members if a 17-point comeback were to happen in the Final Four! All of that work made Pizza Hut a very active member of the conversation. 
Impression Value: $338K

 

Total Social Activity: 2.6K

 

Projected Reach: 3.8M
Hut Rewards Members: Score a FREE pep P'ZONE if there's a 17-point comeback during the #FinalFour or NCAA Championship games! https://t.co/p8yvXwHlZV pic.twitter.com/pnxBzBdrIt

— Pizza Hut (@pizzahut) April 2, 2019