The 2019 WNBA All-Star weekend showcased many of the talented athletes in the league. We knew the lineup of events would generate major conversation on social and utilized the Zoomph platform to track, analyze, and evaluate sponsor ROI. Using Zoomph, we tracked mentions of & posts from the WNBA official Twitter Account, as well as hashtags and keywords around the All-Star game from 7/26-7/29. Here are some insights we discovered:

Over 7.4 thousand posts were collected in our feed which generated over 1.7 billion impressions on social media. Utilizing the Zoomph Impression Valuation tool, we determined that this equated to over $9.4 million. The high level of engagement on content within the conversation attributed to an impressive $1.1 million in social engagement value. This illustrates the major attention garnered by the weekend's events, which helped drive major value for the league's official brand partners.
Top Influencers
To better understand what helped drive conversation about the WNBA's All-Star weekend, we took a look at the event's top influencers on social media. Basketball analyst and Rising Media Stars founder, LaChina Robinson, emerged as the number one influencer, closely followed by ESPN's Ramona Shelburne and Holly Rowe.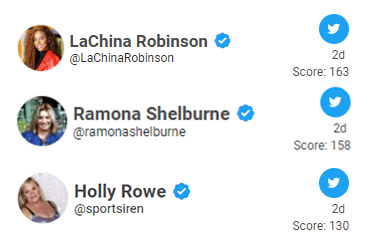 Top Sponsors
A number of brand partners sponsored the All-Star weekend, over various events. Some sponsors choose to also activate in the conversation on social, adding to the awareness generated. Below we ranked the top 5 brand partners by social impression value earned from their sponsorship.

AT&T
AT&T was the Title Sponsor of the tournament and was included in all Tweets from the official WNBA Twitter account, helping them generate a massive amount of exposure over the weekend. Tweets often tagged the AT&T official handle and they also had their logo featured on all team jerseys.
"I belong." @EWeezy_For3eezy stepped up on the biggest stage to win @ATT #WNBAAllStar MVP 💯 pic.twitter.com/sScFHCJOBJ

— WNBA (@WNBA) July 28, 2019