UFC 244 took place last weekend, which included matchups of some of the league's top fighters. We wanted to understand which fighters matchups and audiences made up the conversation on social, and how much social value was derived from the fight.
We tracked all activity around the handles, hashtags, and phrases of UFC 244 from 11/2/19 – 11/3/19. Over the weekend, over 416K posts used the official #UFC244 hashtag. Impressions on posts about the event reached 5.6 billion, helping generated an impression value of $29.8 million and an engagement value of $4.01 million.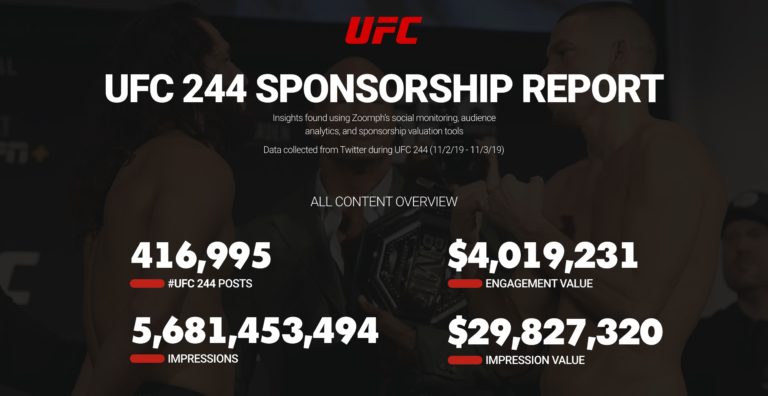 Using Zoomph, we analyzed the audience of the conversation around UFC244 . An insight discovered was that the UFC had a fan base 60.5% more likely to have an affinity to CBD products than the NFL and 52.4% more likely than the NBA. This is particularly interesting considering the UFC was the first of the three leagues to announce an official partnership with a CBD company. The UFC announced earlier this year a partnership with Aurora Cannabis and many fighters have been very outspoken of their use of CBD products, which are not prohibited by the league.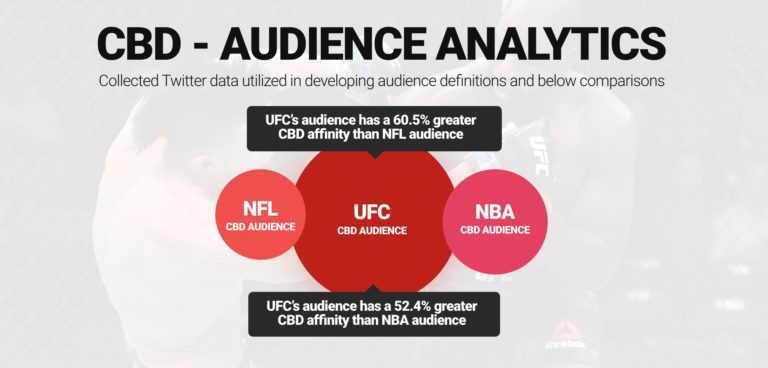 When gauging the conversation around each fighter team competing in UFC 244, we tagged posts from, mentions of, hashtags, and phrases related to any of the fighters or their matchups. The most talked-about fighter over the weekend on Twitter was Jorge Masvidal, with posts generating 73 million impressions and over $1 billion in social value. Other fighters generating major conversation on social included Nate Diaz, Kevin Lee, and Darren Till. See the complete ranking of the fighters generating the highest social value during UFC244 below, or download the full report here. 
At Zoomph, we have a passion for using audience analysis to better understand what makes the best sports sponsorships work. For more about our process or to see how we could help you, give us a shout!
More Articles Like This