As one of the biggest golf tournaments of the year, millions tuned in over the last week to watch the PGA Championship. Knowing it'd make an impact on social, we tracked mentions of & posts from the PGA Championship official twitter account, as well as hashtags and keywords around the event from 5/15-5/19. Here are some insights we discovered.

Over 62,500 posts were collected in our feed and generated over 5.4 billion impressions on social media, which we calculated equals over $28,700,000 in impression value. With over 105,700 people engaged in the conversation, our new engagement valuation capabilities measured the value at over $793,900 during the weekend. These are impressive numbers in the world of sponsorship marketing, giving prospecting brands something to consider when they allocate their event sponsorship budgets.
Top Activity
Social activity spiked numerous times throughout the tournament, reaching its highest points on Sunday at 6:00pm, and Thursday at 12:00pm.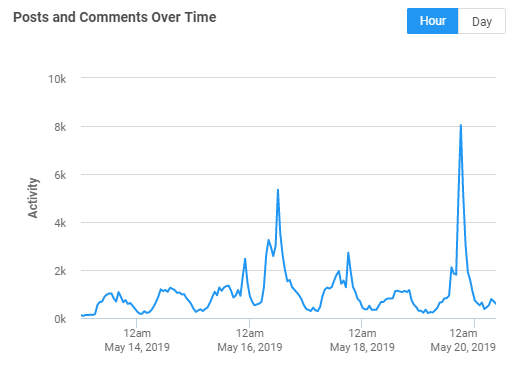 Top Mentions & Emoji's
As you'd expect, PGA Championship winner Brooks Koepka was the top mentioned account on Twitter, outside of the PGA Championship official accounts, with over 17,000 mentions. This was followed by The Masters winner Tiger Woods with over 14,000 mentions. Tiger also made an appearance in the top emojis used during the tournament, with 🐅 being used over in almost 4,000 posts.

Top Influencers
Many were engaged in the conversation on social throughout the tournament, with certain top influential accounts standing out. The top influential voices included the PGA Championships official account, followed by Barstool Sports @RiggsBarstool and @FrankieBorrelli, hosts of ForePlayPod.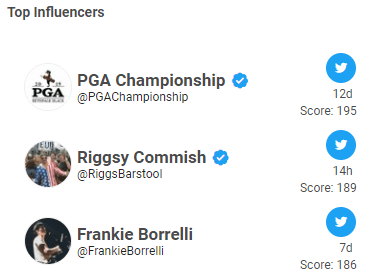 Top Sponsors
For sponsorship activations, owned brand activity is not the sole way to measure and assess the value. Corporate sponsorship of these types of events and social campaigns allow brands to join the conversation and potentially attract attention from fans interested in the tournament. As a result, we looked at brand activity, brand mentions, and engagements.
Sorted by total projected impression value, here are the Top 10 brands and sponsors surrounding the 2019 PGA Championship.