NBA Twitter has helped the NBA Finals become one of the biggest sports events on social media of the year. Millions tuned in over the last week to watch as the NBA Finals and social activity reflected the ups and downs of the exciting series. We tracked mentions of & posts from the NBA official Twitter Account as well as Twitter and Instagram hashtags and keywords around the series from May 30th to June 13th 2019. Here are some insights we discovered.

Over 1.3 million posts were collected in our feed and generated over 65.1 billion impressions on social media, which Zoomph calculates to over $341.7 million in impression value. With over 1.5 million people engaged in the conversation, our new engagement valuation capabilities measured the value at over $22.5 million during the series. The extremely high levels of engagement and stardom of the league's biggest players makes this event especially interesting in the world of sponsorship marketing. This gives prospecting brands a major opportunity if they were to allocate their sponsorship budgets properly and captivate on the major attention around these types of highly viewed sporting events.
Top Activity
Social activity spiked at the conclusion of the final game of the series, with over 165,000 posts shared during the hour after the Toronto Raptors defeated the Golden State Warriors.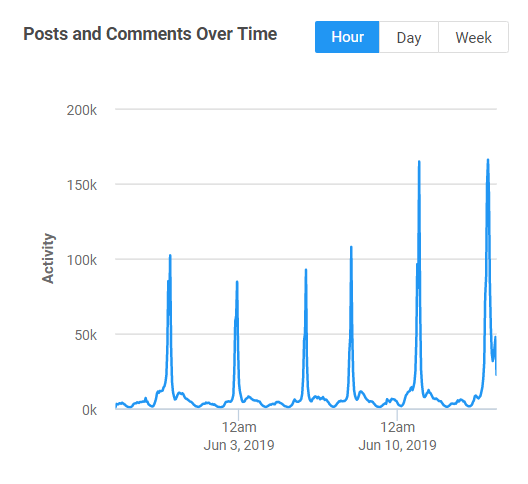 Geographically, the tournament's conversation reflected the teams who competed for the championship. The largest social conversation came from Ontario, the province where Toronto is located and home the Toronto Raptors who won the series, followed by California, home of the Golden State Warriors.

Top Mentions & Hashtags
Outside of the NBA and sports media related Twitter Accounts, the top mentioned people included the Raptor's @Klow7 (59K), Golden State's @Stephencurry30 (50K), Rapper and Raptors superfan @Drake ( 48K), and Raptor's @Kawhileonard (40K).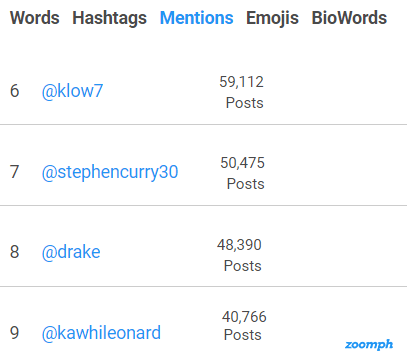 Aside from the official #NBAFinals hashtag, the top performing hashtags included Toronto's #WeTheNorth & #Raptors dominating with a combined 1.75 million uses. These were followed by GoldenStates's #DubNation & #Warriors with a combined 495K uses.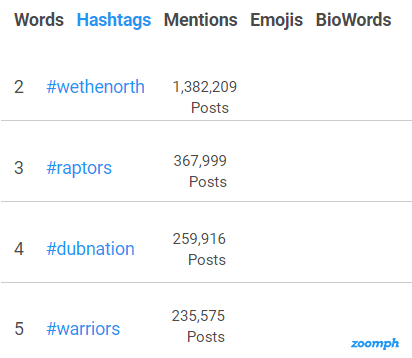 Top Influencers
Millions were engaged in the conversation on social throughout the series, with certain top influential accounts standing out. Aside from the official NBA accounts, according to Zoomph's proprietary contextual influencer scoring, the top influencer of the NBA Finals was Canada's Prime Minister, Justin Trudeau.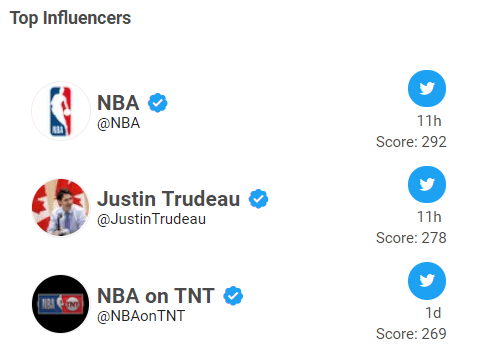 Top Sponsors
For sponsorship activations, owned brand activity is not the sole way to measure and assess the value. Corporate sponsorship of these types of events and social campaigns allow brands to join the conversation and potentially attract attention from fans engaged in the series. As a result, we looked at brand activity, brand mentions, and engagements.
Sorted by total projected impression value, here are the Top 15 brands and sponsors surrounding the 2019 NBA Finals.