At the site of one of the most storied courses in the United States, Gary Woodland finished the weekend at -13 and champion of the 2019 US Open. As one of the four majors on the PGA TOUR, it was guaranteed to make an impact on social media. From June 12 to June 16, 2019, we tracked mentions of & posts from the US Open official Twitter account, as well as hashtags and keywords around the event. Here are some findings and highlights we discovered.

Over the span of the event, over 37,600 organic posted were gathered in our feed and showed over two billion impressions on social media. These numbers equate to $12.6 million in social media impression value. With over 89,300 people engaged in the conversation, our new engagement valuation capabilities measured the value at over $527,000 during the weekend. These are valuable metrics in the world of sponsorship marketing, giving corporate brands something to consider when allocating for sponsorship budgeting.
Top Activity
Social activity spiked numerous times throughout the tournament, reaching its highest points on Sunday, June 16 during the 9:00 pm EST hour.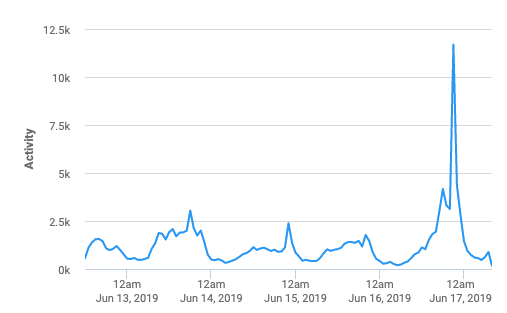 Top Mentions
To no surprise, US Open winner Gary Woodland was the top mentioned account on Twitter, outside of the US Open official accounts, with over 12,000 mentions. The top mention during the event with no golf affiliation was former NFL Punter and now podcaster, Pat McAfee, with 5,705 mentions.
Top Influencers
Throughout the tournament, many were engaged with the event on social, including numerous prominent social figures. Among these figures were Pat McAfee and co-host of Barstool Sports' Fore Play podcast, Riggs.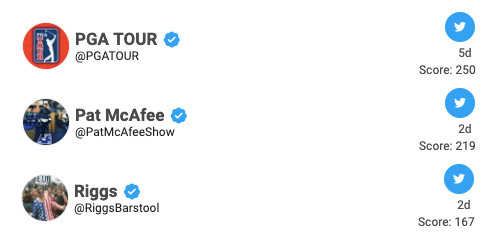 Top Sponsors
For sponsorship activations, owned brand activity is not the only way to measure and assess the value of content. Through social media, corporate sponsors have the chance to engage in conversation with the followers of the event, with the potential to attract attention to their brand from these communities. To show the value of this engagement, we looked at numbers from brand activity, brand mentions, engagement.