As one of the biggest professional tennis events of the year, millions tuned in over the last week to watch the French Open. Knowing it'd make an impact on social, we tracked mentions of & posts from the Roland-Garros official Twitter account, as well as hashtags and keywords around the event from 5/26-6/9. Here are some insights we discovered.

Over 535,000 posts were collected in our feed and generated over 43.7 billion impressions on social media, which we calculated equals over $229.6 Million in impression value. With over 17.9 million people engaged in the conversation, our new engagement valuation capabilities measured the value at over $16.5 million during the weekend. The significant international social conversation around the tournament makes this event especially interesting in the world of sponsorship marketing, giving prospecting brands something to consider when they allocate their event sponsorship budgets.
Top Activity
Social activity spiked on the final day of the tournament, with over 424,000 posts throughout the day.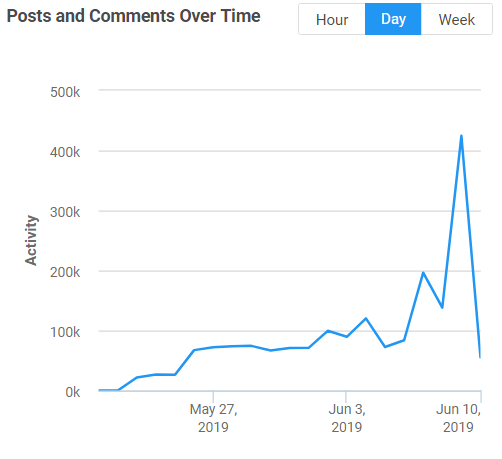 Geographically, the tournament was talked about on social internationally, with the largest conversation coming from France, followed by Madrid and California USA.

Top Influencers
Many were engaged in the conversation on social throughout the tournament, with certain top influential accounts standing out. Aside from the official Roland-Garros account, the top influencer of the French Open was American Rapper Tyler The Creator.
FRENCH OPEN, PARIS FRANCE pic.twitter.com/KkyH4Ugkst

— Tyler, The Creator (@tylerthecreator) June 9, 2019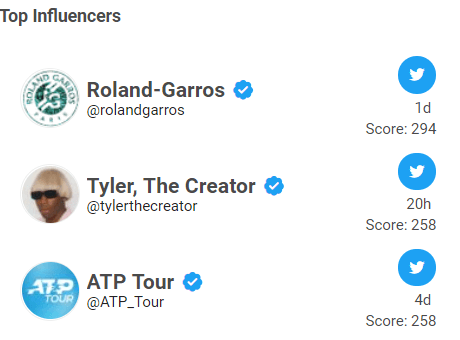 Top Sponsors
For sponsorship activations, owned brand activity is not the sole way to measure and assess the value. Corporate sponsorship of these types of events and social campaigns allow brands to join the conversation and potentially attract attention from fans interested in the tournament. As a result, we looked at brand activity, brand mentions, and engagements.
Sorted by total projected impression value, here are the Top 10 brands and sponsors surrounding the 2019 Roland-Garros / French Open.