CrowdTangle has stopped offering Twitter insights through the main CrowdTangle dashboard. The social monitoring platform notified partners and users that starting September 29, 2019, CrowdTangle for Twitter integration will be deprecated.
Zoomph provides robust Twitter insights brought in by our API's with Twitter. These insights can be leveraged once logged into Zoomph and authenticating your Twitter account with your account. To help protect you and your company, we play it safe; only authorized users with access to your team's owned and operated social channels with have access.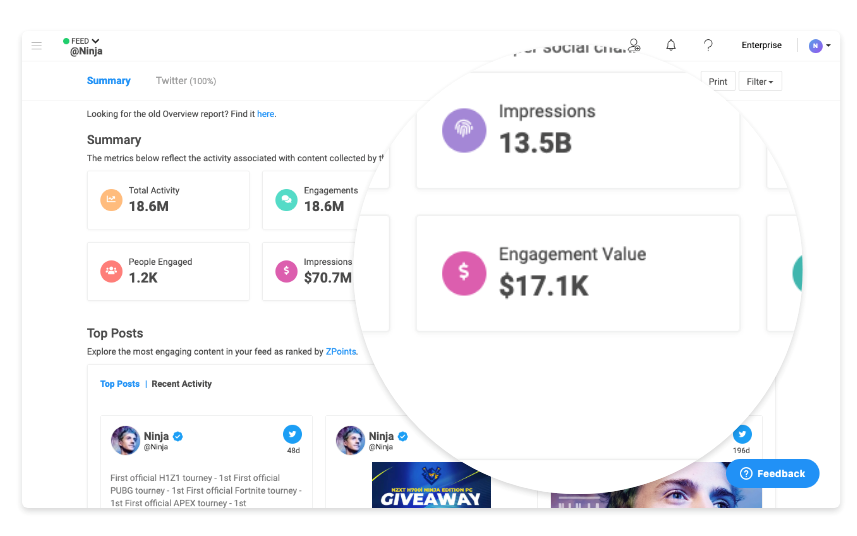 By integrating with Twitter directly, Zoomph offers a variety of insights including:
Impressions
Engagement
Total Activity
Reach
People Engaged
Impression Value
Engagement Value
Top Hashtags
Top Mentions
Top Clicks
Top Words
These insights are accessible in many places in our platform through different types of reports and filters. After you have compiled your data and filtered down to the data you want most, you can export your findings into classified reports.
The insights Zoomph brings to your social measurement is not just for Twitter, but Facebook, Instagram, Instagram Stories, YouTube, and Twitch. When you utilize Zoomph, you will be able to better track, monitor, and report on the data that matters most to your team and your brand partners. As social media goes beyond the likes and views, the data Zoomph provides is what will play a key role in summary reporting, content initiatives and strategy, negotiations, and more.

When you team up with Zoomph, you get access to a platform that enables the members of your team, across multiple departments, to simply perform better and be smarter. Whether it's aligning your sales pitches and prospecting better, growing sponsorship, or creating more useful marketing content, Zoomph provides you with the tools you need to make it happen.
To learn more about how Zoomph can provide you with the tools you need to grow your social intelligence, please contact us today and we can get you started on growing your data.
If you've been affected by CrowdTangle's Twitter deprecation, please contact us today to learn more about how we can provide you with the data and insights needed to grow, report, and create opportunities