This past weekend, League of Legends & Riot Games took center stage in the esports scene as the recently rebranded "League Of Legends European Championship" (LEC) started their Spring Split. The ten best teams in Europe played their first two of 18 matches this season on what was the most viewed Twitch channel over the past week.
Before the Spring Split began, Riot Games also announced partnerships with major brands like Kia Motors, Alienware, and Shell. "Hashflags" were created by Twitter to unify fan conversation. Videos were made detailing changes to the league structure & ensuring fans were aware of everything new.
After tracking the conversation around the league on Twitter as well as assessing the social audiences of league partners and fans, here are some interesting insights I found, identifying the top teams, influencers, and audience insights that show both why current partnerships work and future ones can be identified.
Data Discovery
To track activity on Twitter to detail reach & impressions of the event, we monitored all activity using #LEC and any of the hashflags created.
Unlike mainstream sports, esports teams are hard to track for direct team mentions over a period of time for a specific event. Teams have their hands in many different games and often communicate through one central team channel. For example, this past weekend, Team Vitality was in a CS:GO tournament. So to make it fair, only the hashflags were tracked and team stats were sorted out after the fact.
Social Summary
From midnight GMT on 18/01/19 to midnight GMT on 20/01/19, there were over 10 thousand posts made. 15 million people were reached on Twitter alone & nearly 300 million impressions were registered.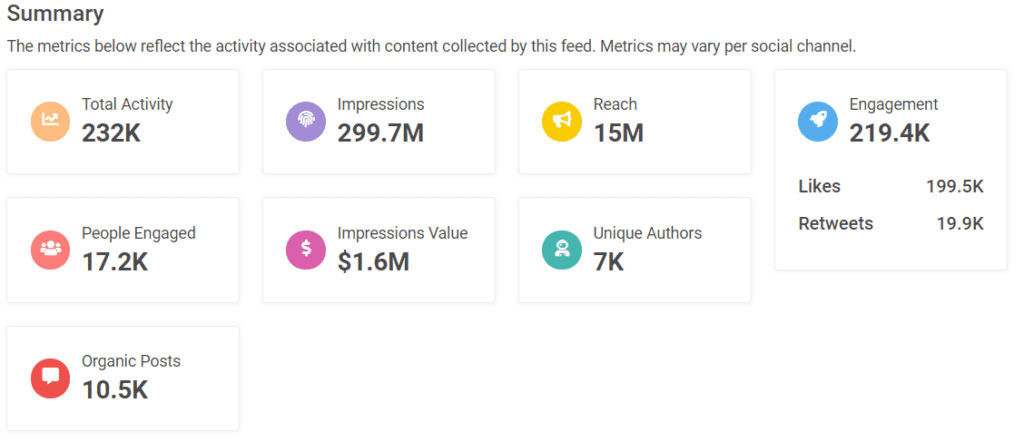 Geographically, over 32% of all activity took place in Spain, home of Origen. Behind that were the United States, France (Team Vitality), United Kingdom (FNATIC, EXCEL, etc.), and Germany (G2 Esports, Schalke 04 Esports, etc.).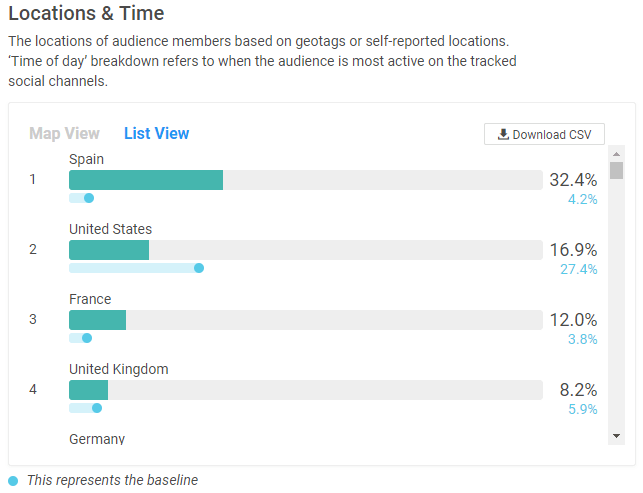 Audience Analysis
Assessing your digital audience can go a long way to figuring out the ideal content to share, who to partner with, and how to enhance your arguments that can accompany traditional survey data.
Earlier in the week, Riot Games announced a notable partnership with Kia Motors, where they were to be a flagship partner for the league. Looking at the social audience from both parties, this was the right move for all parties involved.
Looking at those talking about LEC, it makes sense for them to have an automobile partner. LEC's digital audience are 3x more likely to hold "business decision maker" positions (managers, executives, etc) than the average Twitter user. As a result, they're more likely to have flexible income for things such as a car. Then, when looking at specific brands, LEC digital fans express more positive sentiment toward Kia than any other car brand.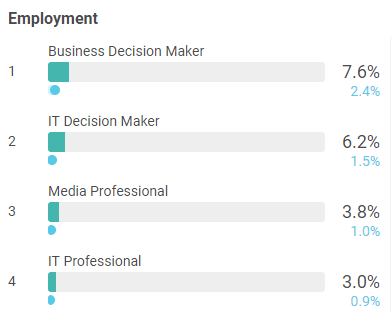 Next, when we looked at Kia's social audience based in Europe, they are far more interested in esports than the average European. In terms of sport preference, esports was second behind football amongst their followers. As a result, an esports partnership for them makes sense and crossover marketing between the two sides would go over well.

Assessing fan behavior, we also determined that fans of the LEC are three times more likely to be interested in both fast food and in soda/energy drinks. This could be a good area of opportunity for Riot Games.
For soda & energy drinks, our data says that fans of the LEC express more positive sentiment toward Monster Energy than any other beverage. They also talk about Coca-Cola and Red Bull more than any other beverage. For fast food restaurants, LEC fans may talk about & follow McDonalds more than anyone else, but they express more positive sentiment towards Arby's and Burger King. Those two might make more sense to partner with.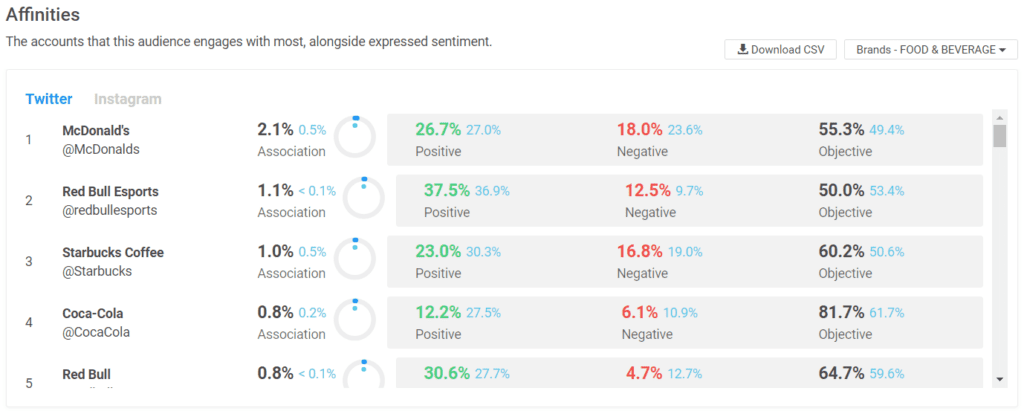 Top Teams
When gauging the conversation around each team, we gave a tag to each time a team was mentioned, included in text, or any of their hashtags/hashflags were used.
The most talked about team over the weekend on Twitter was FNATIC, the runner-up in last year's World Championship. Over 21% of the organic conversation was about them, as they went 0-2, including playing in one of the featured "games of the week."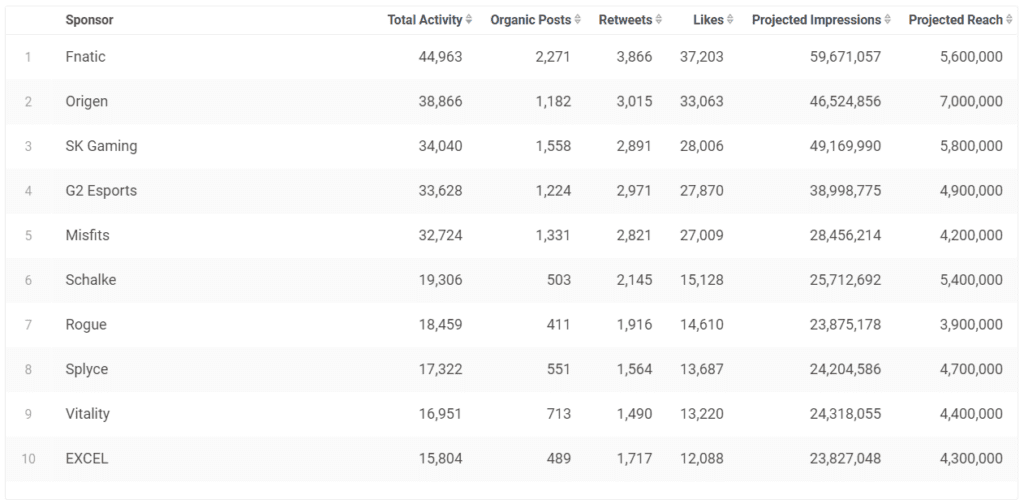 In terms of owned conversation, Origen saw the most interactions per post on their content. The Spanish club beat FNATIC on Day 2.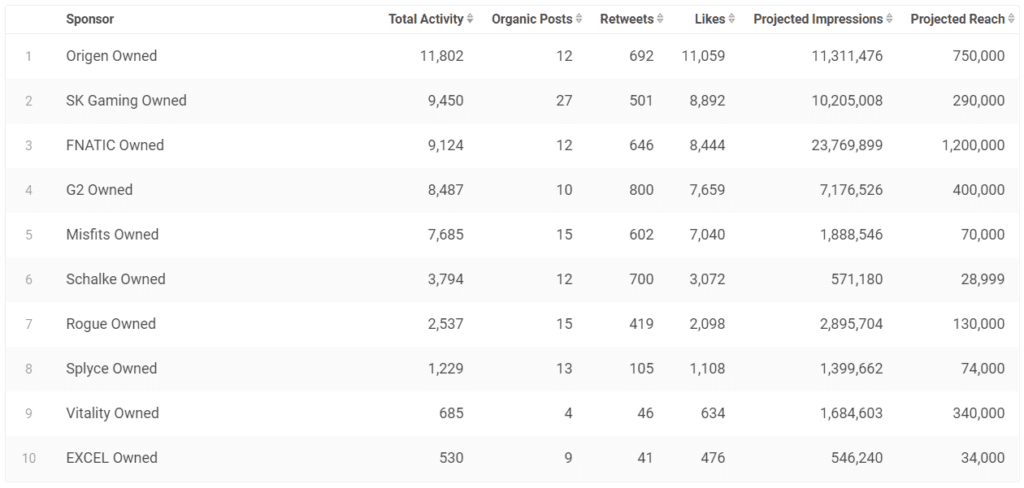 Top Influencers
When it came to individuals, the one with the greatest impact on the social conversation was host Eefje "Sjokz" Depoortere. Thanks to her large following (38% of those talking about LEC follow her on Twitter) and posts & photos around the event, she received a large amount of social engagement.
Reunited with @xPekeLoL at #LEC 😬 Good luck this year amigo!! pic.twitter.com/NMUHdzoxQR

— Eefje Depoortere (@sjokz) January 19, 2019
Behind her was:
On the brand side, apparel company Raven was the most influential on social media during Week 1 of the LEC. The jersey manufacturer for EXCEL showed how to perfectly enhance the typical brand-team relationship, running giveaways and posting effectively during the event while supporting their partners.
To celebrate @EXCEL's historic first win in the opening weekend of the #LEC, we're giving away a signed official 2019 jersey.

To win:
✅ Follow @RavenGG on Twitter
✅ Subscribe to https://t.co/cJhVQTGYht
🔁 RT this tweet#ThriveTogether #TeamRaven pic.twitter.com/qIhVdkM9px

— Raven (@RavenGG) January 19, 2019
Takeaways
Based on the first week of the LoL European Championship, here are some takeaways that you can bring home for your sports team or brand:
Remember to assess your audience before going into corporate partnerships. In partnership marketing today, it isn't enough to just say you're a big sports team & you'll get lots of eyeballs. You need to be smarter about how you sell yourself. And brands, make sure you ask the right questions.
There are many factors that go into what makes a corporate partner the right fit, specifically on digital & social media. What brand does your audience follow the most? What brand do your fans think the highest of in a certain category? Does said brand have a presence in your market or has potential to be based on audience demographics? All of this is possible to find out through digital analysis.
Recognize your influencers. Whether they are a part of your own team, the press, or a superfan, these people can play a key role in driving fan conversation and influence opinions. Empower them and make sure you are following them the same way you would your own players.
At Zoomph, we have a passion for using audience analysis to better understand what makes the best sports sponsorships work. For more about our process or to see how we could help you, give us a shout!