The eyes of the sports world were on the Bay Area over the last week as Alabama & Clemson met for the fourth straight year in the College Football Playoff and for the third time to decide the national champion. The game ended up being much more lopsided than any of their previous meetings, with Clemson winning 44-16.
We at Zoomph tracked the activity around the College Football Playoff on Twitter, from before the Cotton Bowl and Orange Bowl to after the National Championship. This was done by collecting posts from & mentioning each team, posts from & mentioning the CFB Playoff, and any tweets using the emoji hashtags from the event.
During the semifinal matchups, 79 million people were reached on Twitter, with a higher number coming from the Orange Bowl. During the National Championship, from one hour before kickoff to one hour after the final whistle (peak traffic & the closest equivalent to a TV consumer), there were over 300K posts and retweets that reached 120 million consumers & registered over 1.5 BILLION impressions.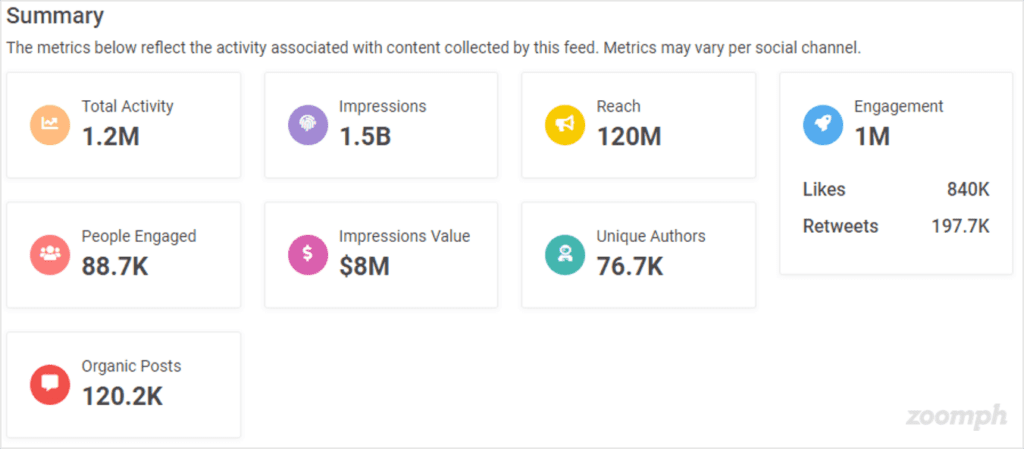 As with any major sporting event, creative activations on digital are brought into the spotlight, from teams to broadcasters to advertisers. This year was no different, as the College Football Playoff, from the semifinal matchups to the final game, showcased some fantastic work, innovative executions, and ways for all to be inspired.
5 Takeaways from the National Championship
1. Tap into your alumni & influencers
Despite being the lower seeds in their matchups during the first round of the CFB Playoff, Notre Dame and Oklahoma had the biggest presence in the conversation before the games kicked off. This is thanks in large part to alumni and fans such as singer Jon Bon Jovi and offensive lineman Lane Johnson, who posted their support for their teams before the game.
We're ready for game day. @NDFootball #GoIrish pic.twitter.com/jK9yYwD6Ey

— Jon Bon Jovi (@jonbonjovi) December 29, 2018
Hungry dogs run faster 🐶 Let's get it @OU_Football! #BoomerSooner #CFBPlayoff #Underdogs pic.twitter.com/STQphBoLh8

— Lane Johnson (@LaneJohnson65) December 29, 2018
Work to turn your biggest fans into active ones on social media. Influencer marketing has become such a big part of the business strategy that it cannot be overlooked anymore. Thank them for being a part of your story, either through tokens of appreciation, marketing materials like custom graphics they can share, or including them in any larger story you're looking to tell. Brands like Adidas do this well (speaking from experience) and so can you.
2. Invest in your digital efforts
The final score of the game is one that not a lot of people saw coming. Clemson had the game secured early on thanks to a dominating performance from Trevor Lawrence & Justyn Ross as well as turnovers on defense.
Clemson was there to cover the game from all aspects, thanks to investing heavily in their digital team & making sure they were sharing through compelling photos, emotional videos, & creative GIFs. As a result, Clemson's tweets generated over 2,100 likes & retweets per post & registered over 135 million impressions on Twitter.
Say it together now...

THE CLEMSON TIGERS ARE YOUR 2018 NATIONAL CHAMPIONS‼️#ALLIN pic.twitter.com/EQEQuWxhQy

— Clemson Football (@ClemsonFB) January 8, 2019
Natty Hair Flip 10/10 pic.twitter.com/UyocEgWQGY

— Clemson Football (@ClemsonFB) January 8, 2019
😱😱😱😱😱😱😱#WRU 🙌 #ALLIN pic.twitter.com/bgsrGl1Ydu

— Clemson Football (@ClemsonFB) January 8, 2019
When coming up with your digital strategy, you need to make sure you invest in your content and your team. It can lead to unusual ways to generate buzz about your team or program. It can be used as a recruiting tool for colleges. Also, it can be used in fantastic ways for partnership marketing & sponsorship after you have laid the foundation & built out engaging content.
3. Support your activations with a digital presence with purpose
The colleges weren't the only ones making sure to activate on digital. Brands made sure to leverage social media to support whatever activations they did at Levi's Stadium as well as throughout the college football season. As a result, during the week leading up to the National Championship, brands like Quicken Loans, Goodyear, and Taco Bell saw a lift.
Quicken Loans accompanied their traditional ad efforts during the season with interactive polls tapping into each school's fan base around bowl games. Their polls were participated in over 20K times.
Goodyear leveraged broadcasters ESPN throughout the National Championship, having a "Blimpcast" run during the game where on-air personalities interacted with fans. It's innovation like that which helped the Goodyear Blimp be named to the College Football Hall of Fame.
Taco Bell documented their Live Mas Student Section and their Taco Bell Tailgate over Instagram Stories before and during the game.
Your target audience isn't just using one medium to consume events anymore. It is a multi-channel approach, and that requires having a unique plan for social media. Look at the brands mentioned above. They used these outlets to support the on-site and TV-driven work they've done all season to target the college football fan. And that should be on your list as well.
4. Storytelling isn't just for sports teams
Digital platforms allow for an excellent opportunity to tell your brand story and innovate in a memorable way. You can connect content from weeks old in ways where fans can go back and get caught up quickly instead of hoping they saw a previous commercial. Take, for example, Dr. Pepper.
Dr. Pepper continued their tradition of being the "Official Drink Of Fansville" during the National Championship. They used Twitter to advertise the conclusion to a series of ads they ran during the season, leveraging new Kansas coach Les Miles.
It's not just sports teams that tell their story using social channels. It's brands. Brand advocates, especially the most passionate ones, are expecting this from brands normally. When planning your content strategy, take this idea into account.
5. Always be innovating as social networks do
Twitter, Facebook, and Instagram all played a huge role in the digital branding of teams and conferences during the college football season and that was on full display during the National Championship.
@TwitterSports was a hub for plenty of content during the week before and the championship game itself. Twitter worked with the schools and players during Media Day to create hype videos & GIFs fans could share when talking about the game. No stone was left unturned. Regardless of the player who made big plays, there was some sort of media specifically celebrating them. As a result, Twitter Sports reached over 150 million people throughout the week leading up to the game.
Bama is #LockedIn for the #NationalChampionship

Are you?

— Twitter Sports (@TwitterSports) January 7, 2019
Clemson is #LockedIn for the #NationalChampionship

Are you?

— Twitter Sports (@TwitterSports) January 7, 2019
Facebook and Instagram worked to empower teams and fans during the season. Thanks to Facebook Watch series like the vlog Clemson used throughout the season to the Q&A feature introduced in Instagram Stories to add a whole new level of engagement, they are constantly looking to innovate despite already having over a billion users on each platform.
As these networks innovate evolve, your content needs to evolve and do the same. Leverage the new avenues platforms are giving their users. As shown from this past week, they will be there to support you and listen in to how their platforms are being used. Always be improving and never settle.
Whether you're looking for insights into your social audience, social performance of your corporate partners or clients, or aggregation of all social posts surrounding a campaign, contact us. We'd love to work with you and show the value of your digital marketing efforts.