The annual NBA Draft is a big night on many levels for players, teams, and fans alike. One "place" where all three of these link together is the world of social media. During this year's NBA Draft, we utilized Zoomph's tools, including our free social media value index and audience analytics tools, to track which teams won on social media.
Below is a recap of the top three winners on social media with both earned and owned content, as well as additional significant facts discovered during the 2019 NBA Draft.
1) New Orleans Pelicans
It is by no surprise to see the New Orleans Pelicans on top of this list with the number one overall pick in the 2019 NBA Draft and selecting the highly sought after, Zion Williamson. The Pelicans saw a rise in social media value by $547,361 on draft night, largely in part to their content sharing on Williamson. From videos of the city of New Orleans reacting to images of a billboard welcoming Williamson to New Orleans, the Pelicans were able to traffic 515.1 million impressions, totaling an impression value of over $2.7 million.

2) Chicago Bulls
Another one of this year's biggest winners on social media impressions during the 2019 NBA Draft was the Chicago Bulls. After selecting Coby White with the 7th overall pick, the Bulls saw over 16K people engaged in Twitter conversation regarding the Bulls, which equated a total engagement value of over $85K in impression value for the Bulls. The Bulls top valued Tweet of the night came from the post in which they shared to the social world their pick of White, which provided alone an engagement value of over $21K for the team.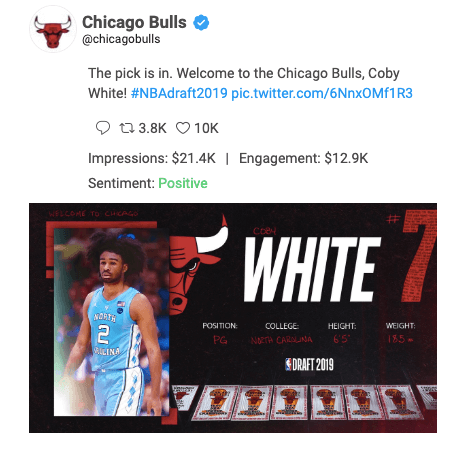 3) San Antonio Spurs
The San Antonio Spurs show here that you do not need to have a top pick in the draft to be able to capitalize on social. Not having a pick until the 19th overall pick, there was not much buzz about the Spurs going into the draft. But after having two first round picks, they used the chance to share videos of their top picks, Luka Semanic and Keldon Johnson, addressing the Spurs followers. These two posts created a total impression value of over $36,000 for the Spurs' branded content on social. Overall, the Spurs saw a rise in social media value of $448,805.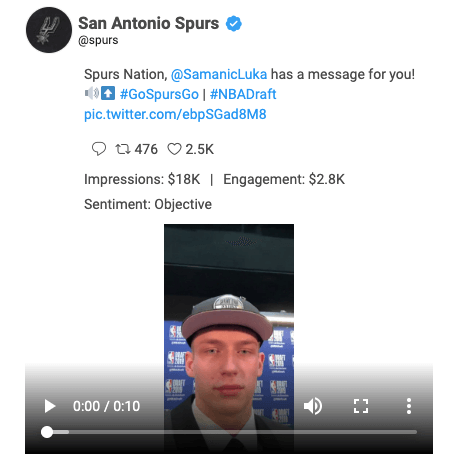 Other Facts:
The biggest social prospect on social media tonight was none other than the above mentioned, Zion Williamson. Through Zoomph's feeds, we were able to track that Williamson himself earned an impression value of $4 million, after being mentioned in Tweets by

Utah Jazz

star Donovan Mitchell and Pelicans' next door neighbor, the

New Orleans Saints

.

The top sponsor on social media during the draft was

State Farm

. As the presenting sponsor of the draft, State Farm had over one billion impressions on social, equating to a total impression value of over $10 million for the insurance agency. This shows how valuable a presenting sponsorship deal can be for any brand, even in "off-field" events.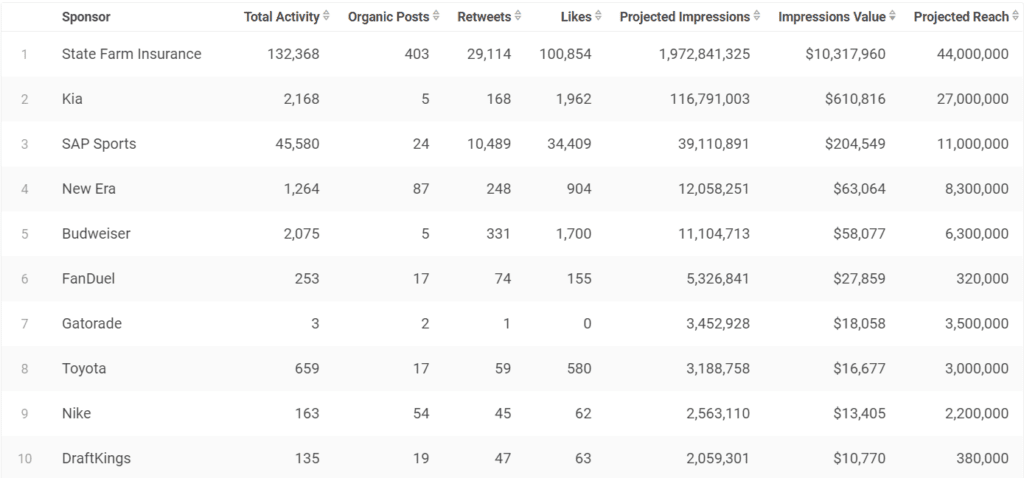 Follow us on Twitter @Zoomph to keep up with us and other news in the world of sport sponsorship.
More Articles Like This