This weekend's NASCAR slate featured all three series competing at Bristol Motor Speedway in Bristol, TN. This week's schedule featured a Thursday night Gander Outdoors Truck Series race, followed by Friday night's Food City 300 for the Xfinity Series, capped by Saturday evening's Monster Energy Series' Bass Pro Shops NRA Night Race at Bristol. With over 1.7 billion impressions, equating to over $9 million in social impression value, this was a premier event to follow without a doubt.
I don't even know where to start, thank you all so much for the support. I wanted to win so dang bad. The crowd reaction after the race absolutely broke me down and melted my heart. My entire team is so amazing and I'm lucky to have @MikeCWheeler as crew chief...he is THE BEST

— Matt DiBenedetto (@mattdracing) August 18, 2019
The biggest headline of Saturday night's race was not the win by Denny Hamlin, but rather the second-place finish by Matt DiBenedetto. DiBenedetto currently drives the number 95 car for Leavine Family Racing, but after Saturday night's race, the conversation was all about how he had earned himself a spot with a bigger team. In fact, while race winner Hamlin was mentioned in 5% of the post in our feed, DiBenedetto more than doubled that by being mentioned in 12% of posts. The conversation regarding DiBenedetto was able to garner a social impression value of $87,637, which would rank above all other racers.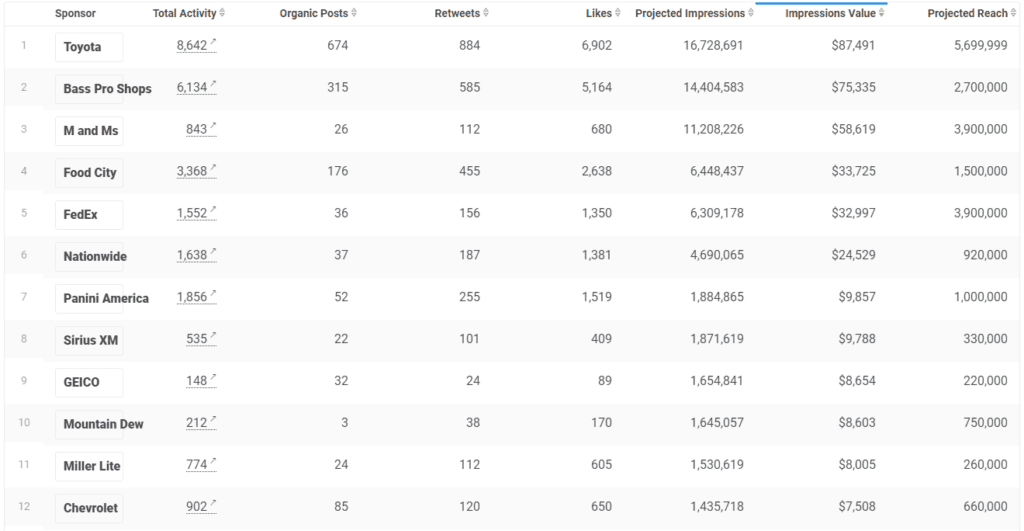 The sponsors of the races, Food City and Bass Pro Shops, reached exceptional values on social as well, proving why it is worth paying for event naming rights in sports. Food City had nearly 6.5 million social impressions over the weekend, which valued at $33,725, while Bass Pro Shops was able to drive in $75,335 in social impression value through over 14 million impressions.

This weekend, Medinah Country Club played host to the BMW Championship, the second leg of the PGA TOUR's FedEx Cup Playoffs. With the top 70 golfers in the FedEx Cup Standings fighting their way into the top 30 to earn a spot in next weekend's Tour Championship, it was an eventful weekend of golf. Almost matching the NASCAR numbers, the Zoomph platform tracked 1 billion impressions of the event, carrying a total impression value of $5.5 million.
Nerves of steel.@JustinThomas34 is back on top.#LiveUnderPar pic.twitter.com/XbZDfpE6Jx

— PGA TOUR (@PGATOUR) August 18, 2019
As expected when he is playing in an event (and sometimes when he's not), the top mentioned player this weekend was Tiger Woods, who was mentioned in 21% of posts. Not far behind was event winner and new FedEx Cup standings leader Justin Thomas, who was mentioned in 18% of posts. Thomas' social activity translated to a social impression value of $993,252, which is significant when considering potential sponsorship deals.

From the sponsorship side of the tournament, many brands had great success, including FedEx and, of course, BMW. In part to their naming rights for the FedEx Cup Playoffs, FedEx drew in 97 million impressions, which valued at $509,484. BMW, who held the naming rights to the event, saw their share of success as well, with over $464 million impressions during the event. This generated over $2.4 million in social impression value for BMW, again showing the value of owning naming rights to events like this.