The NFL season is off to a hot start, and while teams are evaluating their performance on the field, it's important for content producers to evaluate how things are going off of it, both from teams and from brands looking to get involved in the social conversation.
Since the start of the season (9/3/2019) until now and through the end of the season, we at Zoomph have been tracking the earned and owned Twitter activity around the NFL, each team, and other sources such as the TV station games are broadcast on. This includes mentions, hashtag/hashflag use, and tracking each game every week. After analyzing over 6 million pieces of Twitter content so far, we tried to answer the following questions:
Which sponsors are getting the most bang for their buck on social?
Which teams are driving the most conversation?
Which games have generated the most buzz early on? 
Here are the top takeaways from the first two weeks.
Top Teams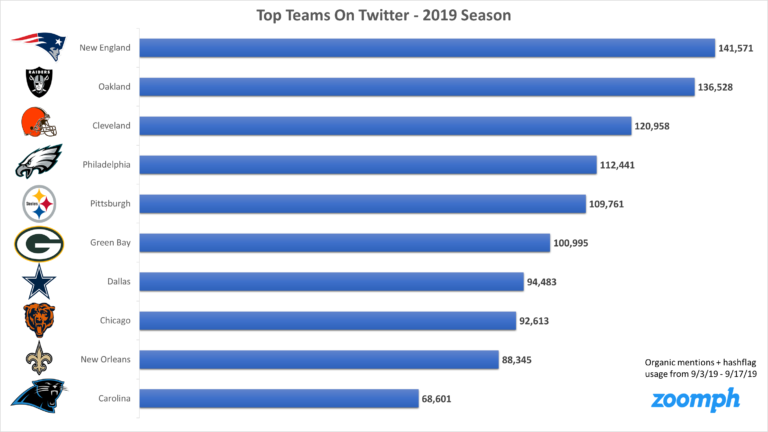 To determine which teams have been talked about the most on Twitter so far this season, we looked at the organic owned and earned conversation surrounding each team this year. This includes combining mentions of each team, posts from each team, and usage of each teams' emoji hashflag.
The top two teams by a decent margin have a common factor between them: Antonio Brown. The New England Patriots and Oakland Raiders have been talked about more than any other team in the NFL this season so far, and by a decent margin.
A few seasons ago, in an effort to help unify fan conversation and give fans a way to post about their teams in a similar way, the NFL worked with Twitter to give each team hashflags where an emoji appears whenever a certain hashtag is used. So far this season, the Packers' #GoPackGo, the Eagles' #FlyEaglesFly, and the Browns' #Browns have been the most popular ones this year.
During each week this year, Sundays, Mondays, and Thursdays have seen the most conversation on average. As a result, whenever a team gets featured in a primetime game when they, it's a great chance for them to grow their brand online & be the primary subject of conversation. As a result, it shouldn't be a surprise that of the Top 10 teams on Twitter so far this season, 9 have played on either Thursday Night, Sunday Night, or Monday Night at some point.
Something that teams should be wary of going forward is the threat of potential lack of interest as the season continues. Of the 32 NFL teams, only 9 (28%) saw a growth in mentions week over week. While it's natural for a decline in attention after the initial kickoff of the season, teams need to make sure that doesn't stay a trend. Not only do teams need to keep performing on the field, but they need to make sure to document their season well, leverage assets like their players to help in creating compelling content, and give fans a reason to get involved in their journey.
Top Games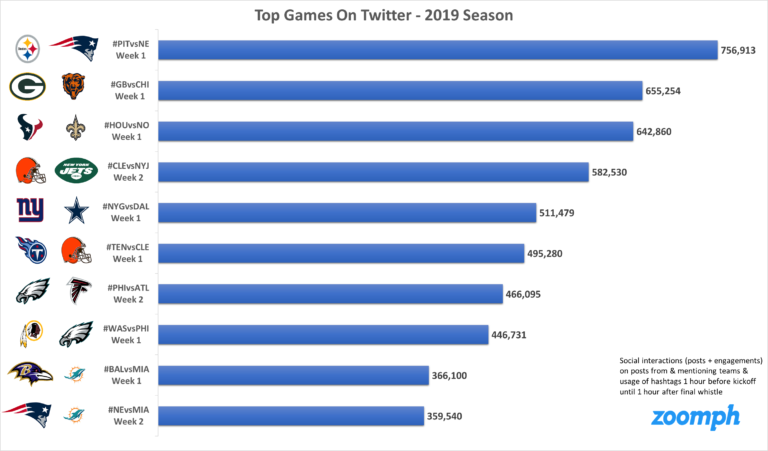 To determine which games had Twitter buzzing the most, we measured the social interactions surrounding each game. This is the sum of posts plus engagement (likes + retweets). Also, in order to have the most apples-to-apples comparison possible when looking at games, the time ranges taken for each game is from one hour before kickoff until one hour after the final whistle.
There is a strong correlation between games being on NBC or ESPN and games generating buzz on social media. The top four games of the year so far were all played in primetime. Not only are you the feature game on TV that everyone is watching, but both SNF on NBC and NFL on ESPN have strong, engaging social presences that just enhance the conversation. If a team lands a spot on NBC or ESPN, that is a great way to leverage additional sponsorship dollars for brands knowing that those games are big ones, both on TV and online.
Four teams have played in two games in the Top 10… but not for the same reasons. Three have played games in primetime and the Dolphins are the only ones to be in two 1:00 games on this list. In their games this year, posts from & conversation around Dolphins have accounted for only 21% of the total social interactions, putting them 28th in the NFL in that metric. The #1 team in the NFL in average share of social interactions in their games? The 2-0 San Francisco 49ers, accounting for almost 80% of the total social interactions in their games against the Buccaneers and Bengals this season.
Top Sponsors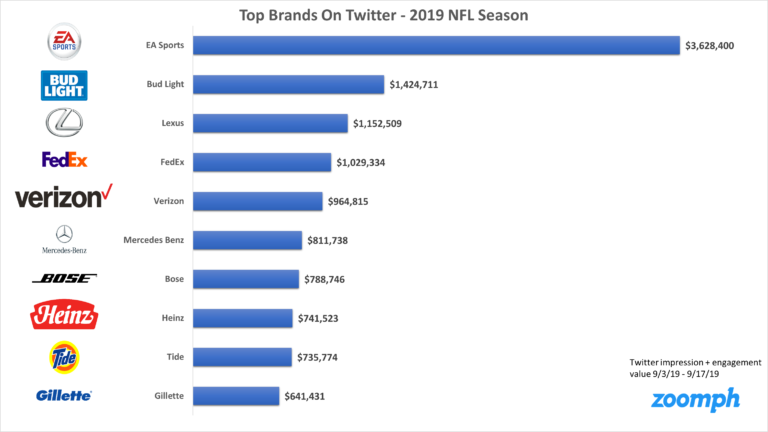 To gauge the social ROI of how brands have activated around the NFL this season, we took a look at all of the content posted either from the brands themselves or by teams talking about said corporate partners. Some of these are at the league level and some are at the individual team level. From there, we ran a baseline CPM and CPE on each of the posts published around said brands.
(Note: this is not accounting for any logo detection. This is just on text inclusion in posts.)
EA Sports, thanks to posts around Madden 20, have seen greater value on Twitter activations than any other brand up to this point. Some of these posts are self-generated, thanks to a presence on-site at games or encouraging fans to interact, either through sharing or replying. Some is from teams advertising the new game itself. Also, some of it has been from creative co-branded activations, such as custom GIFs or logo placement in sponsored posts. This wide-reaching, creative approach has led to a return more than 2x greater than any other brand.
League partners who activate on both the league level and team level have also seen some impressive returns. Anheuser-Busch, through Bud Light, has leveraged most NFL teams for their marketing campaigns around celebrating (#BudLightCelly).This has helped them generate more value from post engagement than any other brand. Bose has primarily leveraged popular players showcasing their products before & after games and have gotten involved from their own brand handle, not strictly depending on the teams to generate value for them. That sort of two way interactive relationship in a relevant way comes across well & often leads to higher engagement & higher brand affinities.
4 of the Top 10 sponsors from the NFL season thus far are stadium naming rights' partners, a lot of whom have gone further than just putting their name on a stadium. FedEx has seen the majority of their ROI not come from their name on FedExField, but from their highly engaging Air & Ground series done on a weekly basis. Mercedes-Benz not only has the naming rights on two stadiums, but sponsors digital content to boot. Heinz Field has hosted events on-site before a game was even played there that was documented by both the Steelers and the NFL. The Patriots have found a unique way to tell the story to talk about what goes on behind the scenes at their stadium which was a hit with fans.
Takeaways
Not only are there takeaways from a sports team perspective, but there are lessons that can translate over to your business as well. What can be learned from the results of what has happened through two weeks of the NFL season on social media?
Your social marketing needs to always be focused on the long term. There were slight dips week over week for most terms in terms of conversation generated between Weeks 1 and 2. While there won't be as much excitement surrounding every week as a whole, do everything you can to prevent and limit regular decreases in engagement.
Leverage every opportunity you are afforded to maximize brand value, try and get more out of your sponsorship dollars, and generate additional awareness for your brand. As show early on, when a team plays in primetime, that usually leads to greater awareness & conversation generated around them. Make the most of every chance you get to broadcast your content on a national scale & be ready to use that as a selling point when trying to earn those sponsor dollars.
Sponsorship activations are more than just slapping your name on a post or your logo on a graphic. Make sure to make it valuable for all parties, don't just lean on one party to drive home value, and make your in-person activations memorable and shareable for fans. Look at brands like EA Sports, Bose, or even some in the esports space for inspiration.
I'm looking forward to documenting how this NFL season will unfold over social media and hope that you will be there to join me for the ride! Feel free to follow me and Zoomph on Twitter for weekly posts and updates.