The sports world is facing a new challenge that no team or sponsor had probably ever anticipated when contracts were signed: COVID-19, or Novel Coronavirus.
In Italy, the epicenter of the European COVID-19 outbreak, all sporting events will be played behind closed doors through at least April 3. This includes the Juventus vs Lyon Champions' League match, which will be played in front of 41,000 empty seats at Allianz Stadium.
While there have not been league-wide closures in the United States in response to the COVID-19 epidemic, the approach of the NCAA March Madness tournament has started to raise questions in regards to fan safety. Johns Hopkins University has already hosted the opening matches of the DIII tournament in an empty arena following the announcement of 3 confirmed cases of COVID-19 in Maryland. Additionally, the Ivy League canceled its conference tournament for men's and women's, and the MAC Tournament is closed to fans. The 2018 edition of March Madness generated nearly $850 million for the NCAA, an amount that would be irreplaceable if the tournament were to be called off.
With all of this in mind, how could sponsorships change and evolve if fans are locked out of events for a prolonged period of time? We put on our thinking caps and dug into some data to imagine a world with exclusively digital viewing.
The Stream Dream
Just as television expanded on the capabilities of radio, COVID-19 could lead to teams and sponsors reevaluating the capabilities of streaming content. Teams and leagues could forge streaming partnerships with platforms like YouTube and Twitch, but it's not easy to replicate the experience of being at an event in person. Take NCAA March Madness, for example; 67 games in 14 locations across the country is a massive opportunity for sponsors to activate and for local economies to flourish.
Previously, we've used the Zoomph platform to gather insights on the 2019 Capital One NCAA March Madness Bracket campaign, as well as Call of Duty League sponsor results. Capital One ran a four-day campaign focused where fans interact with March Madness most: The brackets. Even though the campaign only ran between Selection Sunday and the opening games, it generated solid engagement for the brand.

It's not hard to imagine that partners can use similar Zoomph insights to create real-time activations during this year's tournament. YouTube Gaming already features a chat feed that could be used to replace sponsored jumbotron activations like trivia or attendance numbers. That could lead to sponsored activations on streaming platforms that have more engagement than on-site activations.
Capital One expanded beyond the bracket challenge to engage fans using commercials featuring Spike Lee, Charles Barkley, Samuel L. Jackson, and more as well as creating a Giphy keyboard. Gifs allowed fans to further engage with the campaign while reacting in real-time. Campaigns like this could further flourish if fans are locked out of events because it increases the potential streaming audience as die-hard fans seek to support their teams.
Turning an eye to eSports
To further explore the impacts of streaming-based activations, teams and brands need to look no further than eSports for examples. Take our recent exploration of week one of the Call of Duty League: Influencers and brands generated major value through more than just on-site activations. Jordan Payton and Gary Vaynerchuk led the way as the top social influencers, but Gary Vee's audience insights were particularly interesting.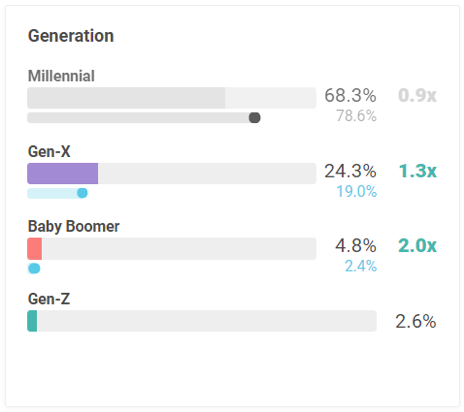 His audience was 2x more likely to be a Baby Boomer and 1.3x more likely to be Gen-X, which means he brought an audience outside of the Call of Duty League target to widen the scope of the event. Gary Vee's audience was also more likely to be a business decision-maker, which can lead to further positive business impacts for the league. Both endemic and non-endemic brands found success with the Call of Duty League, as PlayStation was able to generate over $200,000 as the platform sponsor while the U.S. Army generated $135,000 in value.
This expansion of the Call of Duty League audience could be an indication of wider streaming acceptance for more mainstream events like the March Madness tournament. These values are comparable to the above results from the Capital One campaign while tapping into a completely different target market. Additionally, with the success of endemic and non-endemic brands, it goes to show that the activation strategies are more important than the surface-level team-partner relationship, which could be another way sponsors hold success during this period.
Tapping into insights
Without the insights that come from ticket sales, marketing teams will have to look to digital insights for more data. In this analysis alone, we've used previous YouTube Gaming insights, as well as Twitter interactions, focused on two different campaigns and leagues. Tapping into these insights and identifying fan affinities could actually help to identify new partners and lead to more effective activations.
Key Takeaways
Locking fans out of events for health and safety reasons will likely lead to advancements in streaming and partnership activations during streams.
Streaming platforms could introduce new engagement features to enable sponsor-fan interactions as the streaming audience increases.
Influencer interactions and social media insights can lead to expanded audiences and increased sponsor engagements.
Teams and brands may turn an increased eye to the strategies of eSports brands for new activation strategies.
Don't Panic
Remember, the United States has not made moves to close leagues to fans, only particular games, so this is still primarily an early thought experiment. However, it does indicate that a prolonged period without fans could revolutionize sport sponsorship activations for good.