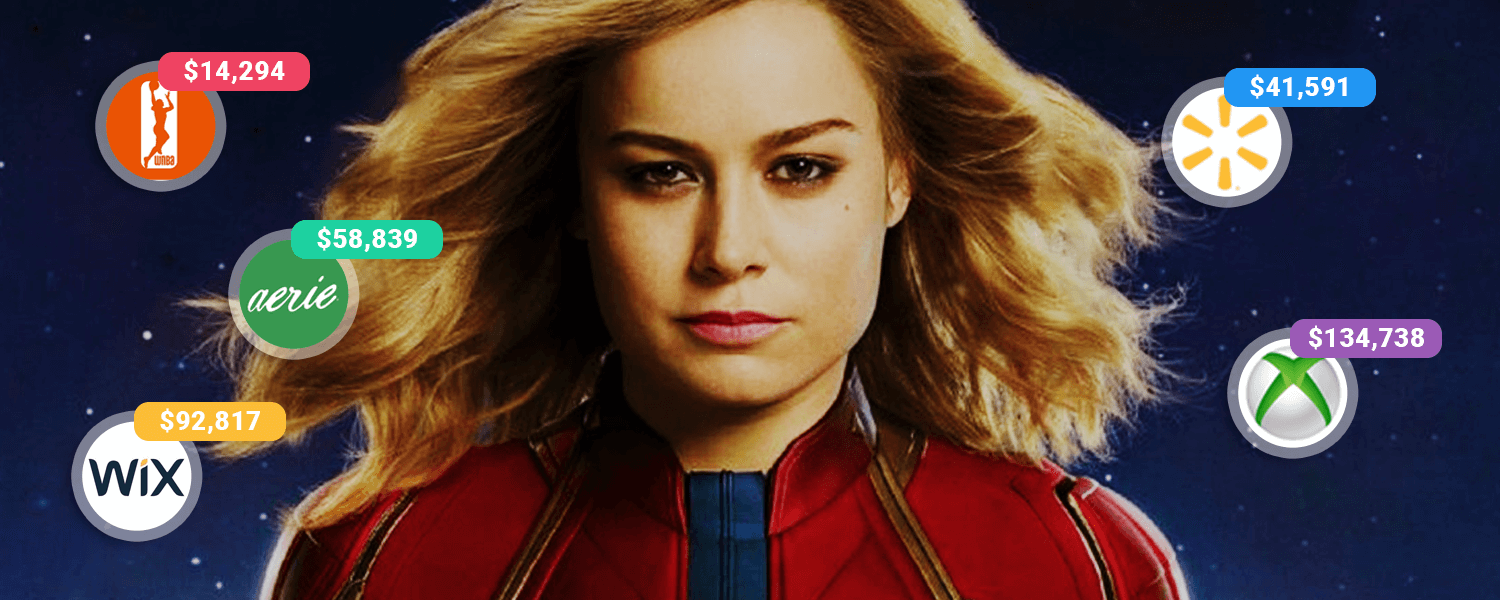 Uncategorized
Captain Marvel Ad Partnerships – Shattering The Glass Ceiling On Social
Captain Marvel debuted this weekend with $455 million in worldwide ticket sales, including $153 million in North America, according to The Hollywood Reporter. This is Marvel and Disney's first collaboration on a female-led flick, so naturally many brands are looking for partnership opportunities to enhance their global reach in an already established market.
We used  Zoomph's Sponsorship tool to analyze the social impression value returned for the brands that chose to partner on this past weekend's release of Captain Marvel.

With the final Avengers flick approaching, we were curious to see which companies had invested advertising dollars into the Captain Marvel film, and how those partnerships were reciprocated through social media activity and fandom.
We take many metrics into the equation when calculating social performance, we will focus on the following two:
Impressions & Social Reach

: the potential number of views & profiles exposed to the campaign  

Impressions Value

: the value generated from social impressions which is calculated based on an industry standard CPM value
Now that you know, let's tap into the conversation around the brands that got involved with Marvel's latest superhero, Captain Marvel.
Spoiler Alert: The Captain is a woman.
Top Sponsors
The brand partnership list from The Hollywood Reporter gave us the groundwork to monitor mentions of these brands within the overall Captain Marvel social conversation, tracked within Zoomph. Six days after the film's official release, we've been able to collect the following metrics on the top brands involved in the social conversation. Between Twitter and YouTube, these brands activated successfully, generating the highest amount of social activity, impressions, and engagement. We've ranked them below by their estimated Impression Value.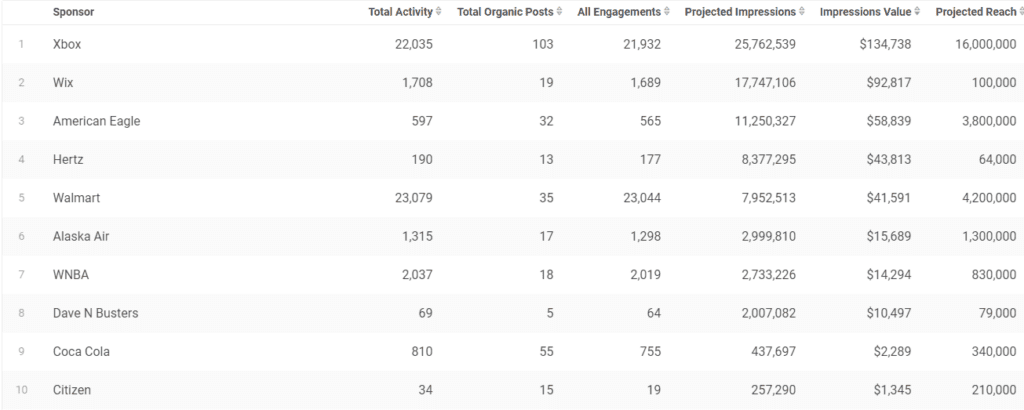 8. Dave N Busters

which used a commercial to promote the availability of an arcade version of the Contest of Champions game featuring Captain Marvel.
7. WNBA
which connected the journey Carol goes on in the movie to the inspirational stories of the league's women players.
#WNBA x @Marvel... proving to young girls that grit, power & strength can make a HERo!

Captain Marvel debuts in theaters on International Women's Day, March 8. The WNBA season tips off May 24. #WNBAxMarvel pic.twitter.com/ESTXMUUOFf

— WNBA (@WNBA) February 17, 2019
4. Hertz

which used a co-branded commercial to tie the hero's ability to find solutions to problems to its upcoming "Fast Lane" speedy rental process.
3. American Eagle
which offered a series of t-shirts and other apparel featuring the character, her symbol and more. They made sure to align their campaign with their target market, releasing an exclusive line of girl power clothing, which helped them take their partnership with the movie to the next level.
YOU could win a trip for 2 to LA to attend the World Premiere of Marvel Studios' @captainmarvel with@Aerie & more amazing prizes. Share what makes you real powerful for a chance to win:https://t.co/v91307KYli #CaptainMarvel #AeriexCaptainMarvel pic.twitter.com/xCjn2Xm9dv

— American Eagle (@AEO) February 19, 2019
2. WIX
which used a co-branded TV spot as part of its campaign to sell its Turbo site-hosting service for people unhappy with slow loading times.
See what we did here? #CaptainMarvel is the most powerful Super Hero and Wix Turbo is a technology so powerful that it makes Wix websites load faster than ever. Yes, it's subtle.
Oh, and go watch Marvel Studios' Captain Marvel in Cinemas March 8. pic.twitter.com/IsNIiGUBUi

— Wix (@Wix) February 25, 2019
Audience Insights
Not to sound like a broken record, but audience analysis is critical for brands to understand which content to align themselves with, and when, to best engage them.
Taking a quick look into the Zoomph Audience Insights for the peeps that associated the film with the AE brand, it is clear that this project hit that sweet spot of both Disney fans/followers and the coveted teen/millennial interests. It doesn't hurt that the swag is also super fresh.
Leveraging the robust Zoomph platform further exposed the success of content that is strategically created for targeted audiences and demographics – and the social results for the opening weekend of Captain Marvel speak for themselves.
In closing: I would be remiss to not mention the film's opening homage to the late Stan Lee. We appreciate you Mr. Lee, R.I.P.
Stan Lee's Cameo In "Captain Marvel" Was The Most Meta Cameo Of All Time https://t.co/0yhjhxLVHT

— BuzzFeed (@BuzzFeed) March 11, 2019
P.S. Don't trust cats.
More Articles Like This