Coming off the NFL Championship Weekend, the week of January 31 – February 5 was due for big happenings on social. From NFL social to a historic Division 1 commitment, we had all the numbers behind it. Miss it on our social channels? Check it all out below!
Bengals Turn In Another Big Weekend on Social
By The Numbers: @Bengals dominated on Twitter and Instagram during the 24-hour period of Championship Sunday, per data via @Zoomph/@sbjsbd: pic.twitter.com/h7r4KZrVre

— Mark J. Burns (@markjburns88) February 1, 2022
Following up their massive performance during the Divisional round of the playoffs, the Bengals continued their push on social with another dominating performance. Sport Business Journal's Mark Burns used Zoomph's data to report on the Bengal's 24-hour numbers, which included them receiving 34 million more impressions on Twitter than the other three teams combined.
Nadal's Record-Breaking Austrailian Open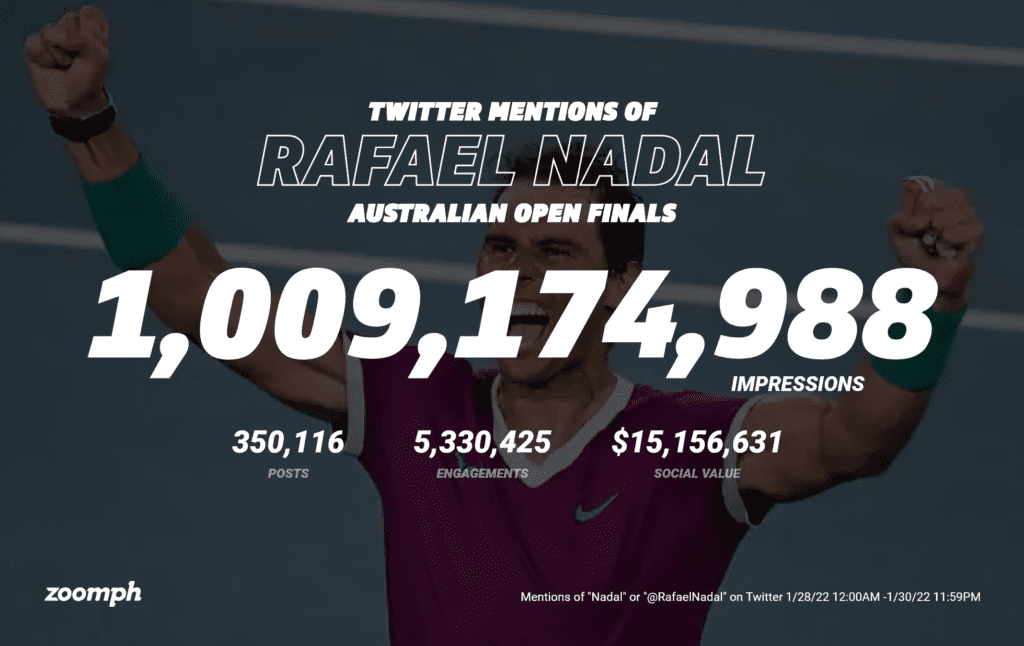 Also on Sunday, tennis great Rafael Nadal defeated Daniil Medvedev to secure hiss 21st Grand Slam Title. Just how popular was the event on social? Using Zoomph's social measurement tool, we found that mentions of "Nadal" and @RafaelNadal on Twitter between 1/28/2022 12:00am – 1/30/2022 11:59pm generated over $15 million in social value and a whopping 1 billion impressions during the span.
Kylie Welker Signs Historoic Commitment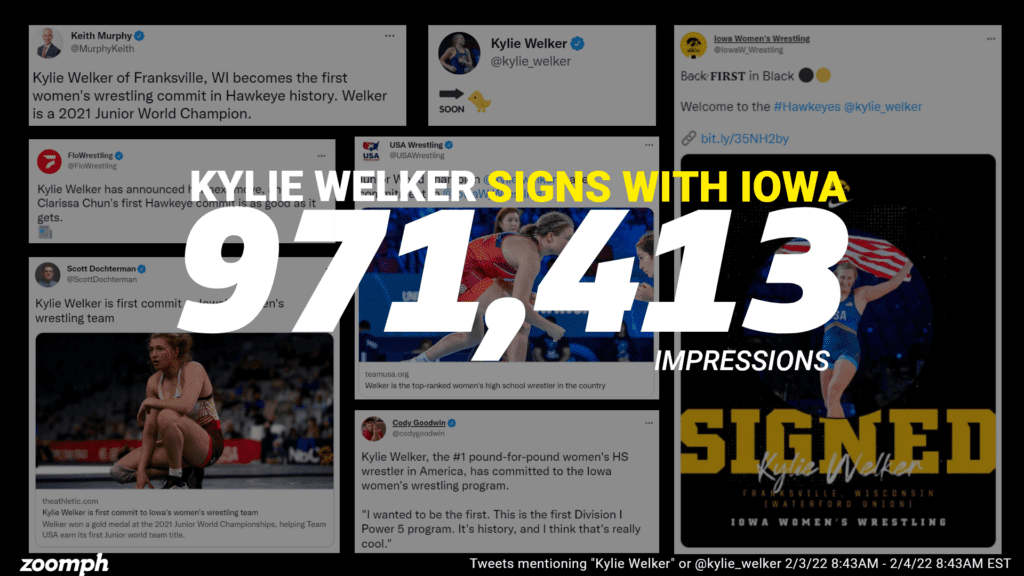 To cap off the week, big news came out of college sports, as high school standout and Junior World champion Kylie Welker announced her commitment to the University of Iowa. With this commitment, Welker became the first commit to iowa's Women's Wrestling program, the first Division 1 power Five women's wrestling program in the country. News of Welker's commitment generated nearly one million impressions in the first 24-hours.