It's that time of year when pitchers and catchers begin reporting to camp and your Twitter feed becomes an influx of baseball videos. That's right, Spring Training 2023 is here and we couldn't be more excited!
This offseason was flooded with news following the Houston Astros World Series championship, with over $3.53 BILLION in guaranteed contracts, according to Spotrac, being signed by stars such as Justin Verlander, Trea Turner, and Aaron Judge.
To evaluate this offseason on social, we teamed up with "Sports-Biz" aficionado and Zoomph customer Dan Marrazza of The Pro Football Hall of Fame to analyze the performance of teams around the league on social this offseason using a metric Dan calls "Exposure Rate".
What is Exposure Rate?
Before we get into the rankings, we first wanted to explain what Exposure Rate means as a metric. 
Exposure Rate is calculated by dividing the number of impressions on a post by the number of followers from the post author. For a group of posts, we calculate it by taking the average number of impressions per post by the average number of followers by the author during the span of the period of posts being analyzed.
Why Exposure Rate?
"Since the earliest days of social media, teams in pro sports have attempted to compare their performance on social media. However, with vastly different market sizes, it can be apples and oranges when trying to compare teams like the New York Yankees and Oakland Athletics, or the Los Angeles Lakers and the Utah Jazz," Marrazza explains. "While clubs have often used Engagement Rate to compare themselves to "competitors"  in the past, Engagement Rate has its drawbacks. For example, if John and Jane Doe "like" a post or Justin Bieber retweets (RT) a post, Engagement Rate values John and Jane's like more than Bieber's RT, when we "know" Bieber's retweet is more valuable. But just how much more valuable is Bieber's RT? If posts are getting thousands of engagements, how are "all" of these engagements simultaneously valued?"
"Enter Exposure Rate, which gauges the viewership size of content relative to your audience size. Since we know that "quality" engagements are what's influencing the audience size of posts, by extension, Exposure Rate is weighting the quality of all of your engagements over quantity, which tells a more accurate story about the impact your content is having than Engagement Rate does. This allows the Yankees and Athletics or the Lakers and the Jazz to be more fairly compared."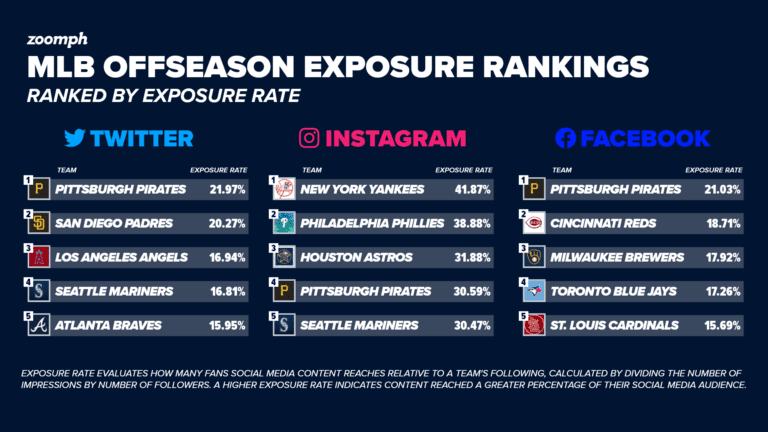 Which Teams Led in Exposure Rate This Offseason?
The offseason can be a hard time for social teams to connect with fans, as fans tend to tune the sport out and engage with other active season sports. 
However, with the aforementioned heavy offseason spending and other storylines around the league, many MLB teams had plenty to share and celebrate this offseason. 
Pittsburgh Pirates
Having the 2nd-worst record in the league last season didn't hold the Pittsburgh Pirates back from having an exciting and engaging offseason on social media. This offseason, the Pirates were one of only two teams to finish Top-10 in Exposure Rate on Twitter, Facebook, and Instagram. 
While the Pirates weren't heavy spenders, they did bring in veteran free agents such as Carlos Santana, Rich Hill, Austin Hedges, and Vince Velasquez. However, none of these signings were as notable as their big signing, the reunion with outfielder Andrew McCutchen. 
Now 36 years old, McCutchen was a former 1st-round draft pick by the Pirates and spent his first 9 years in the major leagues with the Pirates between 2009-2017. During his long stint with the Pirates, he was a 4-time Top-5 finisher for MVP, winning the award in 2013, and a 5-time All-Star. 
On all 3 platforms, the Pirates' top post from this offseason was about the signing of McCutchen, including their most engaged Twitter post which was a giveaway of a signed McCutchen jersey. 
Philadelphia Phillies
The only other team to join the Pirates on all three platforms was their Pennsylvania counterpart, last year's NL Pennant winners, the Philadelphia Phillies.
While a World Series defeat was a crushing result for the Phillies and their fans, that didn't slow down their offseason excitement. The Phillies rallied with the World Series run hype to start the offseason hot … and then BOOM! They sign one of the top free agents in the class, shortstop Trea Turner to an 11-year, $300 million contract.
But the Phillies didn't stop there. Among other moves this offseason for the club included signing pitchers Taijuan Walker and Matt Strahm, while also trading for pitcher Gregory Soto to bolster up the pitching staff for the 2023 campaign.
This post below from the Phillies celebrating their 2022 season was by far their most engaged post of the offseason, generating over 118K engagements.
Seattle Mariners
The final team for us to highlight is the Seattle Mariners. Last season, the Mariners finished 2nd in the AL West with a 90-72 record and made it through to the ALDS before losing the series to AL West foe and World Series Champion Houston Astros. 
A season capped by their first playoff appearance since 2001 and the "J-Rod" show that saw the star centerfielder win Rookie of the Year honors and a 7th-place finish in the AL MVP race, the Mariners faithfuls had plenty of reason to stay engaged this offseason during award season and throughout the offseason.
The Mariners top three Instagram posts this offseason mentioned Julio Rodriguez's awards, accumulating a total of 1.57 million impressions and nearly 190,000 engagements.