The NWSL recently completed an unparalleled 2020 competitive schedule and despite a national pandemic, became the first league to successfully complete a bubble. The season was marked by record-breaking viewers, an increase in social media mentions, and seven of the most-watched matches in league history. 
Beyond the pitch, female soccer players took to social media and attracted high levels of engagements and impressions. To no surprise, the top players on social included Megan Rapinoe, Sydney Leroux Dwyer, Ali Krieger, Ashlyn Harris, and Julie Ertz. We ranked these players by impressions over the last seven months using the Zoomph platform.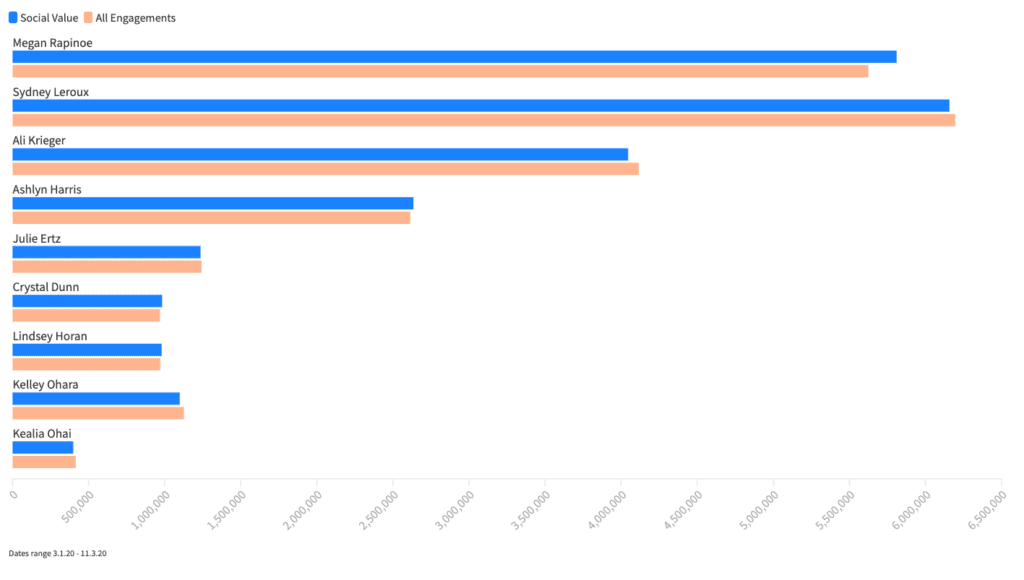 These top 5 players all generated over one million engagements across Twitter and Instagram.
Megan Rapinoe ranked first in impressions since March at 121 million, garnering upwards of $5.8 million in social value.
We will never stop fighting for EQUALITY.

— Megan Rapinoe (@mPinoe) May 2, 2020
Julie Ertz, of the Chicago RedStars, generated 17.7 million impressions since the beginning of Covid-19 with engagements per post ranking 4th at over 25,000.
Our narrative ❤️🌏 pic.twitter.com/0ZxzfZ1PsF

— Julie Johnston Ertz (@julieertz) June 30, 2020
These insights create a unique narrative when looking at the expansion of the NWSL and future sponsorship opportunities for the growing league.
This summer, Budweiser signed on as the league's first official beer partner, and in a new ad campaign, Budweiser and soccer superstar Megan Rapinoe call out other big brands to follow suit. 
As shown in our September report, WNBA and NWSL Social Media Sponsorship & Fan Insights, NWSL fans when compared to the average United States sports fan, are 1.7 times more likely to have an affinity for beer – especially an affinity to Budweiser. 
As players continue to grow their platforms and grow in engagements and impressions, it puts pressure on other brands to create meaningful partnerships with the NWSL as a league.