Contributing Collaborators: Cydney Dodson (WiST Fellow) and Mier Shao (WiST Fellow)
---
The sports sponsorship landscape has drastically changed now more than ever for everyone. With limited to no fans in the stadiums and arenas, fans are consuming more sports content through social media and mobile streaming devices. There is a shift now for brands to look beyond broadcast and adapt to generating commercial value across all digital platforms – especially social media.
Even during a pandemic, the National Women's Soccer League (NWSL) and the Women's National Basketball Association (WNBA) have proven, with social media, that there is a market for brands – especially beverage brands to activate, align, and generate a return on investment with women's sports.
Here are some insights gathered using Zoomph technology on a couple of beverage brands activating with the NWSL and WNBA via social:
Beverage brands recognizing what women sports deserve
NWSL x Budweiser
Budweiser was the real winner of the @NWSL Challenge Cup, said Alex Morgan via Twitter, and we could not agree more.
.@Budweiser was the real winner of the @NWSL Challenge Cup. But also, congrats @HoustonDash on a great tournament! Keep enjoying those beers, especially @KristieMewie 🍻

— Alex Morgan (@alexmorgan13) July 27, 2020
As the official beer sponsor of the NWSL and presenting sponsor of the Challenge Cup finals, Budweiser set the bar high for overall sponsorship value generated across social. Their Woman of the Match campaign garnered over 4.6 million in impressions and $137K in social value across the league's social channels and to top that, as the presenting sponsor of the Challenge Cup semis and finals they totaled over 7.1 million in impressions and $134K in social value.
Throwing it down like only H-Town can 🤘

Thanks for making it a special one, @budweiserusa! 🍻#NWSLChallengeCup pic.twitter.com/kp294IpKht

— National Women's Soccer League (@NWSL) July 26, 2020
When analyzing NWSL fans on social against the average sports fan (baseline), NWSL fans are 1.7 times more likely to have an affinity for beer – especially an affinity to Budweiser which as seen below is 2.5 times more likely compared to other beer brands. Budweiser aligning with the NWSL just makes sense, and when analyzing this data, it is a compelling business case that demonstrates quality investment.

WNBA x Mountain Dew
In one of the latest sponsorship deals, WNBA's A'ja Wilson's partnership with Mountain Dew has proved to be unlike any other. Wilson helped bring a salon into the Wubble as players and coaches did not previously have access to simple hair services. This partnership collectively activated the Crossover Salon powered by Mountain Dew which generated a lot of buzz not only within the Wubble but across social media. In its partnership announcement across social, the campaign accumulated over 2.26% engagement rate and 774K in impressions.
I've had a partnership with @MountainDew for the past two seasons, and it's nice to have a partner that supports player wellness during our time down here in Florida. So excited to introduce the Crossover Salon 💚 pic.twitter.com/g725LPTkgE

— A'ja Wilson (@_ajawilson22) August 18, 2020
And when looking at the graph below when compared to the average sports fan (baseline), WNBA fans on social are 3.0 times more likely to have an affinity for Mountain Dew. Opportunity to increase their brand recognition against leading competitors that show a higher affinity with WNBA fans.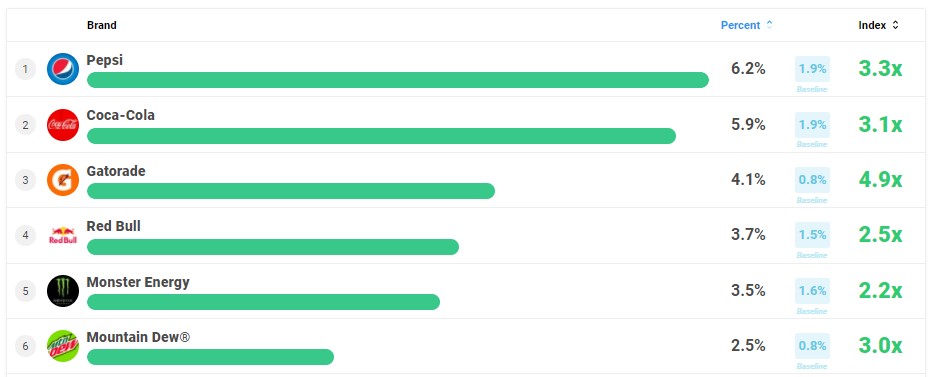 Together Mountain Dew and the WNBA filled an opportunity to not only generate commercial value, but for a brand like Mountain Dew, it seemed to aligned with their mission to "fuel what is right" and that "doing good never stops." The collaboration not only supports the players but also provides salon members an opportunity to work in times where these services are shut down due to the ongoing pandemic. To quote LaChina Robinson's tweet, "Incredible work by Mountain Dew. If you want to know what investment in women's sports looks like…"
Bonus Analysis: How the NWSL generated a collective coffee community and a unique fan engagement from the digital sidelines
Talk about a deeper connection between teams and their beloved fans delivering meaningful and engaging content to fill the void of empty seats.
Looking at the line chart below which shows NWSL coffee trend on social, we knew there was another story about how unique the NWSL fan base seeks out ways to support the league.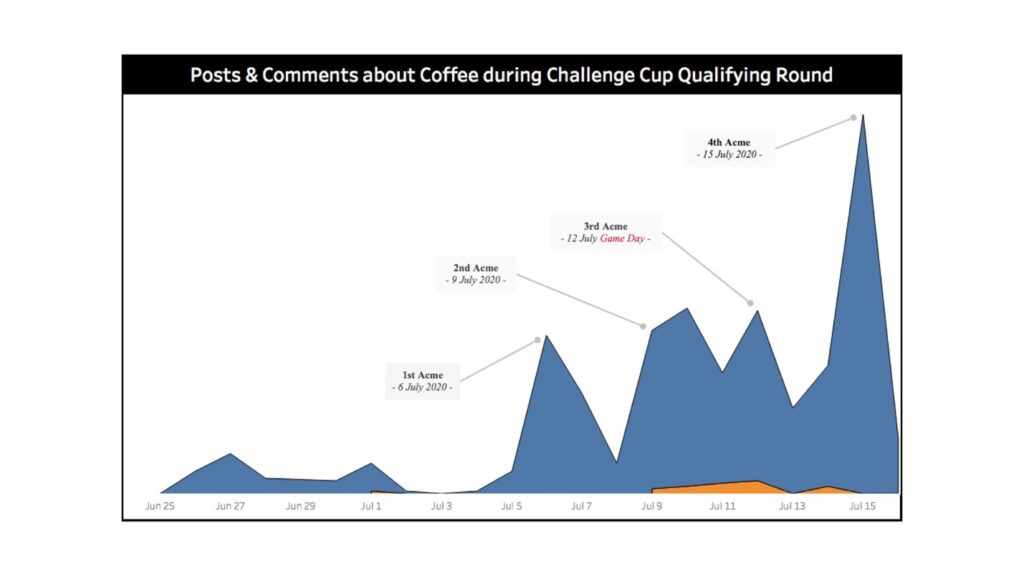 During the NWSL Challenge Cup, we witnessed a "fan-led, league-wide initiative" to support all teams. NWSL fans paying for coffee for players and staff who worked very hard to bring the first American professional sports league return to play. On social, 179 organic posts about coffee were created. That included NWSL owned posts (made by the @nwsl and teams' official accounts) as well as earned posts (others). Through Zoomph, we measured that these posts netted over 2.79 million impressions, 28,217 engagements and generated a social media value of $40,524.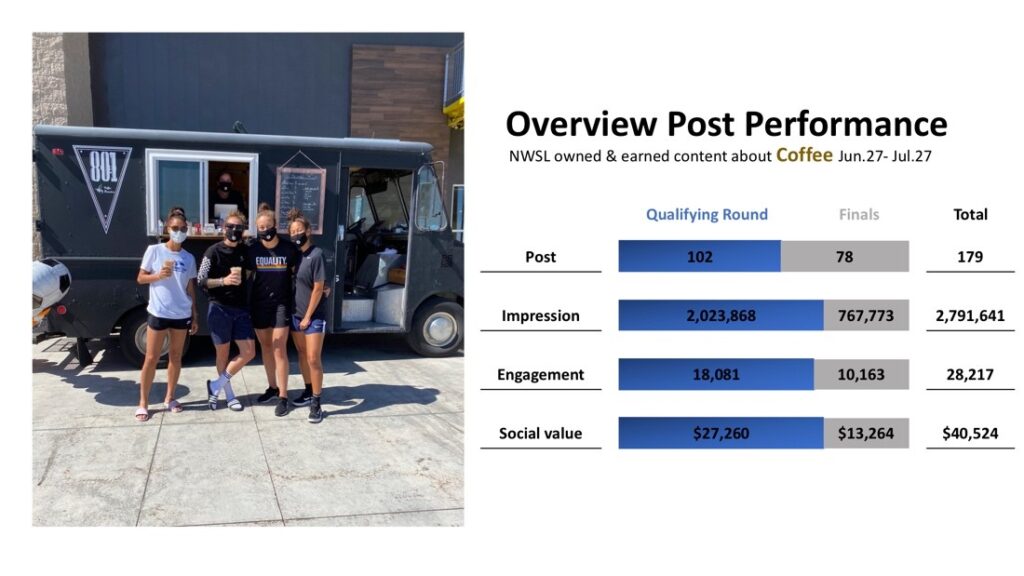 Behind the success on social are the following accounts that managed to use their direct line of influence and communication with fans and followers.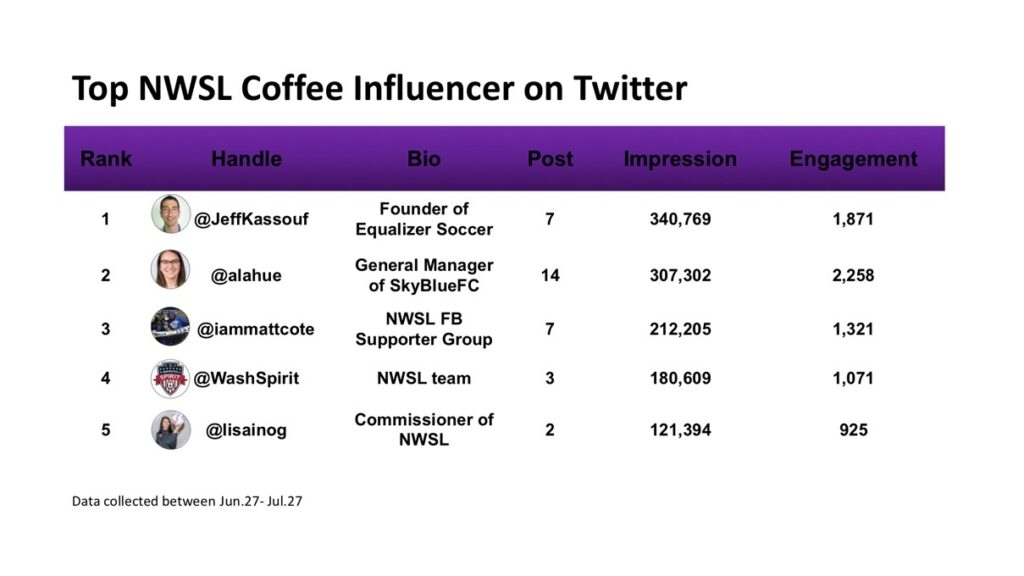 Jeff Kassouf is the founder of Equalizer Soccer, a media agency focusing on women's professional soccer news. One of his tweets on July 6th triggered the first NWSL coffee wave on social, resulting in 225,174 impressions and 1328 engagements.
Important content alert:

NWSL. Coffee.

The No. 1 'luxury' request among players isolated in the bubble for the month was good coffee, so the league brought in a coffee truck to serve premium caffeinated drinks, and it's a huge hit among players:

➡️ https://t.co/pMtC6WaFMS pic.twitter.com/7PFOsCQ6WS

— Jeff Kassouf (@JeffKassouf) July 6, 2020
Sky Blue FC General Manager Alyse LaHue posted 14 tweets to express appreciation for those "Coffee Angels" who reached out to her to ask if they could buy coffee for players and staff. She tweeted "Also I will just keep saying this over & over again, but I cannot believe the outpouring of support for this club. We feel it. Thank u all endlessly."
Thank you to today's @SkyBlueFC Coffee Angel @tc_scionlover 🥳 It's a day off so went w/Starbucks. Soy Latte for this monster 😬❤️ Also I will just keep saying this over & over again but I cannot believe the outpouring of support for this club. We feel it. Thank u all endlessly. pic.twitter.com/TcT6iYX8mE

— Alyse LaHue (@alahue) July 14, 2020
Matt Cote is one administrator of the NWSL Supporters Group on Facebook, and he connected fans to help raise more than $5000 for all teams. His tweet sent the latest update on NWSL Supporters Coffee fund which amplified even more fans to support the initiative.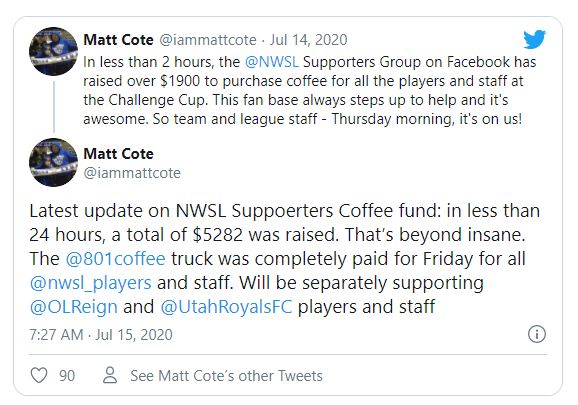 All in all, there is something special to be said about the NWSL and their community of fans, something brands should look into, invest, and align with.