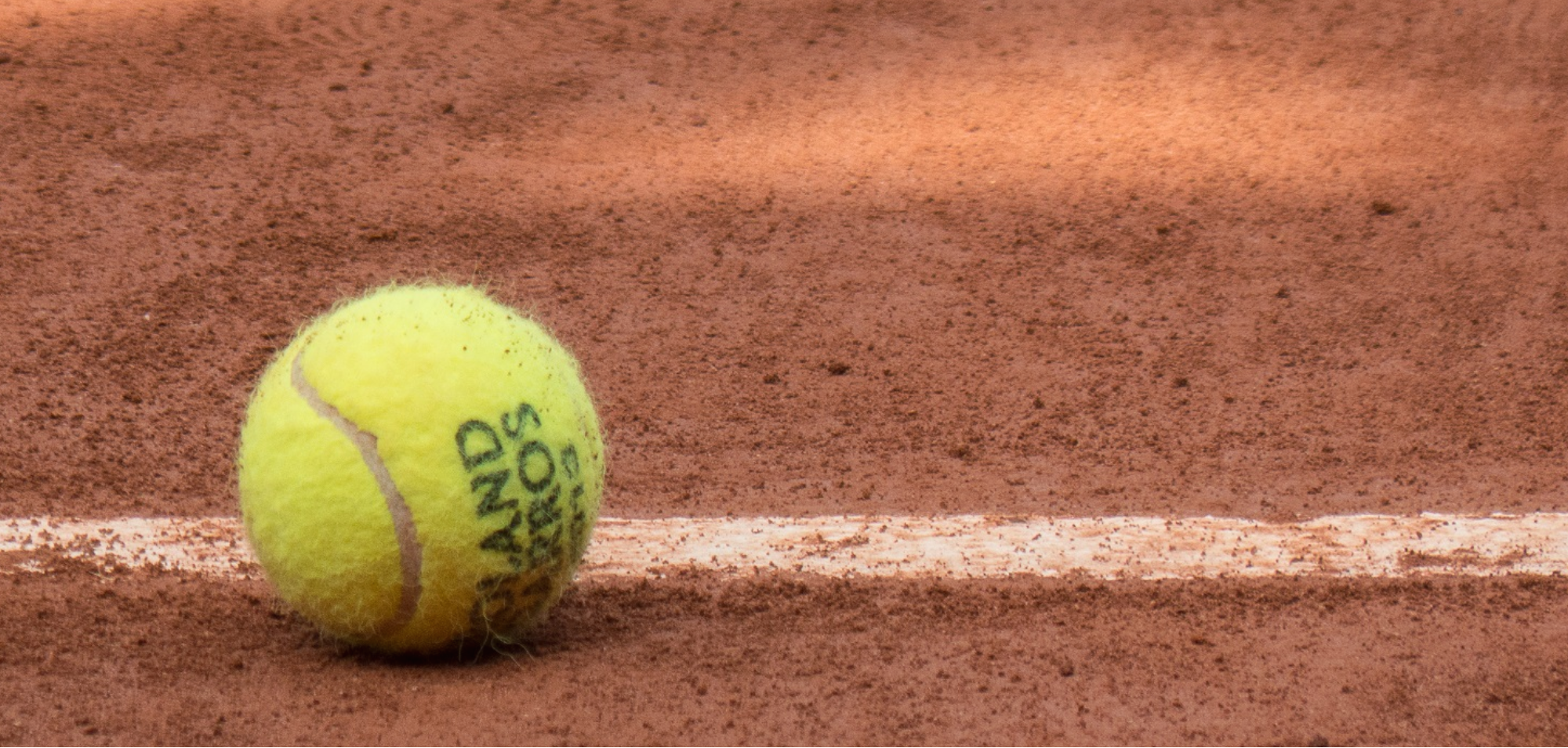 The second Grand Slam of the year has come and gone, and this year's French Open had some of the biggest names in tennis fighting it out on the clay at Roland Garros. Over the course of two weeks, both the men's and women's tournaments had everything – beautiful surroundings, exciting matches, young talent, famous veterans, tough losses, big wins and, in the end, two deserving champions.
French Open Social Overview
Twitter Conversation Around The French Open
An incredible event set in the beautiful city of Paris, Roland-Garros created plenty of social chatter this year. During the tournament, over 678K Tweets about the French Open generated over 2.7 billion impressions. Compared to last year, that's roughly 1.8x more Tweets and over 2x more impressions.
| | | | | |
| --- | --- | --- | --- | --- |
| Posts | Impressions | Engagements | Engagement Rate | Social Value |
| 678,119 | 2,702,533,273 | 10,270,435 | 0.39% | $35,309,188 |
Tweets mentioning "Roland Garros," "Roland-Garros," "French Open," #FrenchOpen, #RolandGarros, @rolandgarros 5/22/22 12AM – 6/6/22 12PM ET
Many of the biggest earned Tweets were media outlets like ESPN covering the tournament, and other top posts came from celebrities praising players and congratulating Rafael Nadal on his 14th French Open title.
This moment never gets old 🏆

All of Nadal's 14 French Open titles through the ages: pic.twitter.com/4OQsB5TNon

— ESPN (@espn) June 5, 2022
Tracking the activity over time, there were three clear spikes in Twitter activity as matches played out at Roland Garros.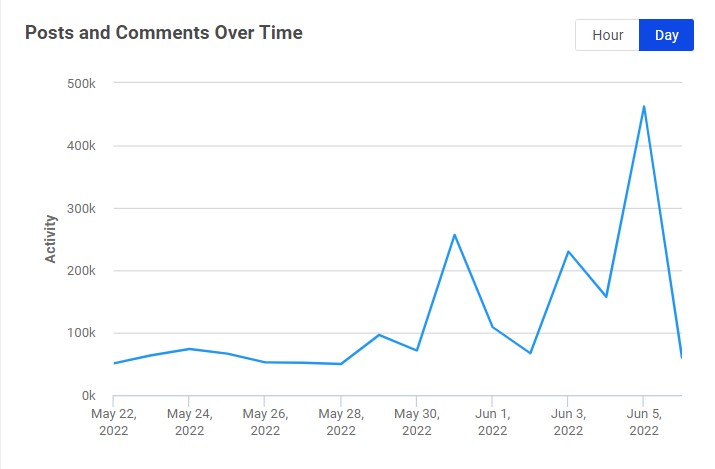 The first was Tuesday, May 31st for the blockbuster match between now 22-time major champion Rafael Nadal and 20-time major champion Novak Djokovic in the quarterfinals. Americans Coco Gauff and Sloane Stephens also faced off in the women's tournament that day.
Rafael Nadal beat Novak Djokovic in four sets to reach the French Open semifinals in a thrilling addition to their long rivalry. https://t.co/qgwhrhBA8X

— The New York Times (@nytimes) June 1, 2022
Friday, June 3rd activity rose again for the men's semifinals, although not to the levels it was for Djokovic-Nadal. World No. 3 Alexander Zverev unfortunately left what was shaping up to be an incredible match against Nadal with an injury during the second set.
The humility and concern shown by Nadal is what makes him so special.#RolandGarros pic.twitter.com/t7ZE6wpi47

— Sachin Tendulkar (@sachin_rt) June 3, 2022
Of course on Sunday activity was at its highest as the King of Clay struck again. Social media was buzzing as Nadal took home his 22nd major win and 14th win at Roland-Garros.
🗓 June 5th 🗓

17 years and 14 titles later…@RafaelNadal #RolandGarros pic.twitter.com/Xnwv8fPzvT

— Tennis TV (@TennisTV) June 5, 2022
Roland-Garros' Owned Social Serves An Ace
Kudos to the Roland Garros social accounts for beautifully covering two weeks of tennis. Over the course of the tournament they generated 669 million impressions from their accounts alone. With hundreds of matches, there was plenty of opportunity for content, and they amassed 14.8M+ engagements and $23M+ in social value over the course of 15 days.
| | | | | | |
| --- | --- | --- | --- | --- | --- |
| Posts | Impressions | Engagements | Engagement Rate | Social Value | Video Views |
| 2,869 | 674,880,371 | 15,000,861 | 2.22% | $23,519,896 | 33,255,258 |
Roland Garros owned social (TW, IG, FB) 5/22/22 12AM – 6/6/22 12PM ET
Their most popular posts were announcements of big wins, both for underdogs and tennis' best players as they progressed through the tournament.
With Nadal's historic 14th win, they generated their most engagement by far on Sunday. Their biggest post of the entire tournament featured Rafa then and now, bringing in over 619K+ engagements on Instagram.
As far as partners go, Roland Garros did a branded content series with smart device company Oppo highlighting the "Shot of the Day" over the course of the event. Cross-platform, this content series had 49 posts with more than 174K engagements and $334K in social value.
🤯 @RafaelNadal with the perfect angle! 📐

Check out our Shot of the Day by @oppo#RolandGarros | #InspirationAhead pic.twitter.com/ypY1YNdaU1

— Roland-Garros (@rolandgarros) June 3, 2022
King of Clay, King of Social
With a decades long career Rafael Nadal already has a massive global fanbase who were happy to celebrate with him on social media as he brought home his 14th Coupe des Mousquetaires.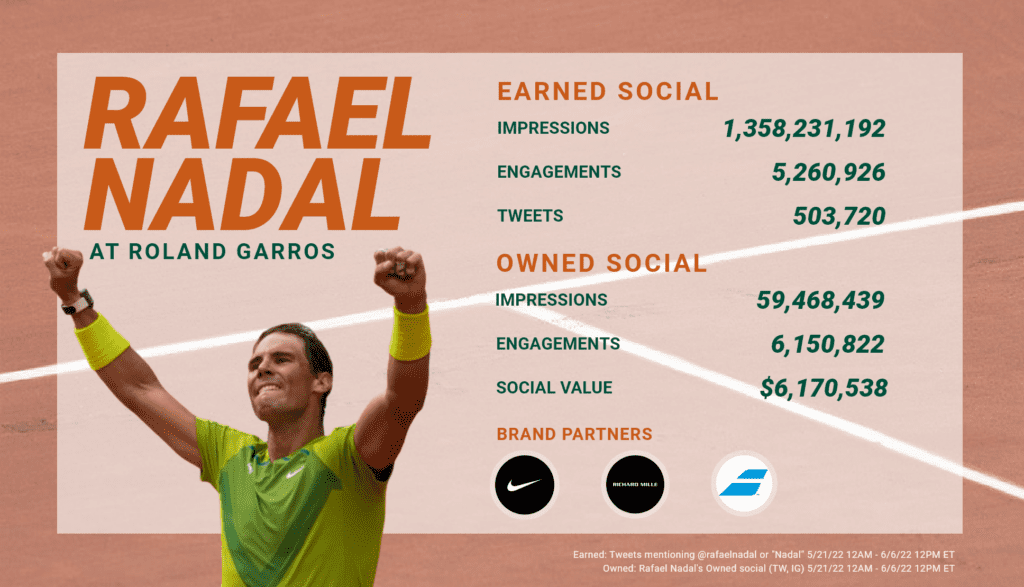 On his own social media accounts, Nadal created 6.1M+ engagements over just eleven posts. His posts after winning the French Open helped boost those numbers, but his top post actually came after beating longtime competitor Djokovic and earned a whopping $1.3M+ in social value.
Throughout his content several of Nadal's big partners were on full display. Along with his own branded logo, the Nike swoosh was all over his apparel. Plus, Nadal notably wore a Richard Mille timepiece throughout the tournament, featured in his content and posts that included pictures of him.
Rafael Nadal just became the only man in tennis history to win 22 Grand Slams, and he did it while wearing a $1 million Richard Mille watch.

The watch weighs just 30 grams, only 50 copies exist, and it can withstand 5,000 Gs of force 🔥 pic.twitter.com/06Io6Ss0eD

— Joe Pompliano (@JoePompliano) June 5, 2022
Besides his own social content doing big numbers, over the course of the tournament Tweets about Nadal totaled over 503K and brought in more than 1.35 billion impressions. Fans, celebrities, media and Roland Garros closely covered his 22nd Grand Slam title run.
King of Clay x 14 👑@RafaelNadal remains undefeated in Paris finals, conquering Casper Ruud 6-3, 6-3, 6-0 for a 14th title#RolandGarros pic.twitter.com/GctcC17Ah8

— Roland-Garros (@rolandgarros) June 5, 2022
LA DECIMOCUARTA. ¿Casualidad? No lo creo. Histórico @RafaelNadal 🏆
BRAVO 👏🏽👏🏽👏🏽

— Marco Asensio (@marcoasensio10) June 5, 2022
Rafa Nadal has a French Open match tomorrow but that's not stopping him from supporting Real Madrid 😉 pic.twitter.com/KewI9j0ABC

— B/R Football (@brfootball) May 28, 2022
Young Stars Shine in Women's Tournament
Coco Serving Content
American Coco Gauff has quickly become a fan favorite since her WTA Tour debut in 2019, and at just 18 years old she made her first singles Grand Slam finals at this year's French Open.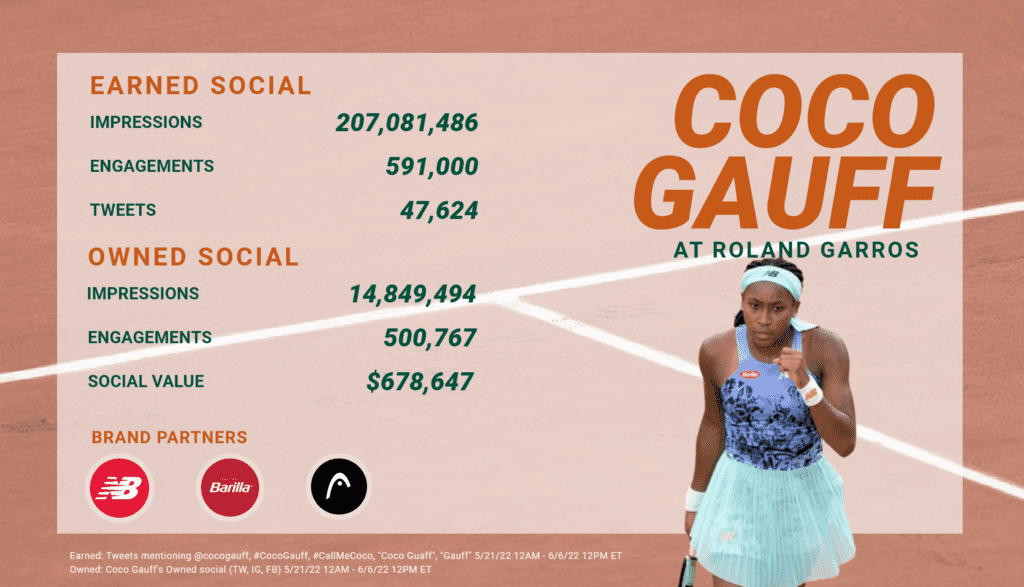 Gauff just so happened to graduate high school while in Paris too, posting herself in cap and gown in front of the Eiffel Tower the day before the French Open began. This was her top post of the tournament. Check out the New Balances, one of Gauff's major partners.
Gauff took to Twitter throughout the tournament to share her excitement as she advanced to finals for singles and doubles. Her Twitter alone brought in 10.7 million impressions throughout her time in Paris.
finalsss🥺🤍 @rolandgarros pic.twitter.com/EPfgHmHIJz

— Coco Gauff (@CocoGauff) June 2, 2022
Besides her graduation pic, she only posted one more grid post on Instagram, recapping her time at Roland Garros with grace and gratitude. It was her biggest post of the tournament, engagements-wise, bringing in 125K+ likes/comments.
In total, she earned more than 500K engagements and $678K in social value on her owned social accounts, but her incredible run in Paris picked up traction off her personal socials as well. In total, there were over 47K tweets about Gauff throughout Roland Garros, generating over 207 million impressions. Additionally, the women's finals on Saturday between Coco Gauff and No.1 ranked Iga Swiatek had the 4th most Twitter activity of any day of the tournament.
Wise beyond her 18 years.

Ladies and gentlemen, @CocoGauff 👏#RolandGarros pic.twitter.com/iBrSdV8LZz

— Roland-Garros (@rolandgarros) May 31, 2022
Iga's Brand Continues to Boom
With her SIXTH straight tournament win, and the first Grand Slam in that streak, WTA No. 1 Iga Swiatek has been on fire! As she continues to dominate on court, more and more fans are following her off the court. Her Instagram following has grown 72% since March 1st, right around the time she began this title-run.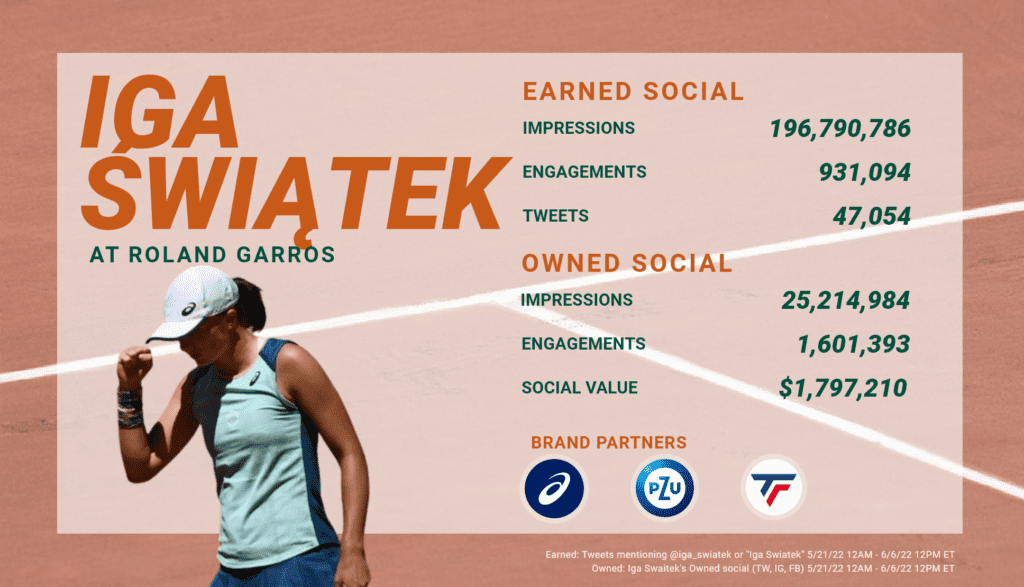 As the projected tournament winner, the tennis world heavily discussed Swiatek on Twitter as she progressed through the French Open. Similar to Gauff, she had over 47K tweets about her, with more engagement after she took home the win, but slightly less earned impressions.
Simply amazing @iga_swiatek! 🤝🏻🍿 Congrats! @rolandgarros 🏆

— Carlos Alcaraz (@alcarazcarlos03) June 4, 2022
Iga Swiatek celebrated with Polish compatriot Robert Lewandowski after beating Coco Gauff at the French Open 🎾 pic.twitter.com/IgGpu7oPgC

— GOAL (@goal) June 4, 2022
During this tournament, she updated her quickly growing fan base along the way, creating lots of engagement on her Instagram in particular. Her top post was celebrating her first major win of the year with the Suzanne-Lenglen cup in front of the Eiffel Tower, bringing in 388K+ engagements and $376K+ in social value.
This year's French Open was the perfect combination of storylines and star-power, compelling fans to tune in via social and generate billions of impressions and millions of engagements around the event. It will be interesting to see if tennis continues this momentum into Wimbledon, slated to start later this June.