Uncategorized
2019 PUBG Global Championship Social Overview and Team Social Value
Over the weekend of November 22nd, one of the top global PlayersUnknown's Battlegrounds, or PUBG, tournaments took place, the PUBG Global Championship. The competition field was exceptionally stacked, including teams like FaZe Clan, TSM, Gen.G, and more.
Using Zoomph, we tracked all activity around the handles, hashtags, and phrases for PUBG Global Championship from 11/22/19 – 11/25/19. Over the weekend, impressions on posts about the event reached 135.8 million, helping generated an impression value of $713.4K and an engagement value of $78.1K.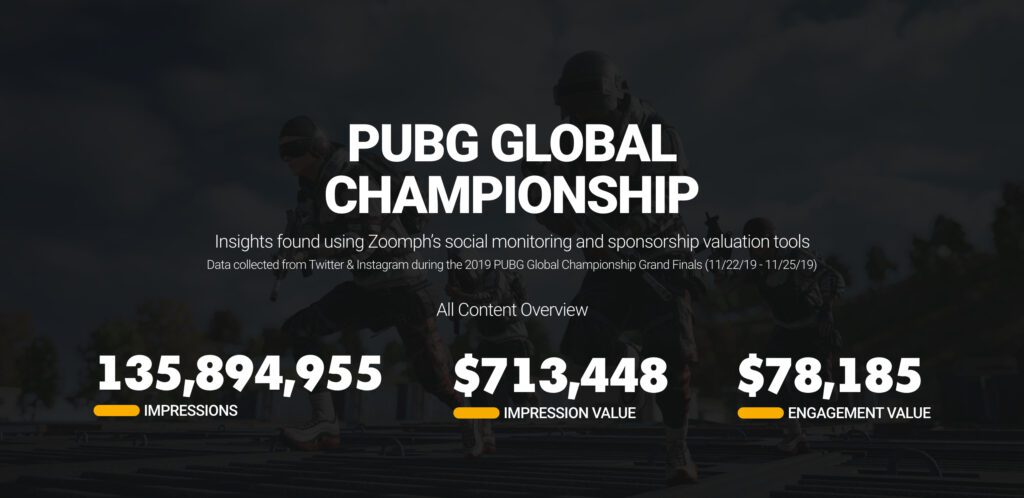 With 16 of the top teams globally competing in this major esports tournament, we wanted to understand exactly which teams were bringing in the most impressions and social value for their respective brand, and the tournament overall. FaZe Clan topped the list, with their impression number topping 41.5M and an attributed social value of $235.7K. This was followed by TSM and Natus Vincere, which generated impression total and social value metrics of 28.6M/$181,7K and 18.9M/$104.2K respectively.
Understanding these values and other metrics for teams and the tournament are important to know for both marketing/social and sales alike. Teams posting more engaging content, and more frequent content, are more likely to become leaders in the conversation and receive more impressions and engagement, boosting metric values. Likewise, with these numbers measured, it is easier for teams and brands to sell to sponsors, by providing real-time data on values the team is receiving on social.