Let's talk mascots. A staple of the game day experience, a quintessential photo op, and sometimes things that might incite nightmares (looking at you Gritty). But what do mascots do when they can no longer be part of the game day experience? They take to Twitter. 24 teams went into the NHL Bubble, 12 in Edmonton and 12 in Toronto. 17 of those teams have active mascot Twitter accounts and our team at Zoomph went and took a look at the social analytics numbers through the first week of the Stanley Cup Qualifiers and Round Robin.
Mascot Audiences
When the Philadelphia Flyers launched Gritty, he took the social media world by storm and set a new standard for team mascot accounts to aspire to. From August 1st – August 10th, Gritty led the way with over 2 million impressions and nearly $50,000 in added social value. It helps when your team is playing extremely well, but with Gnash from the Nashville Predators in second place, we see that even when your team gets knocked out, you can still provide value to the tune of nearly $20,000 in a week.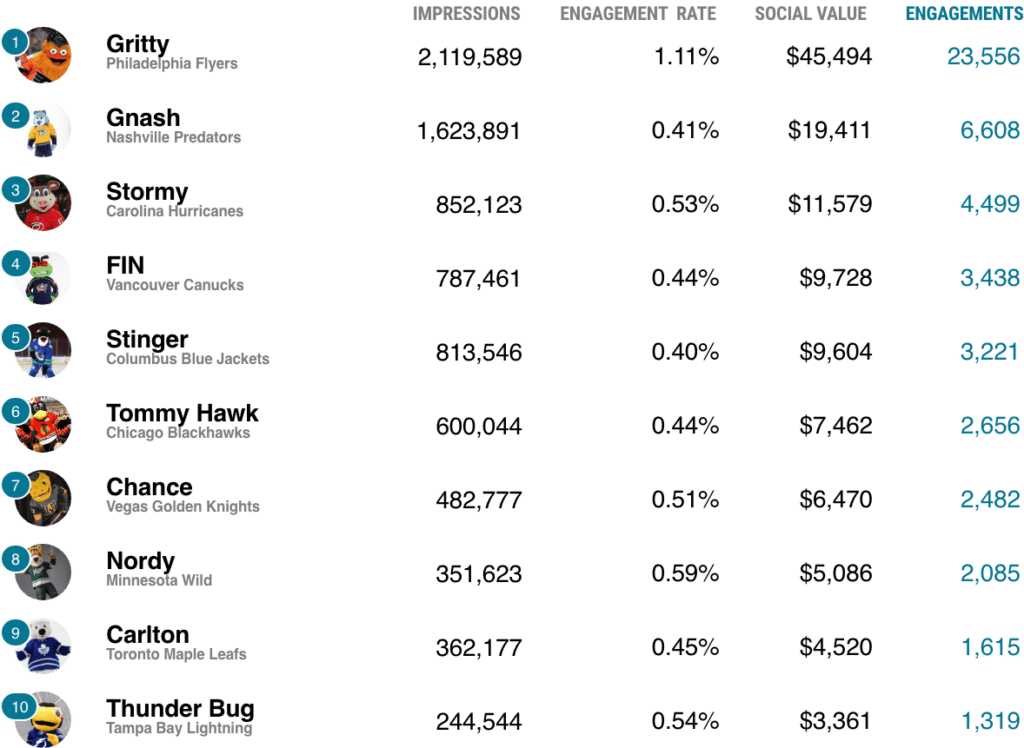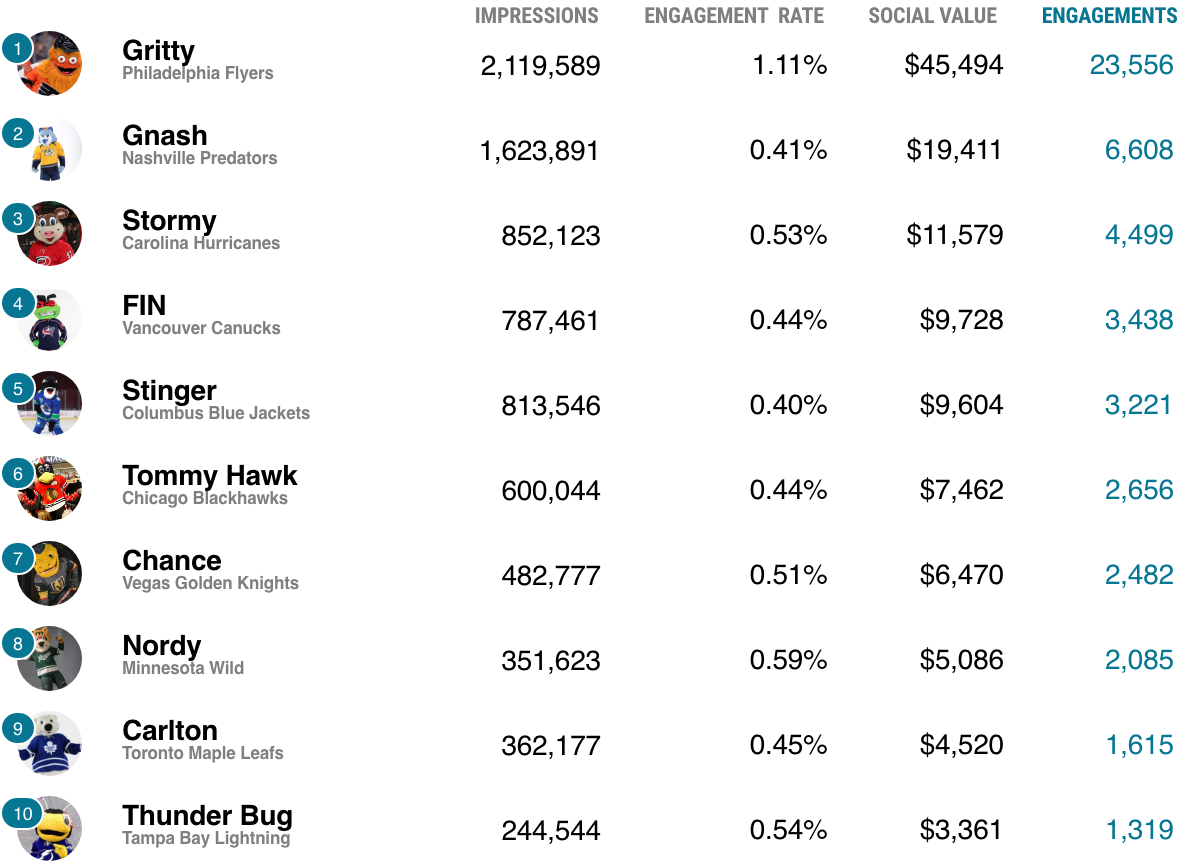 Teams in professional sports no longer just have one social account, it's a well-rounded complement of accounts that include additional language accounts, dance/cheer teams, and mascots. Mascots can help you reach a different demographic than your traditional team account – often we see mascots associated with community relations initiatives and kid's clubs.
Audience Demographics: Playoff/Qualifier Team Followers vs. Mascot Followers
Gender: Team mascot followers are slightly more likely to be female, 1x more likely
Generation: Team mascot followers are 1.4x more likely to be part of Gen-X
Interests & Passions: Followers of mascot accounts are almost 3x as likely to be interested in gambling and betting, and 2.5x more likely to be interested in Esports
Brand Affinities: Some of the top brands that the mascot followers have affinity for were: Lego, Southwest Airlines, NutriBullet, and Etsy
Added Bonus: Sponsorship Activation
In addition to reaching a different demographic and providing value for team awareness, they can also provide an added benefit to sponsors. While the teams are in the bubble, they can be on location for their local sponsors to provide support and value. The Nashville Predators even used Gnash to put a nice spin on getting eliminated by the Arizona Coyotes with their partner Omni Nashville Hotel. During the week, Gnash also found ways to integrate sponsors like Walmart, Tennessee Lottery, and Twice Daily into his tweets.
The St. Louis Blues have partnered with Bud Light to have a caravan that drives through different neighborhoods as part of their Blues Game Day Pep Rally. Louie helped spread the word by posting the route they'd be taking and making sure he tagged Bud Light! During the first round, Louie and the team posted about three of the caravans, adding an additional $1,000 of exposure to Bud Light.
TOWER GROVE, we are bringing the Blues Game Day Pep Rally presented by @budlight to your doorstep! Get ready for today's game by getting outside and making sure we can hear you!! Caravan kicks off at noon! Today's host is my good friend @Patrico1057 from the @RizzShow pic.twitter.com/3H2K1e0JrV

— LouieSTLBlues (@LouieSTLBlues) August 6, 2020
We've loved seeing all the creativity displayed by the NHL and their teams, and we can't wait to see more and the Stanley Cup Playoffs continue.