Week 2 in the NFL is in the books. With a week of outcomes to build on & plenty of thrills on the field, teams were put to the test & shined. 
Here were the top teams on social media by engagement rate during Week 2. 
Here were the top teams on social media by engagements/post during Week 2.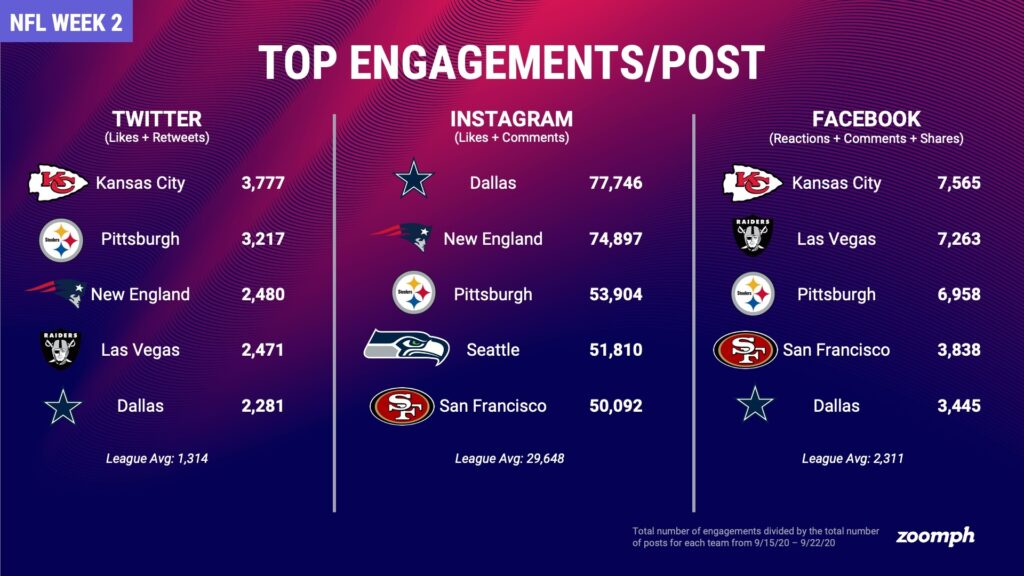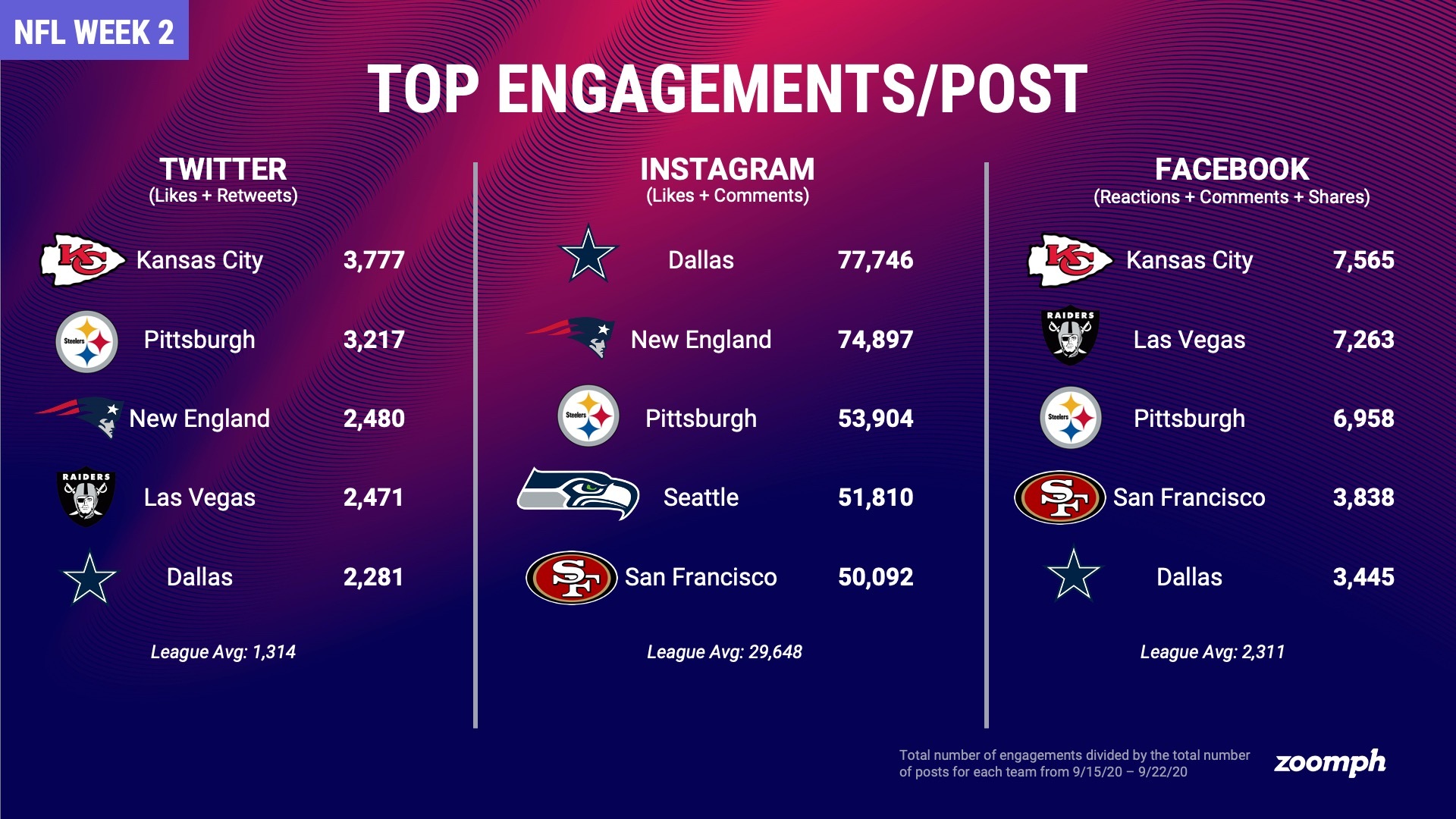 The avg engagements/post per platform fell around 17% from Week 1 to Week 2. It will be interesting to see how teams work to keep this trending upward week over week. 
On Twitter, teams saw success from capitalizing on content trends exclusive to the platform.
Wow Twitter is so fast with these.

Like to try it out! pic.twitter.com/v0LlZ2DcAZ

— Cleveland Browns (@Browns) September 18, 2020
This so cool @Twitter! Thanks so much 💙

Like to see it!! pic.twitter.com/upG0WpVha8

— Carolina Panthers (@Panthers) September 17, 2020
Like to see what happens!! pic.twitter.com/gOEJI1u5Sk

— Tampa Bay Buccaneers (@Buccaneers) September 18, 2020
Having a pulse on the conversation & reacting in creative ways can lead to a nice boost in performance & get fans engaged that might not on your average post. 
Encouraging fans to engage in ways beyond simply liking a post can be effective for boosting reach & getting fans to engage more than once.
This IG post from Dallas Cowboys saw 11x more engagements & 35x more comments than their 30-day avg! 
 

 

 

View this post on Instagram

 

 
Put yourself in your audience's shoes. How are they feeling and how can you create content, when attention on you is high, to empathize with them? 
 This personality-building can have significant short-term and long-term results. 
Friendly reminder that we don't have the answers to your salary cap questions. We just run the social media here. 😩

— Los Angeles Rams (@RamsNFL) September 18, 2020
2020, can you not

— Denver Broncos (@Broncos) September 21, 2020
Leveraging influencers, both big & small, to be advocates for your brand can build a great net & lead to audience engagement crossover.  
If done effectively, even if not directly over social media, it can lead to fun results that make for a great story. 
 

 

 

View this post on Instagram

 

 
Take losses to highlight the positives where appropriate. Listening to your fans & seeing what they're noting can be used to highlight a bright spot where there might not normally be. This also allows new players to see that they're appreciated by your fans. 
Ohio's Own pic.twitter.com/cdlVOD8Iom

— Cincinnati Bengals (@Bengals) September 17, 2020
shoutout to the rook 🤝

- 311 passing yards
- 18 rushing yards
- 2 touchdowns pic.twitter.com/iJ7jwQ4anz

— Los Angeles Chargers (@chargers) September 21, 2020
Shout-out to the awesome work being done over the last two weeks! What stood out to you? What content should teams be recognized in NFL Twitter?