The recent boom of cryptocurrency has translated into a new industry for sport sponsorship opportunities. While the NBA has already tapped into this market (Hello, crypto.com Arena), NFL teams have yet to completely dive in.
That's not necessarily by choice, though. With the meteoric rise of cryptocurrency, the NFL swooped in to say teams weren't allowed to partner with cryptocurrency exchanges or coins, nor can they sell their own NFTs, although since then there's been some movement. They're reportedly continually evaluating the somewhat volatile industry.
To quote them specifically, per The Athletic: "Clubs are prohibited from selling, or otherwise allowing within club controlled media, advertisements for specific cryptocurrencies, initial coin offerings, other cryptocurrency sales or any other media category as it relates to blockchain, digital asset or as blockchain company, except as outlined in this policy."
The rules leave room for crypto-adjacent deals, hence the Patriots recent agreement with fan-token platform Socios and the Giants partnership with Grayscale Investments, a digital currency investment firm. Also, despite the original memo on NFTs, the NFL launched commemorative virtual tickets to be sold as NFTs.
If/when the NFL decides to freely allow crypto sponsors, both cryptocurrency companies and NFL teams will have big decisions to make about who they decide to work with.
Zoomph used our audience tool to do some forward-thinking, evaluating the affinity of NFL fan bases with certain cryptocurrency exchanges.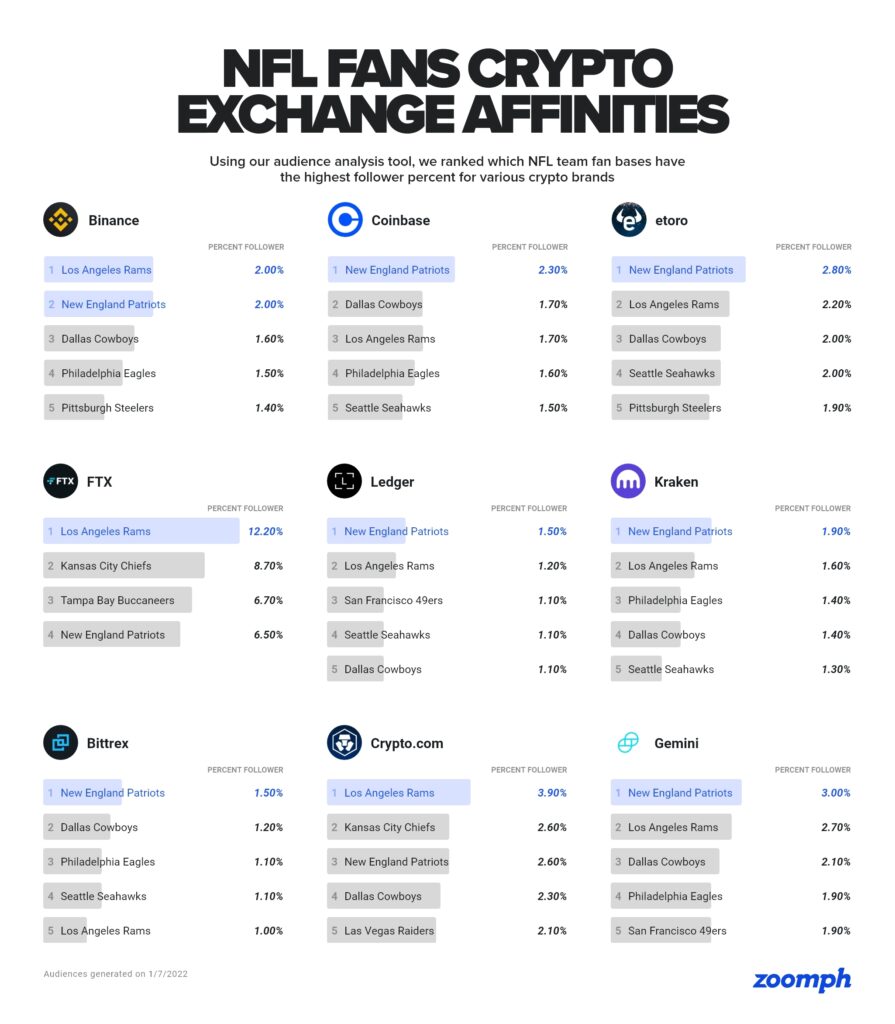 The Los Angeles Rams and New England Patriots fanbases stand out as particularly interested in cryptocurrency, with one of the two teams showing the most affinity for all nine exchanges.
FTX, crypto.com and Gemini have the most overall overlap between their top five NFL fanbases.
FTX's partnership with Tom Brady likely plays a part in the high Tampa Bay fan following for the popular exchange. Similarly, Crypto.com's recent investment in the Los Angeles area, buying the naming rights for the ex-Staples Center, could account for Los Angeles Rams fans' high affinity for the brand.
As the cryptocurrency space continues to grow, the NFL has some big decisions to make. What they decide will determine if teams are able to maximize business opportunities in the cryptocurrency industry.