Data & Insights
The NBA is Taking the Lead in Cryptocurrency and NFT Partnerships
Before you start reading, be prepared for these buzzwords:
Cryptocurrency – Digital or virtual currency that is secured by advanced encryptions, created from the blockchain network(s) on which it sits, which makes it nearly impossible to counterfeit or double-spend.
Non-fungible Token (NFT) – Digital representation of ownership of an item. Often, these items will be digital art and videos, but can include ownership of physical items as well. These are encrypted in a similar manner to cryptocurrencies and are mostly required to be sold or purchased in exchange for a specific type(s) of cryptocurrency.
Also check out this Instagram post from the Philadelphia 76ers, where Marc Zumoff gives a great / brief overview of what it means to own a basketball moment NFT.
Blockchain – This is where NFTs and Cryptocurrencies live. This is what makes such level of encryption possible and so secure. Using different networks and an encryption method called "cryptography," blockchains store data in different blocks that are then linked together, creating extremely advanced and nearly un-hackable encryption codes.
The Blockchain Evolution in the NBA
On October 19, 2021, NBA opening day, the NBA announced a partnership with a cryptocurrency trading platform, Coinbase. The announcement solidified the NBA's position on partnerships with the cryptocurrency and opened the door for teams to go out and secure partnerships with other major cryptocurrency platforms like Coinbase, as well as other brands in the blockchain space.
.@Coinbase and the NBA today announced a multiyear partnership that makes Coinbase the exclusive cryptocurrency platform partner of the NBA, WNBA, NBA G League, NBA 2K League and USA Basketball.

More ⬇️https://t.co/XOJpn4SjfB

— NBA Communications (@NBAPR) October 19, 2021
This wasn't the NBA's first partnership with a blockchain based company, however. On July 31, 2019 (yes, it has been THAT LONG), the NBA announced a partnership with Dapper Labs, an NFT creator with whom they collaborated to create NBA Top Shot, a collectible series of NFTs capturing NBA moments, which fans and/or investors can buy.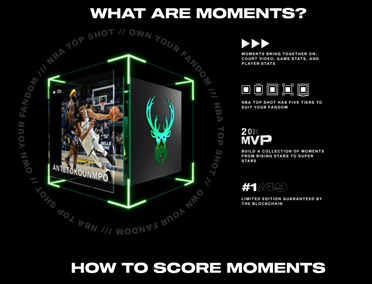 Why is this Important for the NBA?
The NBA has become one of the early adopters in partnering with cryptocurrency and NFT brands, opening doors for teams to do the same thing. All of this is happening while some leagues, such as the NFL, are actually banning partnerships with these industries due to the uncertainty and volatility.
As cryptocurrency and NFTs are becoming increasingly popular, partnerships, such as some of the ones listed on the right, have helped boost brand awareness. We looked at the top 50 hashtags on Twitter since the beginning of the season (October 19, 2021) for NBA owned and earned media and noted the following crypto and NFT related hashtags on this list: #nfts, #nft, #madtrooper and #nbatopshotthis. The chart below shows how social value per post and follower interaction rate on Twitter increases drastically with the use of one of these hashtags.
What's Next?
We know that cryptocurrency and NFT related social media posts directly relate to follower interaction with those posts. However, the NBA and its affiliated teams could still be doing more as far as partnerships are concerned. Below is a list of all crypto and NFT partnerships with the NBA and its 30 affiliate teams:
Cryptocurrency Brands
| | |
| --- | --- |
| Brand | Partner(s) |
| crypto.com | 76ers, Lakers |
| FTX | Heat |
| ANKR | Kings |
| StormX | Trail Blazers |
| NYDIG | Rockets |
| Coinbase | NBA |
NFT Brands
Brand
Partner(s)

Socios
76ers, Lakers, Cavaliers, Jazz, Spurs, Pacers, Suns,
Bucks, Nets, Grizzlies, Hornets, Kings, Celtics, Magic,
Rockets, Clippers, Hawks, Pistons, Warriors, Wizards,
Thunder, Heat, Timberwolves, Bulls
Top Shot
Bucks, Kings, Cavaliers
Glaringly, the blockchain company getting involved the most is Socios. The NFT creator of fan tokens has partnered with 24 of 30 NBA teams. Meanwhile, the cryptocurrency trading platform, crypto.com, is partnering with only 2 teams (the Philadelphia 76ers and Los Angeles Lakers) but is utilizing those partnerships in a BIG way. For one, Crypto.com is the top brand in the industry from a social value perspective this season:
Every game Philadelphia plays, the team posts the final score with the crypto.com logo embedded in the post and will often mention @Cryptocom (crypto.com's Twitter handle), providing significant value per post. Check out this post which generated $8,080 in social value, and over $1,241 in brand value for crypto.com:
big easy win.

🪙@Cryptocom pic.twitter.com/tsWcEFpEpZ

— Philadelphia 76ers (@sixers) October 21, 2021
Not only is crypto.com killing the social media game, but on November 17, 2021, they made a lot of noise in the NBA community. Following in the footsteps of FTX, crypto.com announced a 20-year partnership agreement with Anschutz Entertainment Group (AEG) – the owner of Los Angeles sports franchises Lakers, Kings, Sparks, and Galaxy. As part of this partnership, the iconic Staples Center will be renamed to crypto.com Arena.
We're extremely proud to announce that Staples Center, Los Angeles' most iconic arena is getting a new name:

https://t.co/vCNztATkNg Arena

As part of this 20 year partnership, we're also excited to welcome the @Lakers & @LAKings as our newest partners! pic.twitter.com/KCfYKySDRt

— Crypto.com (@cryptocom) November 17, 2021
Read more about this historic partnership here.
Key Takeaways
The blockchain industry is booming and still growing rapidly. As individuals become more educated about cryptocurrencies and NFTs, partnerships with these brands are going to continually improve in value. NBA teams should look to get in now and take advantage of these opportunities, especially while leagues like the NFL continue to hinder their affiliate teams from partnering with these brands.
If you are part of an NBA team not utilizing cryptocurrencies or NFTs in your social media campaign, look to the brands mentioned above to start, or focus on similar brands in the space such as eToro (crypto trading platform), OpenSea (NFT trading platform), and Solana (cryptocurrency), who may be looking to break into the sports sponsorship landscape. Also look at how teams (like the 76ers) are utilizing these partnerships in social media to help get started.
When it comes to crypto partnerships, NBA teams can either watch the rocket take off from a distance, or hop on and – as they commonly say in the industry – HODL (Hold On for Dear Life)!