Happy Opening Day!
The 2023 MLB Season has finally arrived following an offseason of record-breaking deals and one of the most exciting World Baseball Classics EVER. This season also brings a lot of eyes to the new rules being implemented, including the new pitch clock, the banning of the shift, and larger bases aimed to increase stolen bases.
But before we jump into the games, we want to take time to highlight a few amazing partnerships being activated early this season, from brands including Chevrolet, Topps, and new league partner, Zoom.
Chevrolet Opening Day Promotion
A premier sponsor of the MLB, sponsoring events and more year-round, Chevrolet was the featured brand in the MLB's "Please excuse from work" post. The effective brand logo placement, as well as the mention in the post copy, will help draw effective value for Chevrolet to kick off the season.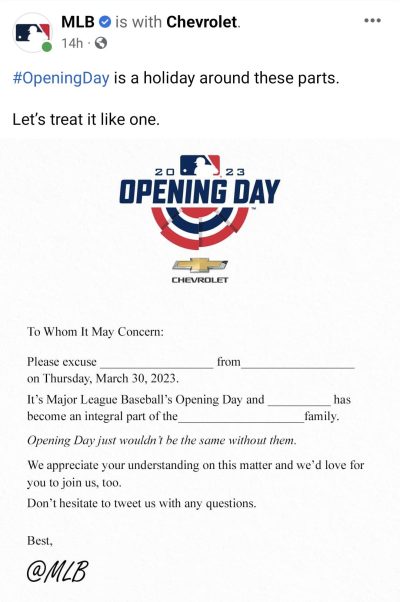 Topps x MLB New "MLB Debut" Patch
Announced just this morning, Topps and MLB, along with Fanatics, have created and designed a new "MLB Debut" patch that rookies will wear on their jersey sleeves in their very first game. Following the game, the patch will be inserted into the players' Topps trading cards, for what MLB calls "the ultimate rookie card." This unique activation will give fans highly sought-after memorabilia cards to look for in Topps products, creating a major win for the long-time league partner and staple in baseball.
Fun fact: Using Zoomph data, this tweet below about their activation with Topps has already exceeded their rolling 30-day engagement average in less than 3 hours!
Made for the moment. Starting #OpeningDay, every player making their Major League debut will wear an "MLB Debut" patch on their uniform for their first game! That patch will then be added to @Topps trading cards, creating the ultimate rookie card. pic.twitter.com/Acs5dxZWRD

— MLB (@MLB) March 30, 2023
New League Partner: Zoom
Was your note to be excused rejected by your boss? No worries, new league partner Zoom has your fandom covered for your Opening Day meetings. Helping fans "take meetings in style", Zoom and MLB teamed up for Zoom backgrounds for all 30 teams, with heavy exposure for Zoom. This fun collab with help generate plenty of brand recall and recognition for Zoom with fans throughout the entire league.