Originally kicking off its inaugural season in 2018, the eMLS is an esports league formed by Major League Soccer (MLS). The league is platformed around the EA Sports franchise game, "FIFA". With 19 teams in its inaugural season, the league has now expanded to 25 teams, including Nashville SC and Austin FC, teams that make their MLS debuts in 2020 and 2021 respectively.
In 2018, the eMLS only featured the eMLS Cup, a qualifying event for the FIFA eWorld Cup, the world's top FIFA esports tournament. In 2019 the league debuted Series One and Series Two, two events prior to the eMLS Cup, which provides bonus points for players heading into eMLS Cup.
With the expansion of tournaments, we are also seeing continued growth in the number of teams, as it is reported that Inter Miami CF could be joining the eMLS League in 2021, a year following their debut in the MLS.

Top Team Fan Base Esports Affinities
Esports has been growing steadily, with many professional sports finding ways to get involved. The development of eMLS shows the MLS's interest in developing their connection to the esports industry. To understand the level of an existing interest in esports, we've ranked the top teams whose fans have an affinity for esports, compared to the average MLS fan.
FC Austin fans were 2.9x more likely to have an affinity for esports than the average MLS fan. Despite already kicking off their action in the eMLS, FC Austin doesn't play their inaugural season in the MLS until the 2021 season.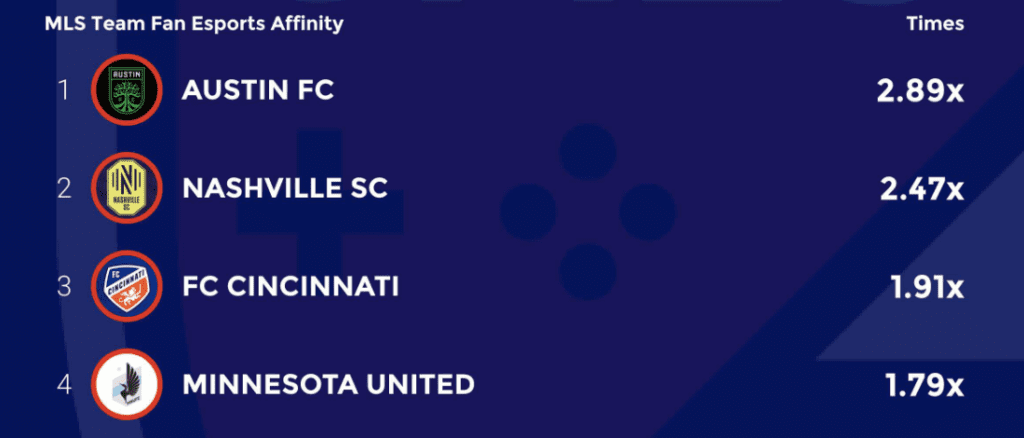 eMLS League Series One Top Teams
Many storylines and matchups from League Series One propelled top teams to the top of the team ranking chart. Some headlines included FIDDLE winning the tournament for FC Cincinnati, former Philadelphia Eagles running back and Super Bowl champion Jay Ajayi representing the host Philadelphia Union, and more. Rounding out the top three teams, after FC Cincinnati and Philadelphia Union, was the current U.S. Open Cup and Campeones Cup champions Atlanta United FC.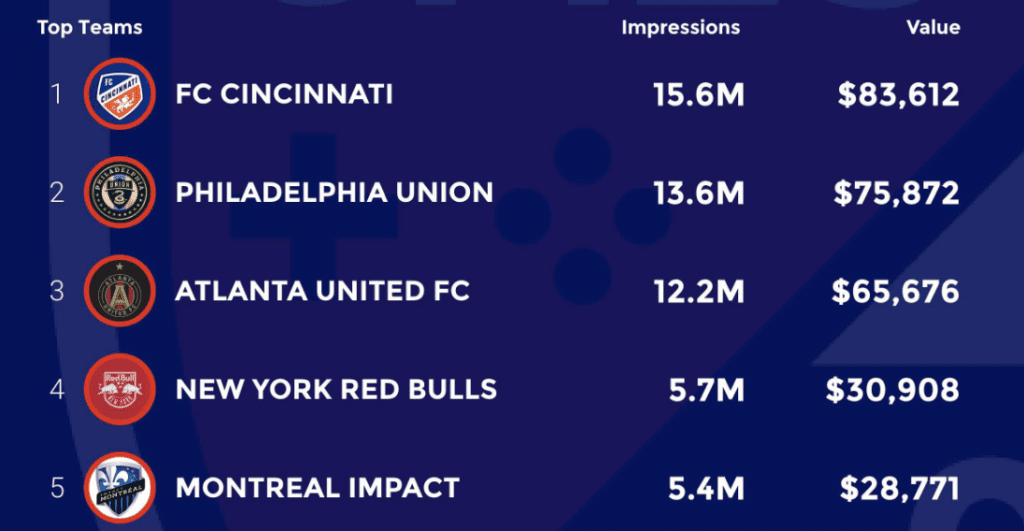 eMLS League Series One Top Players
To no surprise, the top of the leaderboard for the player rankings was almost identical to the teams represented in the team ranking. Highlights and celebratory posts of his tournament champion winning run pushed FIDDLE to the top of our lists, who was followed by Jay Ajayi and tournament runner-up Adamou.
Despite his last-place performance in the group stage with a 0-0-12 (W-T-L) record, Jay Ajayi finished 2nd in social value among all players, with a generated social value of $108,215.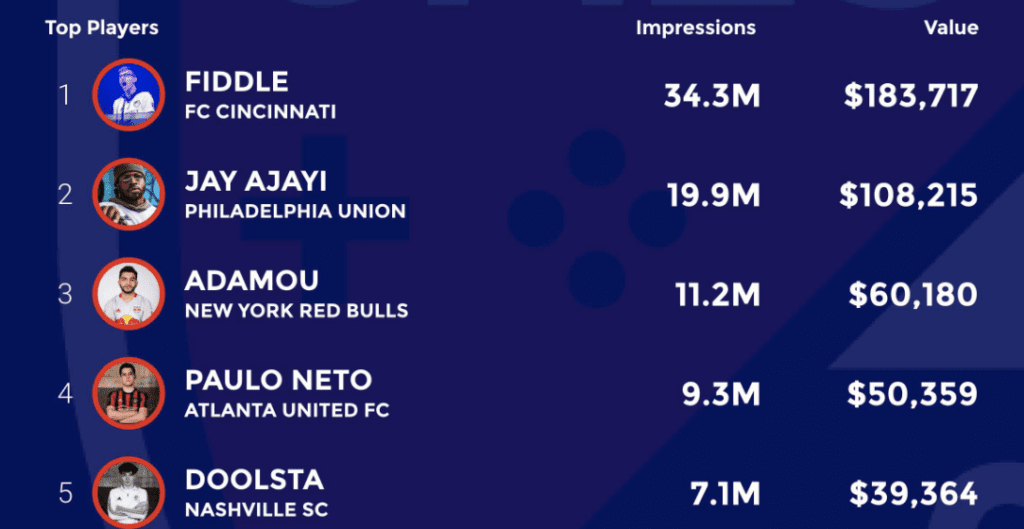 eMLS League Series One Top Sponsors
The tournament had a variety of sponsorship activations. PlayStation was the platform provider and Scuf Gaming provided controllers for the players. Finally, the league activated both on-site and on social for many of its sponsors. Sponsor content during the eMLS League Series One totaled over $639,000 for league sponsors.