Reston, VA: Zoomph is pleased to announce a strategic partnership with Tyson Group.
Zoomph and Tyson Group have announced a strategic partnership aimed at enhancing sales tactics, strategies, and pipeline opportunities in the sports and entertainment industry. The collaboration will see the two organizations work together to analyze sales data and develop effective sales strategies. Additionally, Zoomph and Tyson Group will collaborate on marketing initiatives through shared blogs, case studies, and feature stories.
"This is a best-in-class partnership that will dramatically enhance the results for current clients and those we have yet to work with," says Lance Tyson, President and CEO of Tyson Group. "We're a data-driven, evidence-based firm that believes sales is a science, with predictable, measurable outcomes. There is no one in sports and entertainment better at measuring, analyzing, and leveraging data than Zoomph."
The partnership between Zoomph and Tyson Group highlights the importance of collaboration and innovation in the sports industry. Follow Zoomph on Twitter, Instagram, and LinkedIn for updates on the partnership and its impact.
"Tyson Group is an authority in negotiating and consulting in high stake sales for professional sports teams – we could not be more thrilled to partner with their award-winning process," said Amir Zonozi, President and Co-Founder of Zoomph. "Our partnership will showcase the value of a data-driven sales process to deliver results and exceed goals for sponsorship teams across sports and entertainment."
"Tyson Group is a nationally recognized and award-winning company and we couldn't be more proud to bring our two teams together to accomplish amazing things together in the sports and entertainment industry", says Mike Pycha, Chief Revenue Officer of Zoomph.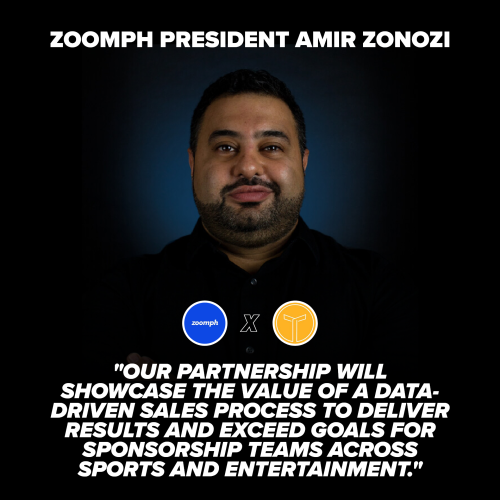 About Zoomph:
Zoomph empowers brands, agencies, and rights holders, across sports and esports with data to increase revenue and identify new opportunities through media measurement & valuation, benchmarking, and consumer insights. Zoomph, which is headquartered in Reston, Virginia, is partnered with leagues and teams across sports and esports, including the Chicago White Sox, New England Patriots, NASCAR, Angel City FC, and Golden State Warriors. For more information, check us out at Zoomph.com
About the Tyson Group:
Tyson Group offers expert sales consulting and training customized to companies' individual needs, cultivating talent that yields measurable results. They have consulted and provided negotiation strategies for multi-billion dollar deals for the nation's most prominent sports stadiums, developed elite sales teams, and advised on the installation of sales methodology for countless organizations.
Their expertise in recruiting, training, and coaching helps the right talent drive organizations to the next level. They have proven experience creating, establishing, and implementing organizational changes and new processes that help sales leaders and their teams meet and exceed goals in all industries.