Data & Insights
Winter Olympics Explode On TikTok: How Athletes Drive Value for Olympic Partners
With just half a year between the end of the Tokyo Summer Olympics and the start of the Beijing Winter Olympics, fans seem to be experiencing some Olympic fatigue. TV ratings are down almost 50% from PyeongChang, few Olympics-related hashtags are trending (at least for positive stories), and even the most ardent sports fans are met with a dearth of relevant content on Instagram. But then there's TikTok.
Unlike its more traditional, older, and arguably less-cool counterparts, the Olympics are everywhere. One would be hard-pressed to scroll through their For You Page without encountering a video of Olympic athletes exploring the village, reviewing their latest swag, or just goofing off on the mountains in between competing. It's approached the level of ubiquity reserved for 'Bama Rush' or Noodle Bones Day forecasting.
Why? That's a question for TikTok. What does it mean for the Olympic games, athletes and brands? Nothing but good things, really.
Olympic Outfitters Win Gold on TikTok
TikTok's reach compared to other media has created a huge opportunity for Olympic sponsors to garner added value with the some of most desirable and hard to reach consumers: Gen-Z.
Nike, Ralph Lauren, Skims, and Lululemon represent the four largest North American outfitting sponsors for these Olympics. These brands are already well-placed since fans of Team USA and Team Canada have much higher brand affinities than their average sport fan counterparts (ASF), according to Zoomph's audience tool.
Lululemon leads the pack with 8.5% of Team Canada fans showing brand affinity, 11.1 times higher than the ASF. For Team USA fans, Ralph Lauren and Nike are 4.1 times higher at 4.5% and 2.5 times higher at 15.8%, respectively. SKIMS, based on the audience interaction with Kim Kardashian, comes last on brand affinity at 1.6 times higher than the ASF.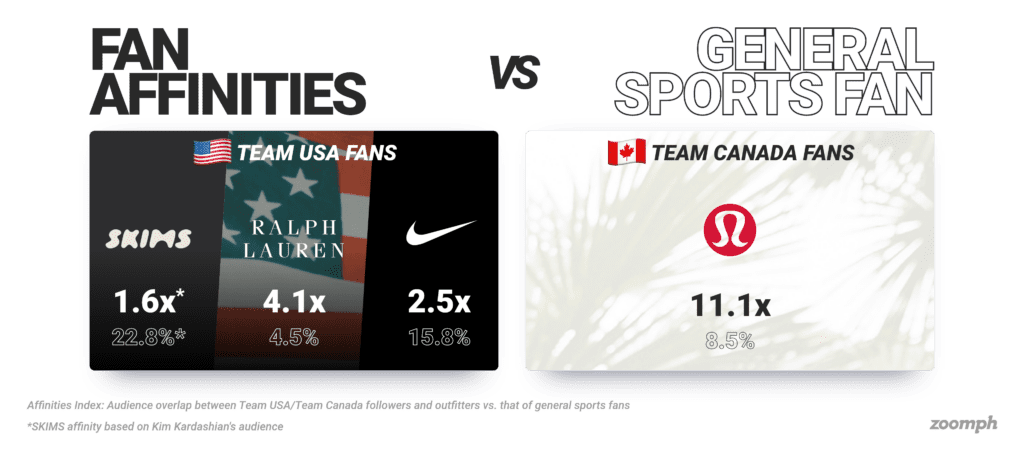 On TikTok, the top ten most viewed videos that tagged or mentioned these brands as of February 17th had a combined 26.7 million views and a sky-high engagement rate of 10.5% (or 2.8 million). Those videos generated $3.4 million in social value and almost $415 thousand in brand value.
| | | | |
| --- | --- | --- | --- |
| Brand | Views | Engagements | Social Value |
| Lululemon | 12,221,500 | 1,260,609 | $1,549,908 |
| Skims | 6,919,300 | 958,686 | $941,188 |
| Nike | 4,471,000 | 403,988 | $552,136 |
| Ralph Lauren | 3,117,600 | 211,473 | $366,742 |
Source: Public TikTok data from Top 10 viewed Olympics posts mentioning or tagging brand. Social Value is calculated total value of those posts. Data pulled 2/16/22.
The runaway winner across all metrics was first time Canadian Olympic sponsor Lululemon. Their top 10 most viewed videos were comprised of athletes showing off their new gear, performing some non-traditional product testing, and fans at home reviewing their favorite looks. These ten videos alone garnered 12.2 million views, with a 13% engagement rate; earning the brand $155 thousand in marketing. They have also leaned the most into these viral moments by ingeniously and authentically piggybacking off of their athlete's viral moments and signing viral fans with existing brand affinities.
The top performing videos for the Team USA sponsors were all comprised of athletes reviewing their gear or putting together outfit-of-the-day videos. The other (relative) newcomer, SKIMS, was the best of the bunch with 7 million views on their top ten videos, earning a 14% engagement rate for $94 thousand in brand value.
Next came Nike with 4.5 million views, a 9% engagement rate, and $55 thousand in marketing. Ralph Lauren came last with 3.1 million views, an engagement rate of 7%, and added brand value of $41.5 thousand. However, its notable that many top performing Opening Ceremony videos that prominently feature the Ralph Lauren logo didn't tag the brand and thus weren't included for these metrics.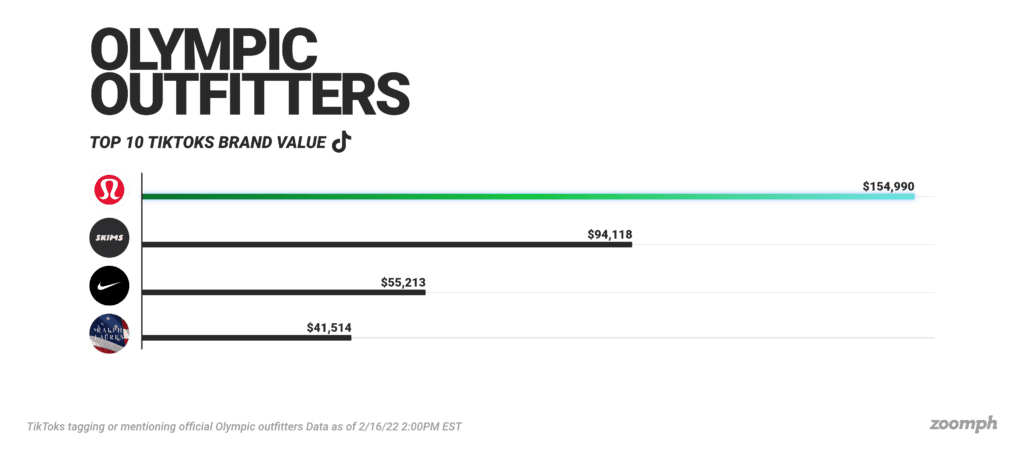 Athlete-Created Content Doing Numbers
These brands can thank the handful of athletes with a good grasp of TikTok and it's trends who consistently created content throughout the games. 29 of the 40 TikToks discussed before were created by only three athletes, all of whom are competing in women's snow sport events: Canadian freestyle skier Elena Gaskell and American snowboarders (and Olympic roommates) Tessa Maud and Maddie Mastro.
None of these athletes came into the games with notably large followings on any social platforms or received much attention from traditional media. However, their TikTok profiles popped in the immediate leadup to the Olympics once they started receiving their official gear. For an example of their reach, Maddie Mastro, the starlet of Winter Olympics TikTok, racked up over 100 million views leading up to and at the Olympics. Yet none of these three athletes have been (obviously) signed by any mentioned brands.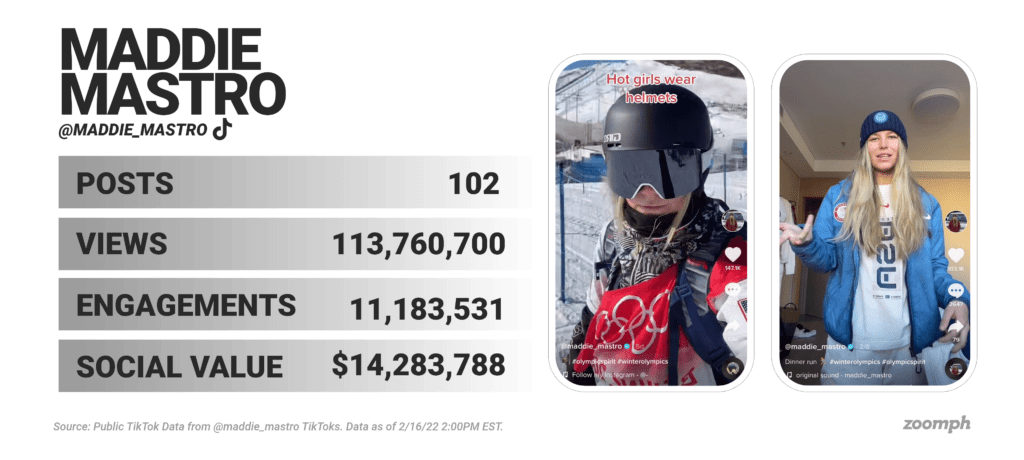 Key Takeaways
Olympic outfitters are seeing an increased (and perhaps unexpected) ROI on their investment in the Olympics.
Maybe they planned for the TikTok Olympics hype, but the apparel try-on hauls and get-ready-with-me content feels more like organic exposure that added value to their investment.
Olympic outfitters should capitalize early and often on viral athletes.
The week of travel and outfitting present a unique and incredibly valuable opportunity for pre-existing Olympic sponsors to grab a handful of new ambassadors with native understanding of social platforms and audiences of young trendsetters who already have increased brand affinities.
The Olympics are a unique example of TikTok and sports naturally intersecting.
Somehow, the TikTok algorithm sorted through the all the clutter, found the Winter Olympics, and thrust it onto our For You pages. Even though it's tough to predict the events and moments that blow up on TikTok, once it happens there's an abundance of opportunity for athletes, brands and beyond.