The NCAA women's March Madness tournament has arrived, with equitable branding, an expanded bracket and all the on-court drama fans have always loved.
Feels good to refer to the women's tournament as March Madness too, doesn't it? Last September, the NCAA (rightfully) announced they'd be giving the NCAA women's basketball tournament March Madness branding, helping put women's basketball on a level playing for marketability.
Fast forward to this spring, and we're diving into all the March Madness excitement on social, from Selection Sunday all the way to the final buzzer.
Selection Sunday, Selection Funday
Not only are women playing under the March Madness brand, but they also got to be a part of Selection Sunday on ESPN, instead of releasing their bracket on Monday like recent years. The bracket also expanded to 68 teams like the men's, giving equal opportunity to women's teams across the country.
Including the women's bracket into the Sunday festivities paid off, as viewership for the women's selection show was up 160%, per ESPN.
Sunday night's NCAA Women's Selection Special averaged more than 1.1M viewers

🏀 Up 160% over '21
🏀 Most-viewed women's selection special since '05

'22 #NCAAWBB tournament coverage: https://t.co/G2rfAhnhFs pic.twitter.com/Uz3IuNMVlH

— ESPN PR (@ESPNPR) March 16, 2022
The bracket's release on the @MarchMadnessWBB handle also seemed to benefit from the new branding and timeliness of dropping on Sunday. Compared to last year's bracket release, this year's bracket saw a 108.8% increase in engagement. Also, the women's bracket had 82% more engagements than the men's bracket release from the @MarchMadnessMBB handle.
THE. BRACKET. 😍

🔗: https://t.co/fLnq6Z0d8b#SelectionSunday #MarchMadness pic.twitter.com/f94w4Yrjf1

— NCAA March Madness (@MarchMadnessWBB) March 14, 2022
Pre-Tournament Social Stars
With the NIL boom the social influence of college athletes is more important than ever, and NCAA women's basketball has it's fair share of young women capitalizing on the opportunities their large social following brings them. UConn's Paige Bueckers, Louisville's Hailey Van Lith and Baylor's Jaden Owens are three examples of women's basketball stars generating big social value through Instagram.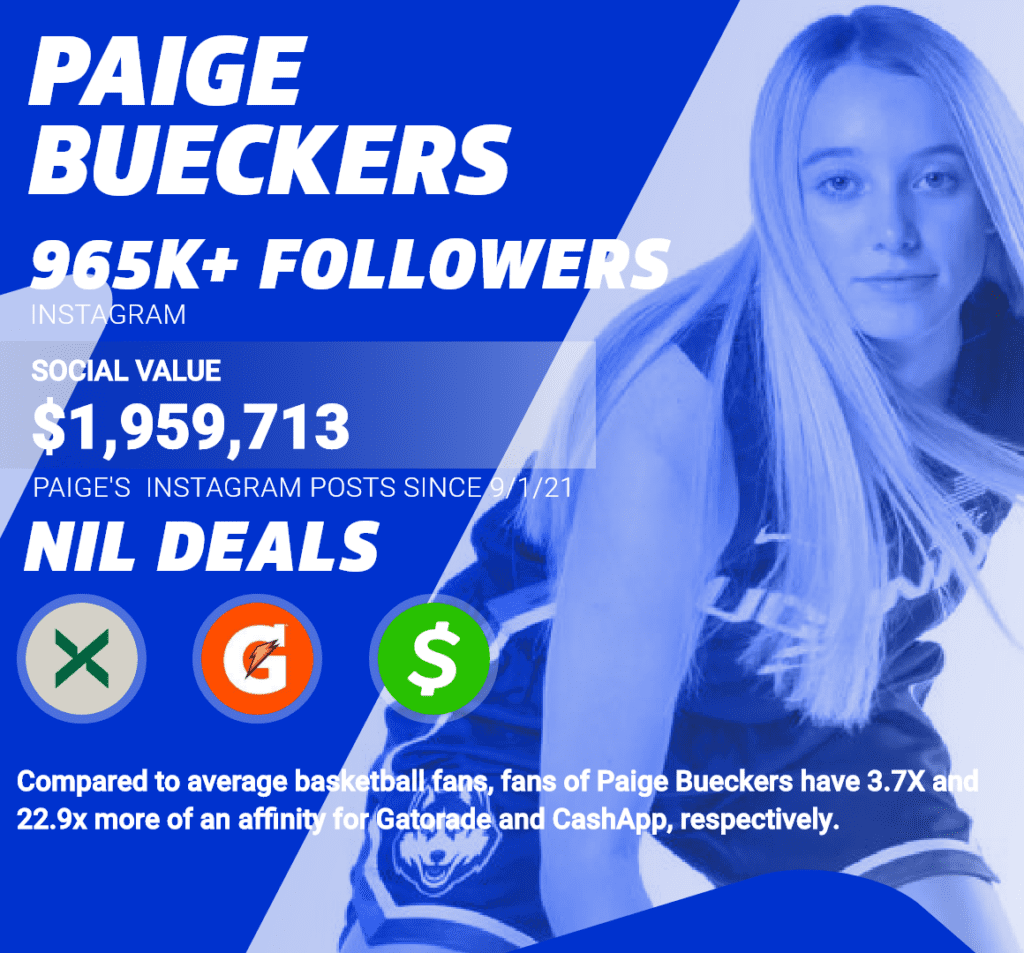 Early Round Chaos
The first round had the kind of volatility fans live for in March, with six double-digit seed upsets. Top seeds still showed up though, with dominating performances from tournament favorites like South Carolina and UConn. Either way, bracket busters and big wins were both gold for social media.
Tracking content from official women's March Madness accounts and team accounts on Instagram and Twitter, plus mentions of @MarchMadnessWBB, team handles and women's tournament specific hashtags, earned and owned social from the first round totaled 1.05M+ engagements, 113M+ impressions and over $1.8 million in social value. The top post from 1-seed Stanford was a turnover and dunk by Fran Belibi, earning 192K+ views a 12.48% engagement rate. We're still speechless.
In another impressive performance, Notre Dame freshman Olivia Miles was the first player to record a triple-double in an NCAA tournament, men's or women's. NBD. Her stellar performance in Notre Dame's win over UMass led to the top earned post about the first round, ESPN's Tweet with 1.5M+ impressions and $18K+ in social value.
⭐ 12 points
⭐ 11 rebounds
⭐ 11 assists

HISTORY for the @ndwbb freshman 👏 pic.twitter.com/9oQpHZCNvj

— ESPN (@espn) March 20, 2022
The second round outdid itself with two MAJOR upsets against powerhouse teams: No. 10 Creighton over No. 2 Iowa and No. 10 South Dakota over No. 2 Baylor. Dramatic games like these helped the tournament generate another $1.6M+ in social value and 101M+ impressions in the second round.
SWEET, SWEET SOUTH DAKOTA!!

No. 10 @SDCoyotesWBB UPSETS No. 2 Baylor, 61-47, to move on to the Sweet 16!#MarchMadness pic.twitter.com/mavcqh2RP1

— NCAA March Madness (@MarchMadnessWBB) March 21, 2022
As far as top posts, UConn's sellout crowd for what ended up being a tight game against UCF has over 17K engagements, making it the top owned post. With that crowd shot, do women's sports look boring to you?
For earned, Bleacher Report's post about the Sweet Sixteen bound mother-son duo of Niele and Jaden Ivey earned 20K+ engagements and over 1.6M impressions.
A legendary mother-son duo 😤 @MarchMadnessWBB

Niele Ivey, the head coach of the Notre Dame women's team, is heading to the Sweet 16

Her son, Jaden Ivey, and Purdue are also heading to the Sweet 16 pic.twitter.com/5MCdaOpmfS

— Bleacher Report (@BleacherReport) March 22, 2022
Here's an overview of all Sweet Sixteen teams' owned and earned social for the first two rounds, ranked by Impressions.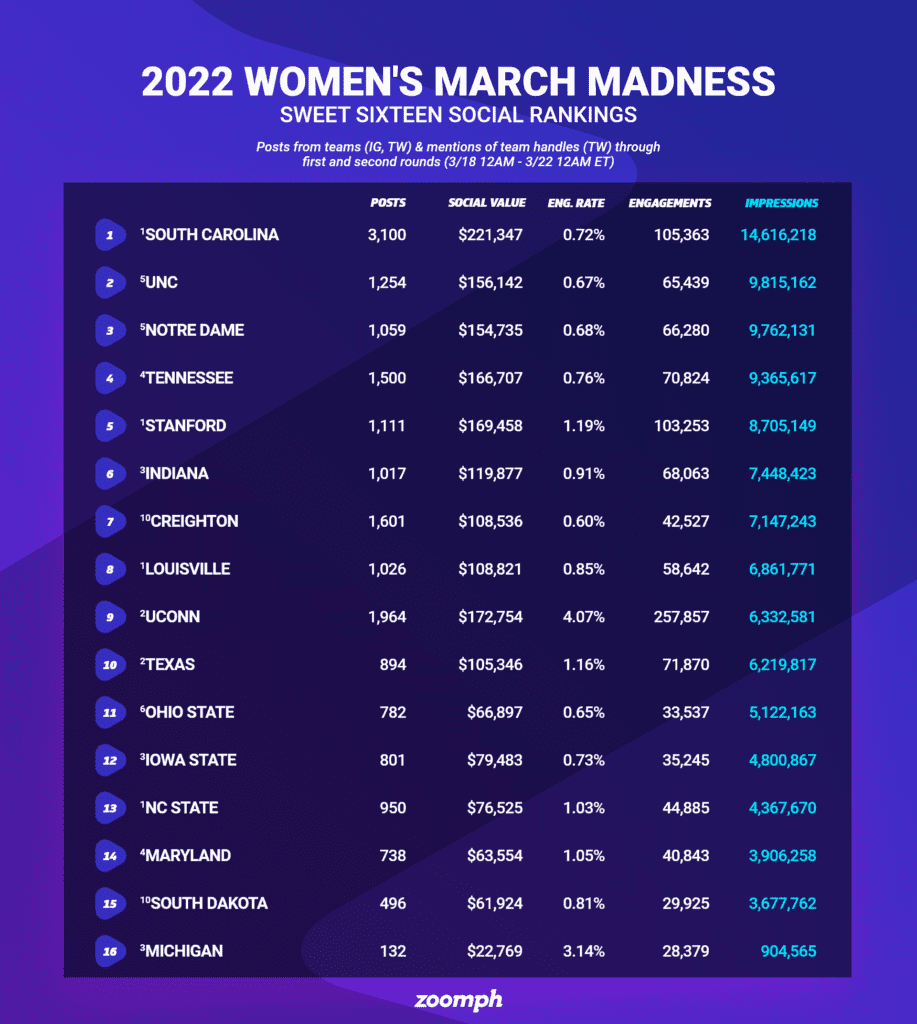 In just four days of plays, these sixteen teams earned $1.8M+ in social value and 109M+ impressions. Going into the Sweet Sixteen and Elite Eight rounds, 1-seed South Carolina dominated impressions, while UConn's strong following on Instagram earned them the most engagements by a landslide.
A Very Sweet Sixteen
Heading into the Sweet Sixteen, teams left in the tournament continue to capitalize on the exposure from March Madness. Even without a close game during the Sweet Sixteen, UConn continued to dominate engagement in the third round with their incredible Instagram audience. The overall top post from the Sweet Sixteen was a photo of NCAA superstar Paige Bueckers on UConn's Instagram, generating over 23K engagements with a 12.69% engagement rate.
As far as the games, No. 10 Creighton's win over No. 3 Iowa State continued their upset streak and was the #2 earned tweet from the Sweet Sixteen, coming in just behind a celebration of UConn's 16th straight Elite Eight appearance.
.@CreightonWBB PULLS OFF THE UPSET‼️

The Bluejays are the fourth double-digit seed in NCAA women's tournament history to make it to the Elite Eight. pic.twitter.com/tjmQs7jnN9

— ESPN (@espn) March 26, 2022
No. 5 Notre Dame vs. No. 1 NC State was yet another heater of a game from the weekend. Coming down to the wire, a quick takeaway and bucket in the last minute sealed the win for NC State, and on social the game generated 10.2M+ impressions and 80K+ engagements.
She REALLY did that.#GoPack // @PerezRaina pic.twitter.com/2gw5OUgpTF

— #3 NC State WBB 🐺🏀 (@PackWomensBball) March 26, 2022
Top posts from the Sweet Sixteen primarily centered around teams punching their ticket to the Elite Eight, with six of the top ten posts on Twitter from Friday and Saturday being final score graphics from teams and media outlets, primarily ESPN who definitely upped their game this year with women's tournament coverage.
.@UofLWBB is back in the Elite Eight for the fourth-straight year 😤 pic.twitter.com/qLHe4sTZkf

— ESPN (@espn) March 26, 2022
Following posts from and mentioning teams and the tournament, the Sweet Sixteen generated 922K+ engagements, 78M+ Impressions and $1.4M+ in social value over the course of two days.
Elite Eight Creates Monday Night Madness
Despite some fun bracket madness early on, the Elite Eight saw top teams prevail. Three of the four games were relatively uneventful 1-seed winners from Stanford, South Carolina and Louisville. Still, ESPN announced viewership through the Elite 8 was up 11% overall, peaking on Monday night.
2M viewers watched Monday's @PackWomensBball 🆚 @UConnWBB thriller
🏀Most-watched #NCAAWBB game of 2022
🏀Best Elite 8 women's audience since 2006#MarchMadness on ESPN networks:
🏀Elite 8 averaged 1.5M viewers
🏀Thru Elite 8 (53 games) – viewership is up 11% pic.twitter.com/kjjZY2bbVM

— ESPN PR (@ESPNPR) March 29, 2022
The real headliner was the Monday evening matchup between No. 2 UConn and No. 1 NC State. In a technically-not-home-game in Bridgeport, UConn held on through double overtime to land their 14th STRAIGHT Final Four spot. Social media was abuzz chatting about the madness, with posts about the game generating 22M+ impressions and 264K+ engagements in just a few hours. It's amazing what happens when you put women in primetime, huh?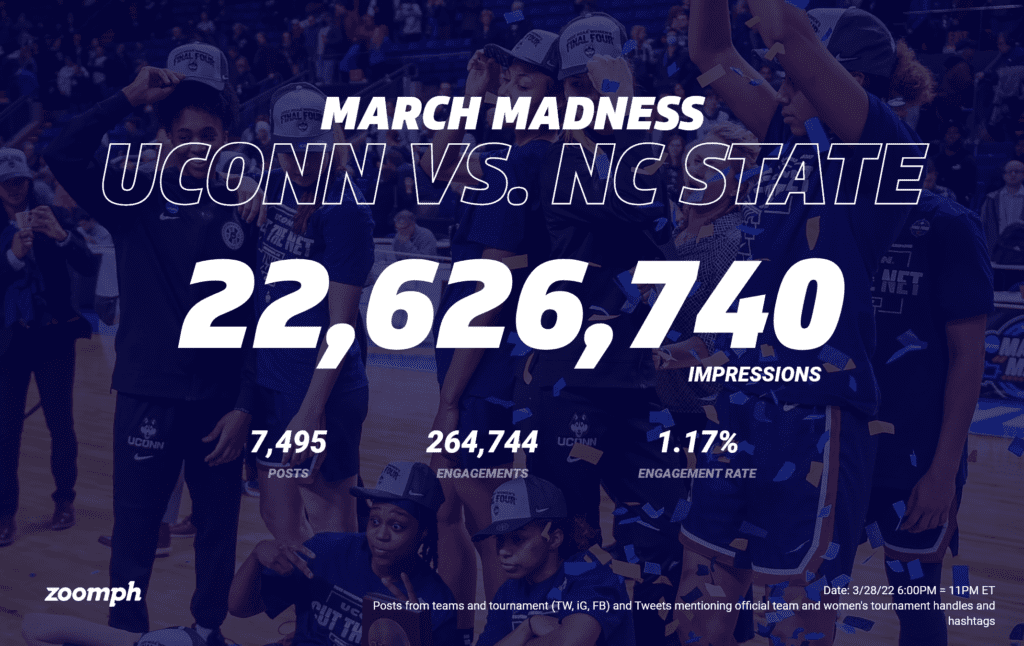 The top post from the Elite Eight was unsurprisingly UConn's final score shot on Instagram, which earned 28K+ engagements and $10K+ in social value for them and partner Wells Fargo. This post also had the second highest engagement for the entire tournament thus far.
Final Four
Heading into Friday night the Final Four social standings were as follows: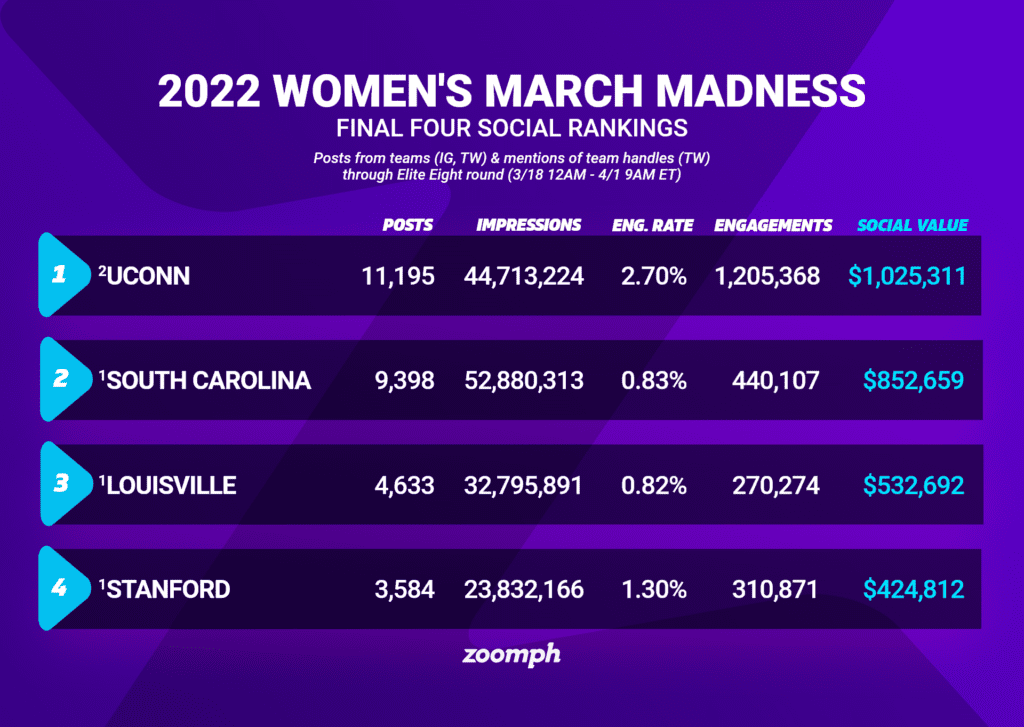 South Carolina handled Louisville fairly easily, while UConn had another tough battle with the reigning champions, Stanford. In the end, UConn pulled out the win behind a team-high 14 points from Paige Bueckers, punching their ticket to the championship game. In total, the women's tournament earned 70M+ impressions, 636K+ engagements and $1.22M in social value on Friday. ESPN had the top earned post again, announcing the championship matchup.
The stage is set 🍿@UConnWBB | @GamecockWBB pic.twitter.com/dxRXVI0dwR

— ESPN (@espn) April 2, 2022
Sunday night was buzzing in Minneapolis, on ESPN and on social. Per ESPN, 4.85 million viewers tuned in for the game.
The #NationalChampionship between @UConnWBB & @GamecockWBB was the most-watched #NCAAWBB champ game in nearly TWO DECADES

🏀 4.85M viewers
🏀 Up 18% from '21, up 30% from '19
🏀 Peaked with 5.91M viewers

Full #MarchMadness viewership details to come pic.twitter.com/mGXoTeJb09

— ESPN PR (@ESPNPR) April 5, 2022
The Gamecocks became National Champions in a powerful performance over Coach Geno and UConn. Throughout the tournament UConn and South Carolina were dueling it out on social too.
Going into Sunday, UConn's Instagram led to higher engagements and social value, while South Carolina generated more Twitter discussion about the team Coach Dawn Staley and Player of the Year (per pretty much ever media outlet) Aliyah Boston to dominate impressions. In the end, South Carolina's took the social value crown from UConn, ending the tournament with $2.49M+ and maintained their dominating impression numbers with 145M+.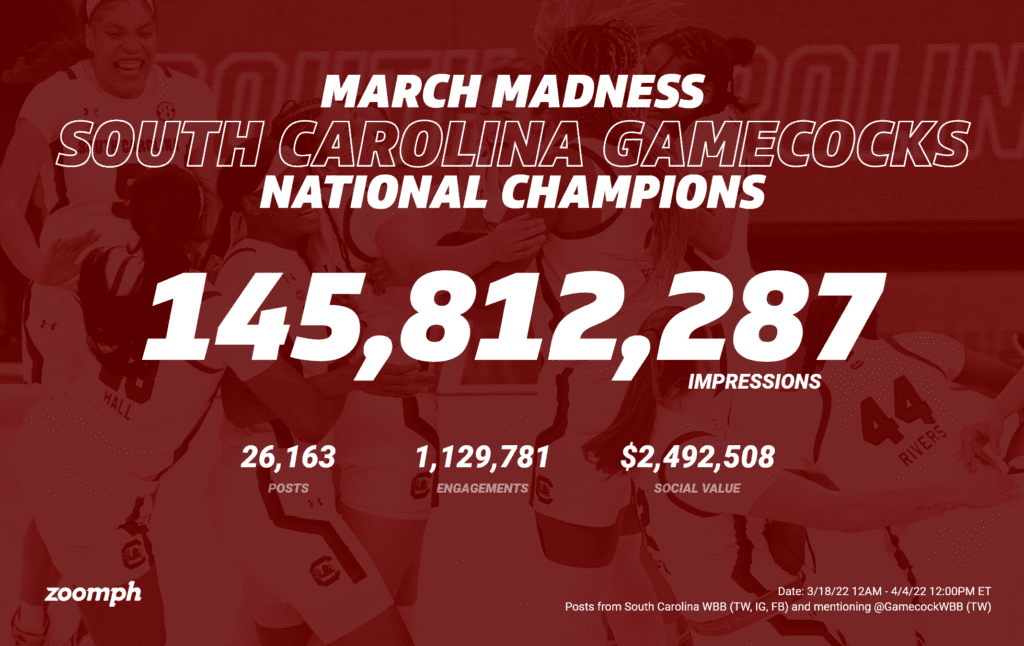 The top owned post from the Championship was on South Carolina's Instagram with 36K+ engagements. The top earned post brought in 2.4M+ impressions celebrating Dawn Staley, a fan favorite personality from the tournament who's now 2-for-2 in Championship games.
Never lost 🏆🏆 @GamecockWBB pic.twitter.com/0TBZyXi6Qs

— SportsCenter (@SportsCenter) April 4, 2022
After all was said and done, tracking posts from the tournament and teams (TW, IG) and mentioning the tournament, teams and official women's tournament hashtags the women's tournament generated 133K+ posts, 6.68M+ engagements, $11.1M+ in social value and 645M+ impressions. So yeah, women's sports have value.
Brands Supporting The Women's Tournament
With viewership and social numbers on the rise, more and more brands see the value and importance of supporting women's NCAA basketball. Back in February, ESPN announced they sold out of ad inventory for the entire women's tournament. Besides typical ad spots, brands have also found ways to get involved on the digital side.
H&R Block: #AFairShot Campaign
H&R Block took advantage of NIL rules to support the women's tournament, using several popular NCAA athletes to advocate for equal NIL compensation for women with their #AFairShotWithBlock campaign. On Instagram, the campaign generated 457K+ impressions and $30K+ in social value across 30 posts from March 1st to the end of the tournament, April 3rd. The athletes includes four women's basketball players from the tournament: Sedona Prince, Caitlin Clarke, Zia Cooke and Jaden Owens.
Buick: #SeeHerGreatness
One brand that stepped up this year as an official NCAA partner and advertiser on ESPN was Buick, with their multi-platform #SeeHerGreatness campaign calling for increased coverage of women's sports.
Since March 1st the #SeeHerGreatness hashtag generated 3M+ impressions on Twitter and a MASSIVE 6.4B+ views on TikTok, including 699 videos using the campaign's sound.
Dick's Sporting Goods x Just Women's Sports
You may remember Dick's Sporting Goods swooping in last year to help solve the quality gap between the men's and women's weight rooms at last year's NCAA tournaments, and this year they're showing up again for women's March Madness. Getting in on the bracket fun, Dick's Sporting Goods sponsored the Just Women's Sports Bracket Challenge, offering a $150,000 grand prize to the best women's tournament bracket. A whopping 17,604 participants entered the contest.
JWS x @DICKS NCAA Tournament Challenge Bracket is LIVE!

Follow the link below to fill yours out and have a chance at $150,000 🔥

— Just Women's Sports (@justwsports) March 15, 2022
While we're sad March Madness is over, this year's tournament was important in demonstrating the power of equitable branding and continuing to make strides in bringing women's spots to the national stage. Congrats to South Carolina on the incredible championship run! We'll end with this: INVEST. IN. WOMEN'S. SPORTS.