What a wild ride the 2020-2021 NCAA Women's Basketball season was. Luckily, we tracked it ALL from Selection Monday to Championship Sunday.
Selection Monday
We ranked the #1 seeds of the women's bracket on social to kick off our women's tournament coverage.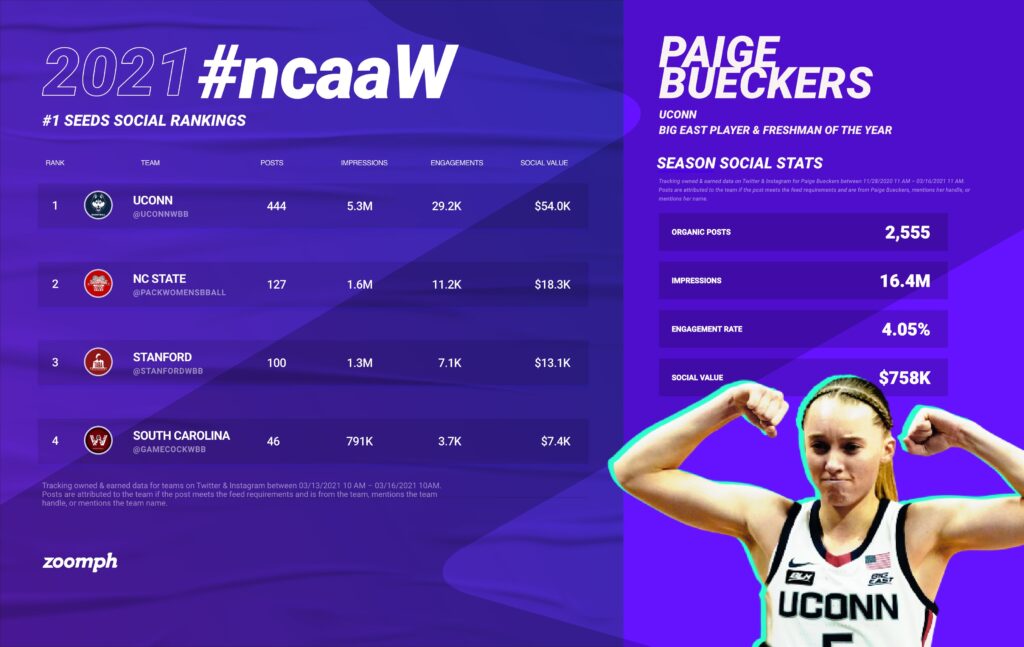 To no one's surprise, UCONN blew everyone out of the water through the regular season. Their star freshman, Paige Bueckers also boasted an unforgettable season on the court AND on social. She ranked as the top followed college basketball player this year.
The Inequality Issue
Before gameplay even began, Oregon Forward Sedona Prince made a TikTok shining a light on the inequality in the weight room that the NCAA had put together for the women's bubble versus the men's.
Let me put it on Twitter too cause this needs the attention pic.twitter.com/t0DWKL2YHR

— Sedona Prince (@sedonaprince_) March 19, 2021
This post alone had the whole country talking about the power of athletes' voices, Title IX, the undervalued nature of women's sports, and other disparities. Brands, professional athletes, and more entered the conversation — telling the women's players that they would send whatever they needed.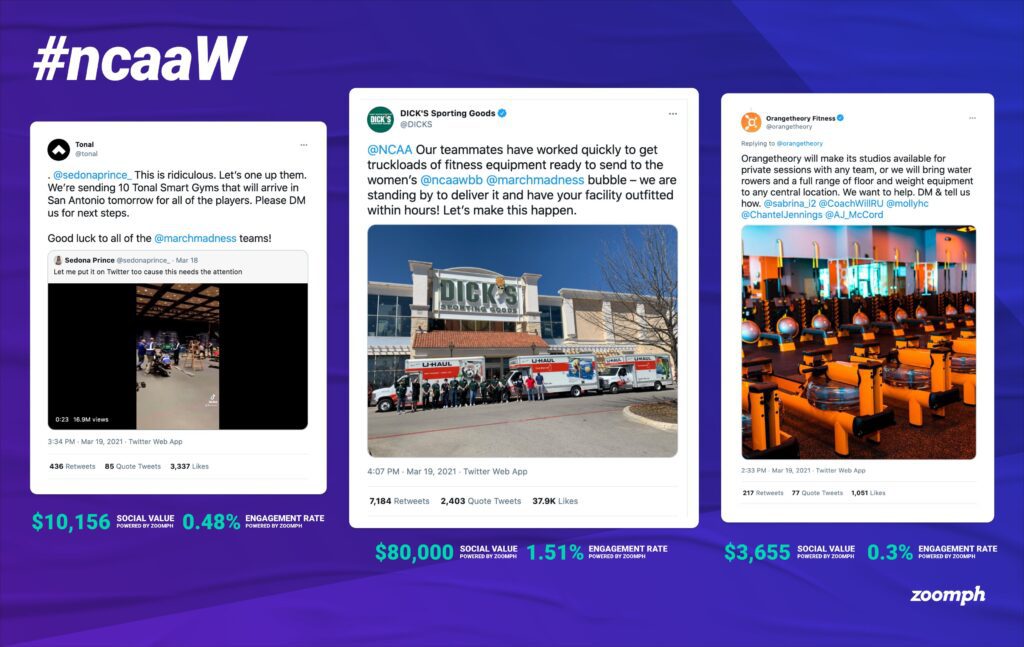 This Tweet from Dick's Sporting Goods garnered over $80,000 in social value, boasting a 1.51% engagement rate.
@NCAA Our teammates have worked quickly to get truckloads of fitness equipment ready to send to the women's @ncaawbb @marchmadness bubble – we are standing by to deliver it and have your facility outfitted within hours! Let's make this happen. pic.twitter.com/6QJJjrrDgx

— DICK'S Sporting Goods (@DICKS) March 19, 2021
Following this outburst of support, we checked the Women's NCAA Tournament social audience and found they were 5.4 times more likely than the general sports fan to have an affinity for Dick's Sporting Goods as a brand.
We. Love. Purpose. Driven. Brands.
Sports Media Social Outlets
Even though the attention was focused on the NCAA, they were not the only ones undervaluing the women's half of March Madness. From 3/15/2021 – 3/30/2021, the top 14 major sports media companies posted over 5,100 organic posts. ​Of those, 98 posts were about the NCAA Women's Tournament.​ 40 of the 98 were directly related to the inequality outrage about the weight room and the swag bags.​
Oregon's @sedonaprince_ shows the updated gym at the NCAA women's bubblepic.twitter.com/msOQ1Mwo79

— Bleacher Report (@BleacherReport) March 20, 2021
Thus, less than 2% of coverage was going towards the women's tournament AND less than 1.4% went towards actual gameplay. So although the media outlets shared the stories of inequality, they seemed to lack initiative in changing those numbers themselves.
*(from:@yahoosports, @espn, @bleacherreport, @cbssports, @sinow, @nbcsports, @sbnation, @fs1, @foxsports, @deadspin, @thepostgame, @sportingnews, @fansided, @yardbarker) 
Men's vs Women's
As the second rounds progressed for the men's and women's teams, we were gifted plenty of phenomenal matchups and upsets. (Finally the good kinda Madness… we have missed you March).
We tracked the mentions and conversations around both tournaments and saw a spike on March 24, where the engagement rate regarding women's content surpassed that of the men's. What happened on March 24? The round of 32, which hosted a handful of close games including #6 Oregon upsetting #3 seed UGA.
The Elite Eight began and things got even more electric in the women's tournament —with matchups that felt like championship games. There were over 9,600 posts about the Women's Elite Eight matchup between UCONN & Baylor during the game alone. Social Media loves a high-stakes game that features elite talent, and some controversial calls. (Don't forget to watch for Carrington, Richards, Williams & McDonald in the WNBA Draft). The engagements surrounding the close game DOUBLED those of the men's games that same evening. You read that right. Doubled. The women's basketball audience was buzzin'.
Soooo the women's tournament doubled the men's social media engagement last night with 39 MILLION impressions. I hope that when potential sports sponsorships are discussed that people do their homework. Right now Less than 1% of all those dollars go to women's sports. 📸 @Zoomph pic.twitter.com/O07N6uHzKy

— LaChina Robinson (@LaChinaRobinson) March 30, 2021
Viewership Numbers
Along with heightened social engagement came elevated viewership numbers. 4.1 million viewers tuned in for the 2021 National Championship game making it the most-viewed championship game since 2014. The numbers throughout the Sweet 16, Elite 8, Semifinals, and Final Four Weekend all were up marginal percentages over the 2019 tournament.
4.1 million viewers for the 2021 @ncaawbb Championship game between @ArizonaWBB & @StanfordWBB

☑️ Most-viewed #NationalChampionship since 2014
☑️ Most-viewed #WFinalFour weekend since 2012
☑️ Most-viewed Sweet 16 since 2013

More: https://t.co/AoNNLWl7CQ | #ncaaW pic.twitter.com/RzbHTWwAG4

— ESPN PR (@ESPNPR) April 6, 2021
People saw the talent, inequality, and conversations on their feeds and decided to tune in AND were captivated.
Bet on Women
Our friends at U.S. Integrity followed the sports books for the Women's March Madness games. They found that the betting on the Championship game exceeded the the handle of the two Semifinal games combined. Ahead of tip-off on Sunday, over $20 million was being bet on the NCAA Women's Final. Making it the first NCAA Women's Basketball game to reach this number ever! Not only are fans watching, they're putting their money where their mouth is. Stanford came into the tournament as a #1 seed and entered the Final as a (-7.5) favorite, but, 59% of Money Line bets and 87% of Point Spread bets were on Arizona.

(Data Credits to U.S. Integrity)
Beginning To Shift
The 2021 NCAA Women's Basketball Tournament notched viewership milestones and made it apparent that fans are as hungry as ever for women's basketball content. We ranked the post-season teams on their social values — The Final Four teams all saw social values above $900K in the post-season alone.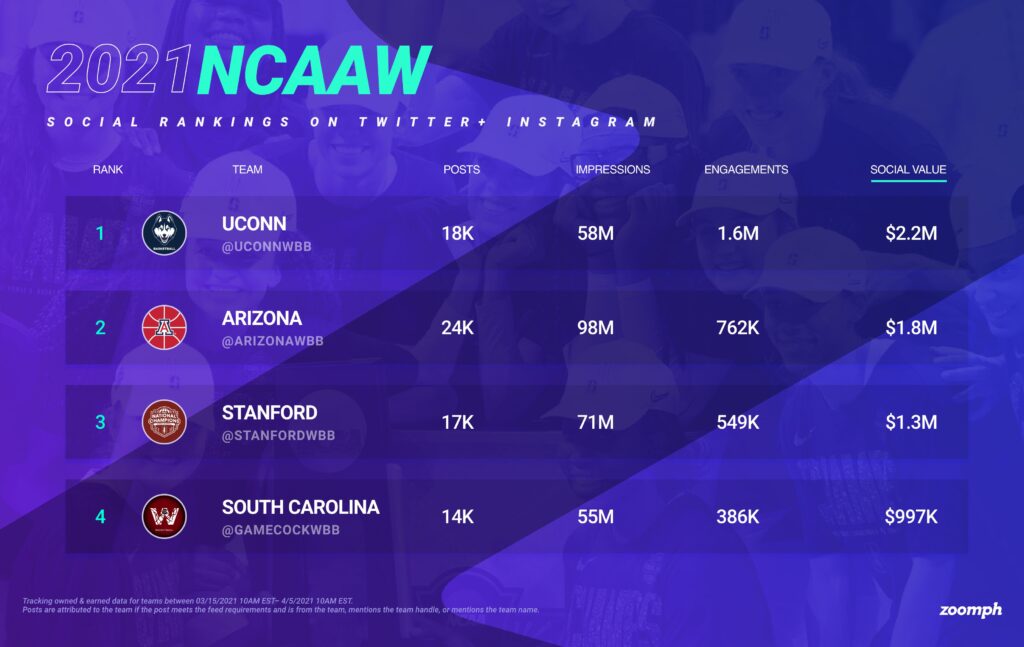 Women's sports are untapped sponsorship opportunities that are worth investing in because immediate ROI can be seen through the loyal and ever-growing fan base (CC: Dick's Sporting Goods). The audience for women's sports is there, Zoomph tracked it on social all tournament long (and we'd do it again), and we saw how influential the women's players are on and off the court.

Shout out to Stanford Women's Basketball on an amazing season and win. Congratulations to all the teams who showed up this year and played despite the adversity, you gave us a March Madness for the books!
Above all, we must value women's sports & invest in women's sports. 
By Clare Murphy and Mary Frances Ierlan