GOAT debates are always alive and well on social media, but there doesn't seem to be much to debate when it comes to Serena Williams. 
23 singles Grand Slams. 1 Olympic Gold Medal. 73 career singles titles. 14 doubles Grand Slams. 2 mixed doubles Grand Slams…and that's just on the court.
When she announced her retirement (lovingly dubbed an "evolution") in August's Vogue, excitement around her final tournament, the esteemed US Open, spiked. With the start of the tournament in late August, this interest piqued, and admiration of and attention toward Serena took over social. 
The impact Serena Williams has had on sports, women, business and the world is tough to quantify. However, regarding Serena's impact on social during her five-day run at the US Open? We have the numbers for that.
Serena Williams: The Talk of Twitter
Twitter went all in for Serena, creating special "hashmojis" for her final farewell to tennis. The first morning of the US Open, they revealed #Serena, #SerenaWilliams and #ThankYouSerena would all be accompanied with a tennis-playing goat.
The hashtag was a massive success throughout her run at the US Open. Media outlets, celebrities and fans used the hashtag often as they followed along with Serena's US Open run. While she was in the tournament, Tweets with the various hashtags generated over 226 million impressions as big names and casual fans alike logged in to cheer on Serena. 
As with ESPN viewership, Twitter conversation about Serena increased each match she played, skyrocketing with her curtain call in the Third Round. Tracking tweets that mentioned Serena Williams, @serenawilliams or any of the official hashtags, more than 93 thousand Tweets Friday night earned over 441M+ impressions.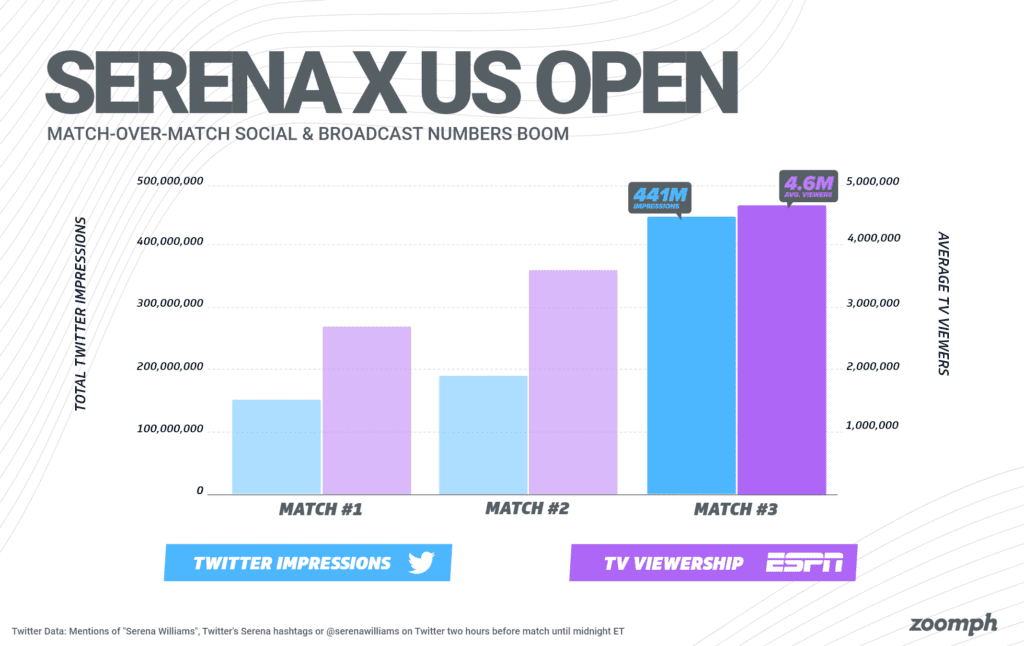 After all was said and done, posts mentioning Serena over her five days in Flushing totaled 145K with 874 MILLION impressions. Wow.
Congrats on an amazing career, @SerenaWilliams!

How lucky were we to be able to watch a young girl from Compton grow up to become one of the greatest athletes of all time.

I'm proud of you, my friend—and I can't wait to see the lives you continue to transform with your talents. pic.twitter.com/VWONEMAwz3

— Michelle Obama (@MichelleObama) September 3, 2022
US Open Promotes Serena On Social
While Serena was in the tournament, the US Open's social media (a historically brilliant admin) gave the fans what they wanted: lots of Serena social coverage.
Partially covering her matches, partially honoring a long career, the US Open's social accounts did big numbers with their Serena content from August 29th through September 2nd, the five days Serena was playing.
The US Open earned over 341 million impressions, 12.3 million engagements and $16.4 million in social value across 1,142 posts that week. Their content about Serena, totaling 292 posts cross-platform, accounted for roughly 49% of the impressions, 59% of the engagements and 58% of the social value.
From Nike to Wilson, Serena has been a long time brand ambassador for several major industry powerhouses. In anticipation of her last dance, partners Gatorade and Michelob Ultra created brand new ads honoring Williams' career. 
Gatorade went as far as to revamp their entire social presence, including replacing their iconic G logo with an S. Their ad featured a Beyoncé narration and ran cross-platform. Across Instagram and Twitter and Facebook it earned over 10.9 million views and counting, not including paid ad posts.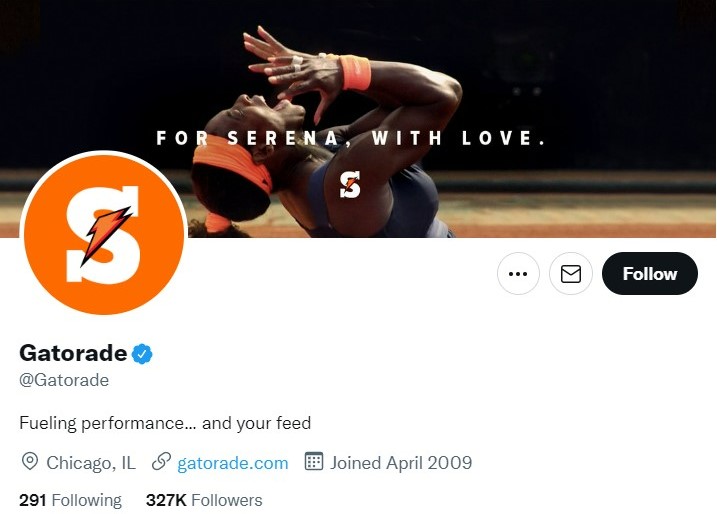 Michelob Ultra unveiled a new ad as well, featuring their "It's Only Worth It, If You Enjoy It" tagline. Additionally, they launched limited edition cans featuring images of Serena from her Majors wins.
As for Nike, Serena and her apparel partner design a custom outfit (of course) complete with Serena Williams Jewelry diamond-encrusted NikeCourt Flare 2s. The outfit earned exposure via match broadcasts and social, where fans were happy to see Serena's signature on-court style one more time. Her Instagram post about the outfit generated 7.39M impressions, $813K in social value and 820K engagements alone.
As for Serena, she was focused on the game, sharing only a few posts while playing in the US Open. When she did share on social, posts like the aforementioned outfit reveal heavily featured partners like Nike and Wilson.
Of her five Instagram posts, the top one was a highlight IG Reel from her doubles match with sister Venus. The post had over 1M engagements and $1M+ in social value.
Take an already brilliant career, mix in some incredible tennis play and sprinkle on top a touching curtain call for one of the best to ever take the tennis court? It's a recipe for social success. 
While fans around the world are sad to see the GOAT go, what an incredible final farewell it was. Suffice to say, even if it's not on the tennis court, we haven't seen the last of Serena.