The world was watching as Naomi Osaka and Serena Williams battled on the court at the 2021 Australian Open on Wednesday, February 17.
The semifinal had high stakes, as it was the first time the two had competed since the 2018 U.S. Open where Osaka beat Williams for her first Grand Slam title. The stakes were high for Serena, who is on her track to tie the all-time Grand Slam singles titles record. The days surrounding the match, feeds were filled with mentions of the two "queens". We decided to take a deep dive into their disruption on social.
---

We zeroed in on the month surrounding the 2021 Australian Open and tracked both athletes' owned + earned mentions.
Although Williams has nearly 10x the following across Facebook, Twitter, and Instagram than Osaka, the up-and-coming star produced some impressive social data; racking up over $6.2 million in Social Value, with 23,442 organic posts creating over 191 million impressions. Despite being behind in follower count, Naomi's engagement rate was relatively strong at approximately 2.4%. Osaka's social performance slightly trailed Serena's, making the argument that follower count doesn't matter, but content does.
Naomi Osaka gained traction earlier this year when she was declared the highest-paid female athlete in the world, with $34 million in endorsements and $3.4 million in winnings. She's added brands like Louis Vuitton and Tag Heuer to her list of sponsors that already consisted of Nike, Beats, Mastercard, and more. For Naomi, this was just another footstep of Serena's to follow given that Williams was named the highest-paid female athlete in 2016.

Earlier this year, we did a deep dive into Naomi Osaka's audience brand affinities when compared to the general sports audience. The above graphic shows that Osaka's fans and followers on social are 2.7X more likely to have an affinity for Louis Vuitton. One month later, Osaka and LV announced a partnership.
https://twitter.com/naomiosaka/status/1348665016866652162?s=20
---

The GOAT showed out, just as we expected. With over 30 million followers across the three platforms, Serena's legendary status conjured up about $7.2 million in Social Value over just 18,323 organic posts (more than five thousand less than Osaka) from the start of the Australian Open until the semifinals match.
With just over 6.1 million engagements, the conversation around Serena produced an engagement rate of 3.5%.  Serena's fans always show up to support her and the data proves it.
---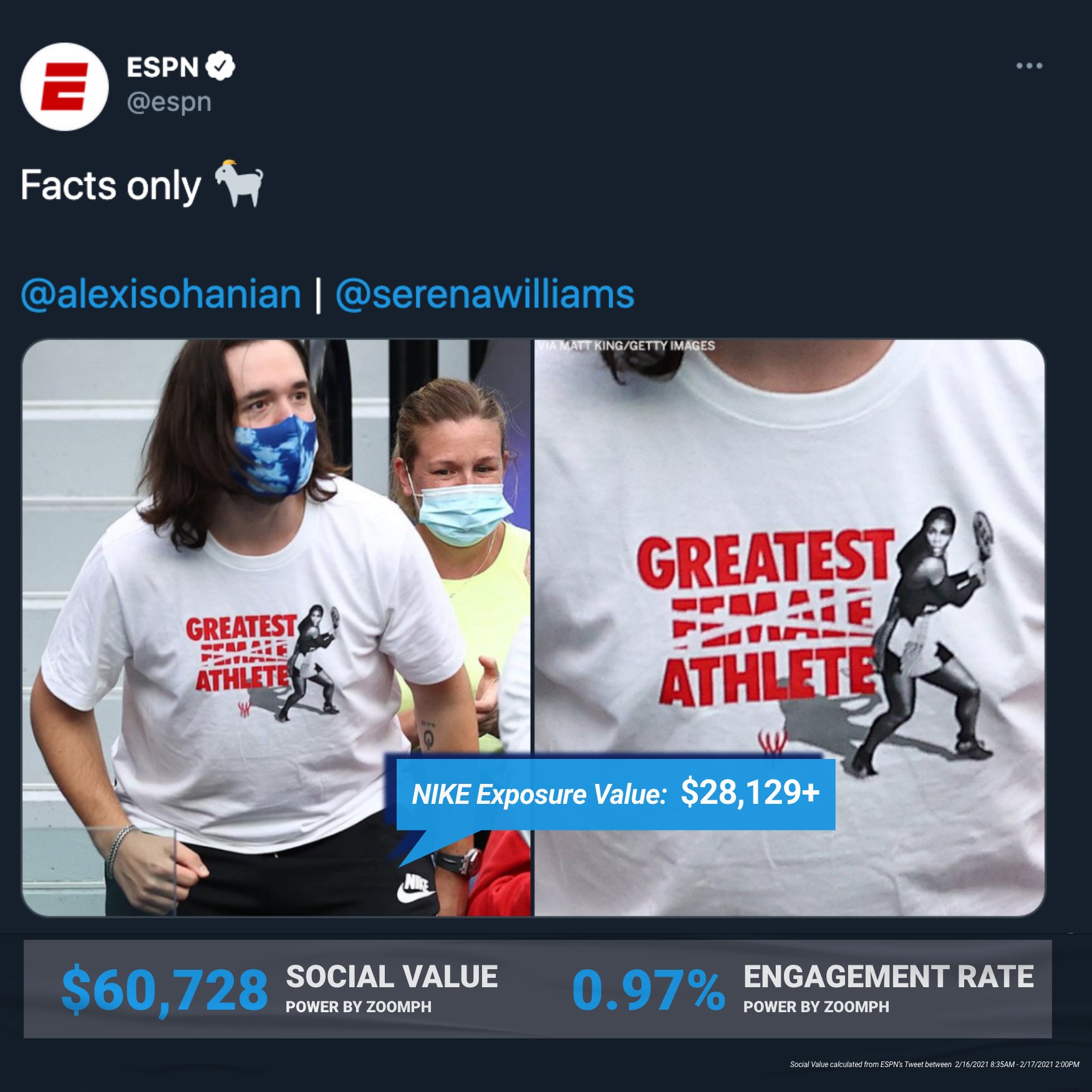 BONUS POINTS 
Serena's husband, Alexis Ohanian, stole the Twitter spotlight for a fleeting moment with this viral screengrab from ESPN. Although Ohanian thought ESPN was, "doing [him] dirty with the mid-standing-up-pose," we think this was a top-notch look for Alexis. Showcasing Serena as the "Greatest Athlete" added an extra $60,728 in Social Value, while Williams' sponsor Nike earned $28,129 in Brand Value.
---
NWSL SUPPORT
https://twitter.com/TheNCCourage/status/1354787562284437509?s=20
In late January, the NWSL's North Carolina Courage announced that Naomi Osaka would join Courage Country as an investor. After this announcement, the Courage saw their engagements on social triple in the month of January when compared to the previous month.
At the Australian Open, Osaka donned Courage gear and even gave the first debut of the new 2021 kits.


https://twitter.com/TheNCCourage/status/1359834592413376512?s=20
Osaka credits her investment in an NWSL team to none other than Serena Williams who, this summer, joined an all-star group of investors in the new Angel City FC.
https://twitter.com/NWSL/status/1361390033643728896?s=20
https://twitter.com/brfootball/status/1362188710457008128?s=20
---
If we're being honest, this match just had us cheering for both women to crush it. Here's to hoping we see this match up many more times in the future!
---
Written by: Clare Murphy & Mary Ierlan