Seattle is officially a hockey town. Fans waited years to finally know the team's name that would be occupying Amazon's Climate Pledge Arena. On July 23rd, the team name was revealed to be the Seattle Kraken. While we can't wait for their inaugural puck drop, the team at Zoomph took a deep dive (pun intended) in their social media analytics following the launch.
Social Media Scores Big
A legend from the deep emerged, and with it, a tweet that set the #sportsbiz world off. To pull off a team name announcement is an impressive feat in itself, but during a time where everyone is dealing with many other things and working from home, the quality of this release is even more impressive. The video posted on Twitter with their name announcement generated $217,759 in social value, with 7,611,581 impressions and 124,880 engagements.
A legend from the deep awakens.

Meet the Seattle Kraken → https://t.co/to5BtVVPh1 pic.twitter.com/FQfOdaiGQQ

— Seattle Kraken (@SeattleKraken) July 23, 2020
It's common to see tweets with gifs, pictures, or videos do well, but that doesn't mean that a text-only post can't do well when properly executed and resonates with the audience. The below post generated $126,315 in social value with 4,807,166 impressions and 70,564 engagements. When considering that the Seattle Kraken has not played a single minute on the ice, these numbers become even more impressive. Since their announcement on July 23rd, the Seattle Kraken has received an estimated $1,231,741 in social value on their Twitter posts.

The Kraken is also putting up big scores on Instagram as well. This post regarding their future Adidas jersey produced a social value of $68,949 with 631,923 impressions and 70,511 engagements. Since the announcement on July 23rd, the Seattle Kraken Instagram has generated $1,084,599 in social value.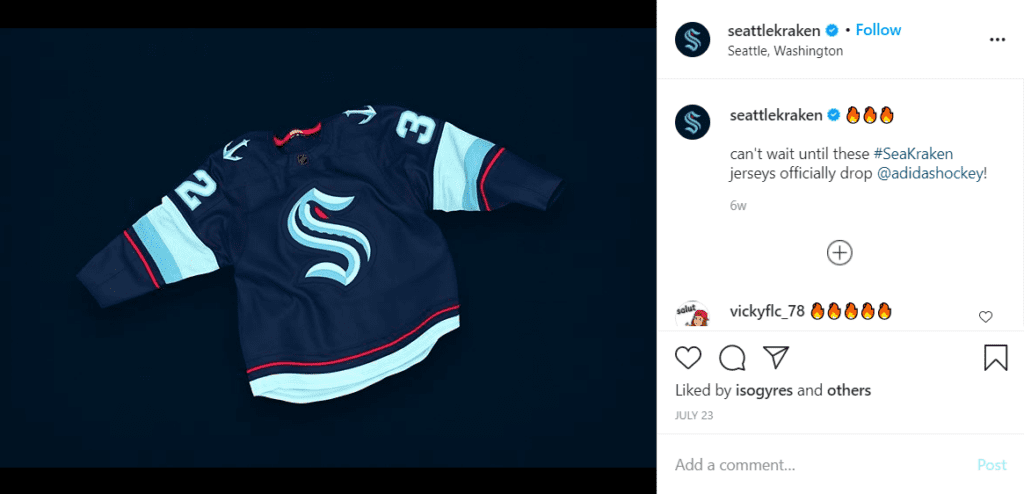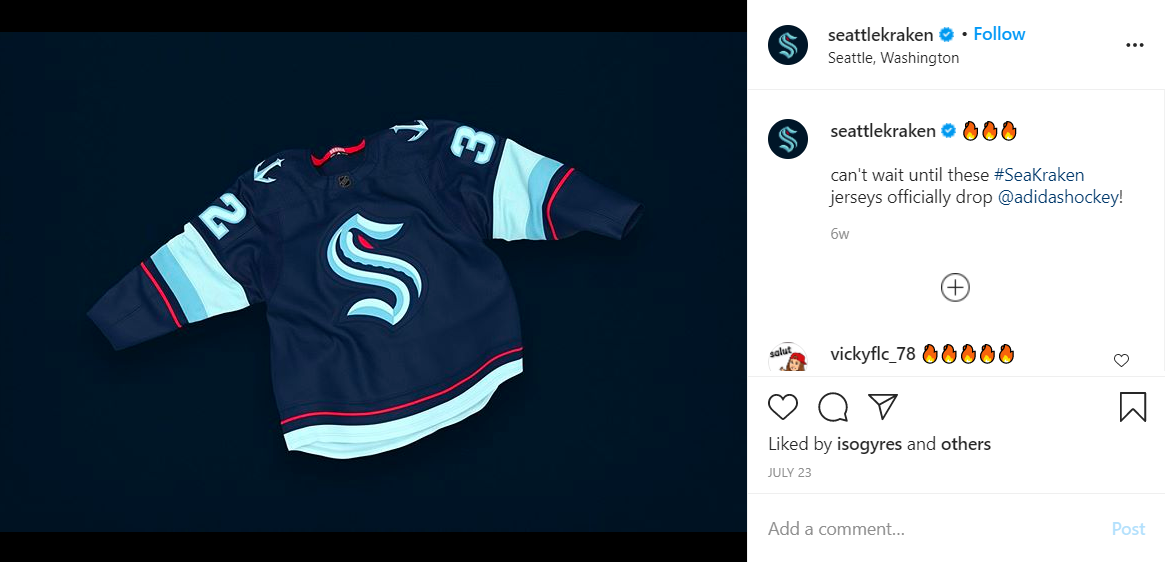 Audience Analytics
We took a deep dive into some audience analytics regarding Seattle's new team.
Seattle Kraken Audience
6% live in Washington, 2nd highest state is California with 19.4%

6% are interested in gaming, 6.7x more than an average Twitter user

8% have the term "hockey" in their bio

Seattle Kraken followers are 16.5x more likely to be a fan of sports betting & gambling

7% of their followers are also following the Vegas Golden Knights (the previous NHL expansion team who has experienced a great deal of success)
Seattle Kraken Audience vs. NHL Teams Audience
Seattle followers are 3.5x more likely to be interested in esports than an NHL fan.

They're also 1.2x more likely to be fans of the NFL, 1.3x more likely to be interested in MLB, and 3.0x more likely to be fans of MLS – by the numbers, Seattle appears to be a city that supports their current sports teams in those leagues, the Seahawks, Mariners, and Sounders.
Seattle Resident Audience
51.9% female, 48.1% male

Top three sports interest: Mainstream US Sports, Baseball, and Fitness (yoga at the rink, anyone?)

Top Values: Our Planet & Animal Rights

Food & Beverage Preferences: 1. Alcoholic Beverages/Spirits 2. Organic Food, 3. Coffee 4. Beer

Out of the top 5 professional sports leagues in North America, NHL is currently last for Seattle residents – it will be interesting to see if they can climb that as they open play.
First Mates: Kraken Rum and Alaska Airlines
Almost immediately after the announcement came that the team name was Kraken, those in sports sponsorship saw an almost no brainer partnership opportunity between the team and Kraken Rum. They saw it too, because they almost immediately announced that Kraken Rum would be the official rum of the Seattle Kraken. The partnership was announced on Twitter, and the announcement garnered a social value of $16,463 with 627,916 impressions and 9,190 engagements. At Zoomph, we love when a partnership comes together, and we love it, even more, when the data backs it up:
Seattle Kraken's audience is 3.4x more interested in spirits.

Seattle Kraken's audience is 3.9x more likely to be a rum drinker.

Number 1 on the food & beverage preferences for Seattle residents is alcoholic beverages/spirits.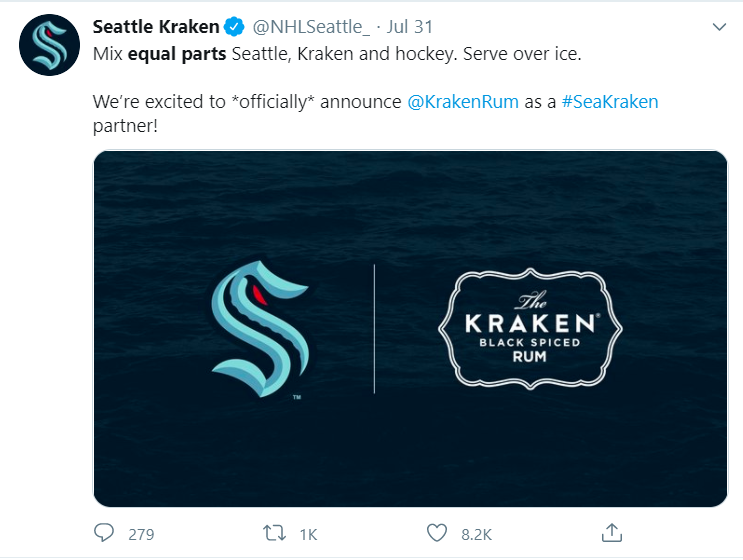 Another partner of the Seattle Kraken is the Seattle based airline of Alaska Airlines, a partnership also backed in data as fans of the Kraken are a whopping 425.4x more likely to have an affinity for Alaska Airlines. Seattle has yet to even pick a player and they're already activating their partners with social content series like Summer of Stanley Series and Deep Dive, both presented by Alaska Airlines.
Using Zoomph, we took a look at some brand affinities for some partnership thoughts:
Craft Beer: Seattle Kraken followers are 23.8x more interested in craft beer, and the top two craft beer affinities for Kraken fans are Stone Brewing and Elysian Brewing. In the same vein as Kraken rum, though, there is a Seattle based brewery called Fremont Brewing, who makes a Sky Kraken Hazy Pale Ale!

Cars: Seattle Kraken followers are 30.8x more likely to have an affinity for Tesla.

Coffee: Seattle Kraken followers have a top coffee shop, and that is Starbucks. Tim Horton's is number two and in fifth is Dunkin'. Dunkin' is an official sponsor of the NHL, and it will be interesting to see how they activate their brand in an area very loyal to Starbucks.
Congratulations to the team in the front office at the Seattle Kraken on a fantastic launch. We can't wait to see the amazing content you'll put out when you have a team on the ice!