Photo by Robert Ruggiero on Unsplash
The PGA Tour and the LIV Golf Tour both had tournaments on the weekend of June 9-12. The PGA Tour held the Canadian Open tournament, lasting four days, June 9th through 12th, while the LIV held its inaugural tournament in England, lasting three days, June 9th through the 11th. We will compare the owned social media performances of these two events.
We will begin with an overview of the events as a whole. The PGA Tour dominated everything when it came to Facebook and Instagram. They posted much more and generated high social value, impressions, and engagement numbers. LIV on the other hand struggled mightily on Instagram and Facebook comparatively and thus did not put forth a ton of content on those platforms. 91% of LIV's social media content for the event was on Twitter, while that number was only 68% for the PGA Tour. On Twitter, for the two events, the PGA Tour generated approximately four times the impressions, engagements, and social value that LIV generated. It is important to note again that the LIV tournament was only three days while the PGA Tour tournament was four, but the comparison is not close. Follower interaction is the only area where LIV outperformed the PGA Tour with a follower interaction rate of .602% compared to the PGA Tour's .051%. Overall, the PGA Tour performed vastly better because of a much wider reach and a greater number of posts.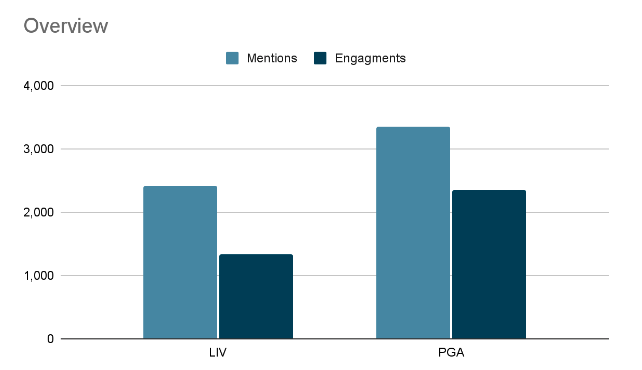 We will also quickly look day by day, to see the comparison from that standpoint. On Thursday, June 9th, the Twitter performance was quite interesting. The reach of LIV compared to the PGA Tour was 78,000 to 2,800,000, so not close at all. The PGA Tour posted more times on Twitter than LIV and generated 1.3 million more impressions, 10,000 more engagements, and a social value that was about $30,000 higher. LIV posted a small amount on Twitter and Instagram on day one, but the PGA Tour blew LIV out on all metrics regarding those two platforms.
On Friday the 10th, LIV had a few more posts on Twitter compared to PGA Tour, but the PGA Tour dominated yet again. With a reach triple the size of LIV, the PGA Tour had 2,000,000 more impressions, 20,000 more engagements, and $60,000 more in social value. The only metric that LIV performed higher on was follower interaction rate, where they were measured at .547% compared to the PGA Tour's .041%. LIV produced no content on Instagram or Facebook, so the PGA Tour generated another 5.7 million impressions and $190,000 in Social Value.
On Saturday the 11th, it was a similar story. LIV increased its reach to 110,000 but still came quite short of the PGA Tour's 2.8 million. The comparison of impressions was 6.1 million to 1.2 million in favor of the PGA Tour, which also generated 26,000 more impressions and $100,000 more in Social Value. Again, LIV did not post on Instagram or Facebook, so the PGA Tour amassed an additional 8 million impressions and $225,000 in social value.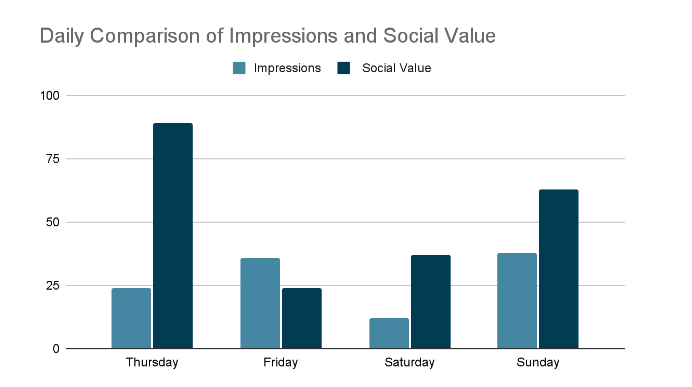 Lastly, we will take a look at  the top performing posts from both the PGA Tour and LIV and see how they compare. LIV's top performing posts were all from twitter and generated approximately $13,000 in social value respectively. The top performing post by impressions was an official statement by Liv that discussed the PGA Tour's decision to suspend players and can be seen here.
Official statement from LIV Golf pic.twitter.com/UBt4DpRdS4

— LIV Golf (@LIVGolfInv) June 9, 2022
This post accumulated 925,547 impressions and over 5,000 engagements.
The second highest performing post was a welcome to the tour post for Bryson Dechambeau.
Welcome @b_dechambeau 💪#LIVGolf pic.twitter.com/9zMvhrC84D

— LIV Golf (@LIVGolfInv) June 10, 2022
This post had a higher engagement rate of .718% as it accumulated 771,712 impressions and 5,543 engagements.
Now, let's take a look at the PGA Tour's top posts. It is interesting to note that the top 5 posts from the PGA Tour were from Facebook and Instagram while all of LIV's top performing posts were on Twitter. Again, it shows the superiority of the PGA Tour on those social media platforms. The PGA Tour's top 2 posts were from facebook, where the top post generated 2,250,921 impressions, 74,423 impressions, and a social value of $95,817. Interestingly, the PGA Tour's top performing Twitter post did not generate as many impressions as the top Twitter posts from LIV. This PGA Tour post highlighted a drive from Rory McIlroy, and it accumulated just under 700,000 impressions.
372 yards. Right down the middle.

Pure, @McIlroyRory 💪 pic.twitter.com/ccOrlxf4Eg

— PGA TOUR (@PGATOUR) June 10, 2022
However, while the impressions were lower, the engagements and Social Value were substantially higher. This Twitter post from the PGA Tour generated 8,843 engagements and a Social Value of over $24,000 which just about doubled the top post for LIV at under $13,000. Overall, this comparison shows that the PGA Tour is overwhelmingly dominant on Facebook and Instagram, and it also shows that the PGA Tour is much better at monetizing and creating value with their posts compared to LIV.
In conclusion, the glaring takeaway from this comparison is the fact that the LIV Golf Tournament is just getting started. The engagement and follower interaction rates are encouraging for LIV but they must expand their reach and learn to maximize the social value of their posts. For now, the PGA Tour is overwhelmingly the clubhouse leader when it comes to maximizing reach and being able to generate larger social numbers for brand partners.