This past weekend saw the conclusion of the final grand slam tournament of the 2019 tennis season. Congratulations to rising star Bianca Andreescu and absolute legend Rafael Nadal on their respective singles championships! However, they were not the only winners at the 2019 U.S. Open.
New Balance has cemented its brand status as a high performance running shoe, a highly reputable baseball cleat, and the ultimate "dad casual" sneaker. The brand has also reemerged in the basketball shoe market with the 2018 signing of reigning NBA Finals MVP Kawhi Leonard, but all signs point to their next major frontier: tennis.
Coco Gauff is the 15-year old phenom that is taking the women's tennis world by storm. Gauff rose to media prominence during Wimbledon this summer after defeating Venus Williams, in a student-becomes-master moment that captivated the sports world and propelled Coco into national conversation. With all of the attention surrounding her, we wanted to track the conversation around her brand deal with New Balance and measure the value that conversation was generating for the brand.
Social Summary


The feed collected 179 organic posts, generating 11.2 million impressions on social media and $343,000 in social value. Over the course of just 9 days, half of Coco Gauff's U.S. Open performance, she was able to generate significant conversation for New Balance Tennis.
Top Hashtags
You have probably seen the prominent New Balance ad featuring Coco that brought us the phrase, "Call me Coco."
This slogan has become her signature hashtag on Twitter and Instagram including use by the official @newbalancetennis account. Using Zoomph's Top Hashtags feature, #callmecoco was used in 416 posts about Coco Gauff and New Balance.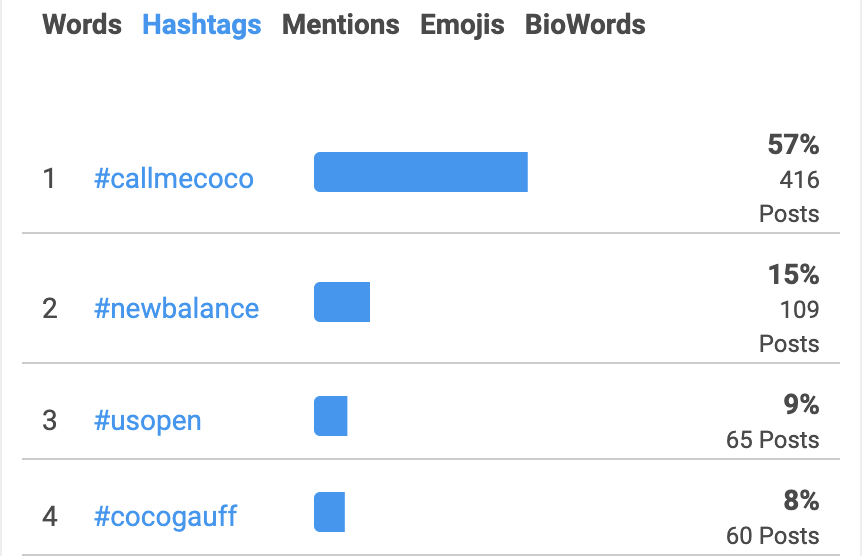 With inclusion in 57% of posts, it is clear that this hashtag is connecting with social media users. A brand partnership centered around one specific hashtag is important for aggregation of the conversation and can be the most visible way for a brand and social users to actually see the conversation about the partnership, #callmecoco does just that.
Final Thoughts
The upside of New Balance's partnership with Coco Gauff is astronomical. As her performance on the court continues to improve each tournament, the conversation surrounding her continues to grow as well. Especially with moments like this.
The above metrics were captured over a mere 9 days. If the Coco Gauff feed had been active for the entirety of the 2019 tennis season one can only imagine how much larger the numbers would be. As New Balance continues to capitalize on the growth, surely the brand will be able to add "Exclusive Footwear of Future Tennis Stars" to their list of successful footwear markets.