For a few weeks every summer NBA teams briefly get back into action for summer pre-season play. This year that included the California Classic, Salt Lake City Summer League and NBA 2K Summer League. These games give teams a unique off-season opportunity to showcase young talent and generate pre-season buzz on social media. 
Top 10 teams on social media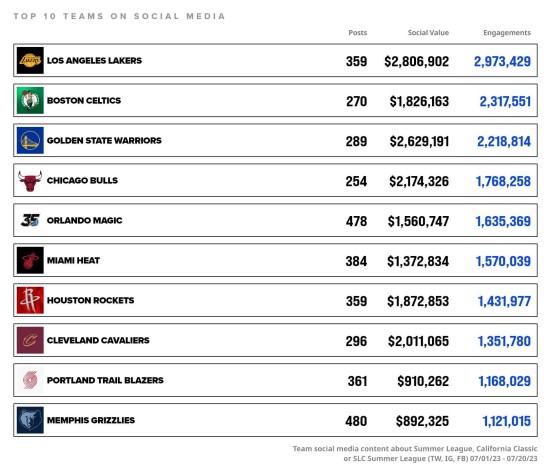 With the start of the season months away, several teams took advantage of Summer League to drive value and interest through social media. For these teams, their content about the Summer League paid off with millions of engagements across Twitter, Instagram and Facebook. 
Top 10 teams on instagram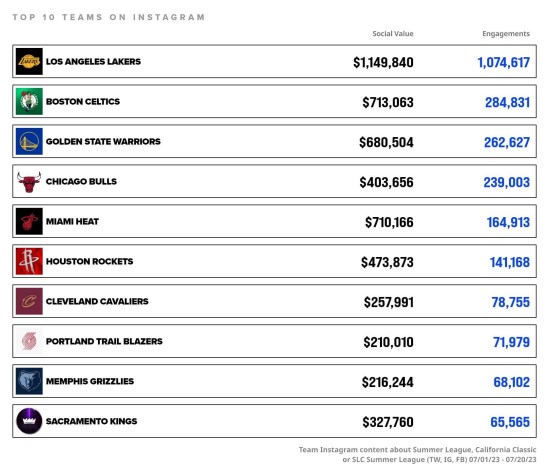 Even with a focus on new talent, big name teams like the Lakers, Celtics and Warriors dominated on Instagram during the Summer League. With some promising performances from players like Max Christie, the Lakers Summer League content was particularly successful.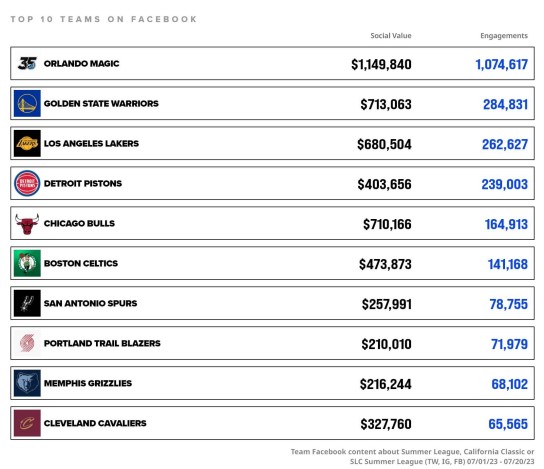 The Orlando Magic were social media standouts this summer, particularly on Facebook where they had by far the most engagement. The international spotlight on Filipino star Kai Sotto made a significant contribution to the impressive social media numbers of the Orlando Magic, helping them finish #1 on Facebook, #10 on Twitter and #5 for social media overall.
The moment that Filipino fans had been eagerly waiting for arrived during the Orlando Magic's fourth game against the Portland Trail Blazers, when Kai Sotto made his first appearance on the court. His post-game interview following this game became the most talked-about social media post on Facebook throughout the entire Summer League, sparking widespread positivity and enthusiasm.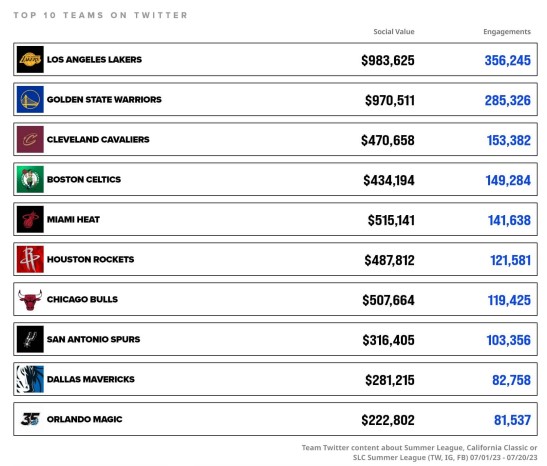 Anticipation for Victor Wembanyama made the San Antonio Spurs a popular account on Twitter this Summer League. The 2023 1st overall pick was featured heavily in the Spurs content, including their top five Summer League Tweets.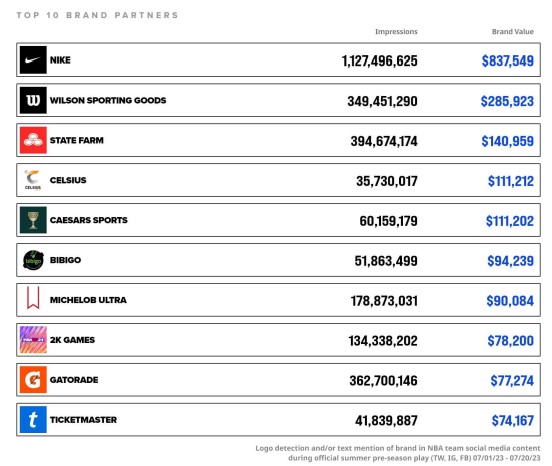 This year's Summer League, branded as NBA 2K24 Summer League, was an opportune time to promote NBA 2K24, which is set to release in September. As the title sponsor of the Summer League, 2K was mentioned or appeared in more than 750 posts across NBA team social media content.
As for team partnerships, the Dallas Mavericks excelled. Posts like this one unveiling their roster for the NBA 2K24 Summer League 2023 were sponsored by Celsius. They designed a logo featuring the Celsius brand which had been featured in the majority of their Summer League-related content. The collaboration between the Mavericks and Celsius held the highest valuation among team partnerships.
While the Summer League is usually missing the NBA's superstars, the expected future stars of the NBA often start their stories in the summer. Successful teams tap into this anticipation around young players to make the most of this major offseason social content opportunity.
Header Image: @SphereVegas YouTube