Uncategorized
How Two NHL Teams Have Gone the Non-traditional Route To Grow Fan Engagement
Who are the most talked about guys in the NHL, on Twitter? I'll give you a hint; it's not Alex Ovechkin, nor Sidney Crosby. One embraces the word "ugly." The other is probably the cutest thing next to Baby Ovi. The two most talked about items in hockey, especially on Twitter, are "Gritty," the Philadelphia Flyers mascot, and "Captain," the Washington Capitals team pup who is a vet dog in training.
Gritty was introduced to the NHL last year. What at first was seen as a risky marketing move, turned into a viral phenomenon within days! The Flyers and its fans embrace everything about Gritty. "He's ugly, but he's our ugly," said the Flyers VP of Marketing. Gritty is a genius idea and he markets himself. Not to mention, he has the most significant social presence out of all the mascots in hockey. Until a puppy named Captain got in his way. Let's check out how two of the NHL's teams have gone beyond the team to create and grow engagement with their fans.
Captain 
Captain made his debut on the Capitals Red Carpet on October 5th, and he has been trending ever since. He primarily has been the news on Twitter recently because he was crowned #HockeyHalloween champ by the NHL on Tuesday. Let's check out the buzz Captain has created for the Caps. 
*Warning: Content below may make you feel all the feels.
avengers assemble !!!!! #7daysofhalloween pic.twitter.com/t3B4eSyRQH

— Captain (@CapsPup) October 30, 2019
Social Summary  

Here's a breakdown of Captain's Twitter presence since his existence as the Capital's team pup. This data since NHL Opening Night just shows the social impact Captain has created. No ads, no sponsors, just all great content. In just the first month of hockey, Captain has generated nearly $974,000 in total impression and engagement value, and there is still a whole season ahead of us. 
Top Words, Hashtags, and Mentions 
How have the Captains been able to help grow Captain's "brand"? Through influencers. As you can see from our top words/hashtag/mentions summary, you'll see the Washington Nationals featured in all three. As the Nationals were striving to, and did so accomplish, "#FinishtheFight" in the World Series, the Capitals and Nationals have used Captain as a medium to continue to build what was already a strong inter-city sport relationship. The timing here has been perfect for both teams to help grow the next icon of D.C. sports.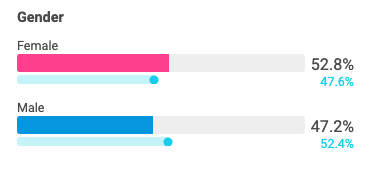 When looking at our audience report for Captain, what stands out is the gender balance. As seen from the image above, Captain's audience is primarily female, standing at 53% female to 47% male. In comparison, our NHL audience analysis shows overall, roughly 72% of the NHL league social audience is males. This leads us to believe that the Capitals saw the biggest marketing growth for Captain in this demographic and have certainly succeeded. 
Takeaways from Captain (of course, besides that he is adorable):
People LOVE dogs! This isn't the first time an NHL team has brought in a service pup to help raise until it is training, and we can almost promise it won't be the last. 

 

Using influencers to grow a brand is huge when it aligns with your goals. The Capitals have utilized other D.C. market teams, like the Nationals, to help grow Captains following and image into what it is, but they've also used the help of Capitals star, Alex Ovechkin. Finding out who aligns with your segment market and using them to benefit both parties is a great partnership to develop.

 

Create a plan and adapt. While it's unclear if the Capitals really intended to create a market with Captain around a majority female audience, it has. Being able to use strategy and adapt has enabled the Capitals to grow Captain's Twitter following to over 32K and counting.
Gritty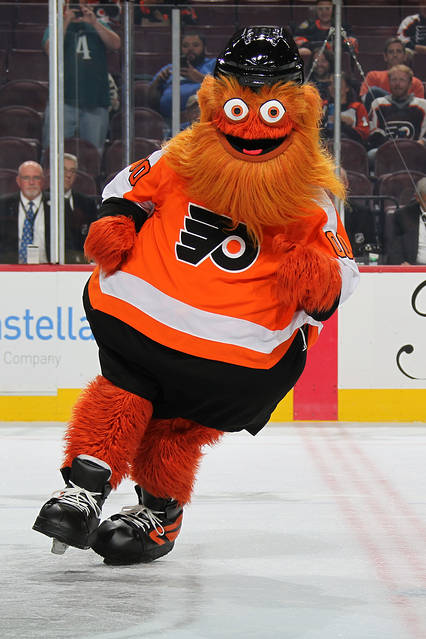 So how did Gritty become Gritty? Delaware native David Raymond, who dressed as the Phillie Phanatic for 16 years and founded the Mascot Hall of Fame, was behind the creation of Gritty. Within a week, he became the subject of Twitter memes, and late-night talk show jokes. No one knew how Gritty would fit into the well-known negative Philly sports fan base — or that he would become a viral phenomenon so soon. 
Gritty is like a French bulldog. Gritty is so ugly, which makes him "cute." Gritty's persona has indeed taken on a mind of its own. His Twitter feuds with other mascots are good clean fun, and his silly antics and witty banter make it so hard to not burst out in laughter. But perhaps the most crucial part is how much Flyers' fans have embraced him. Philly sports fans have dubbed themselves as the "us-against-everyone-else guys," and that's an environment Gritty thrives in.
Social Summary

As you can see from the summary above, Gritty has less engagement compared to Captain so far this season, likely due to Captain's "new-ness", but it's still very much so impressive. Gritty has garnered a social value of over $530,000 this year and that number grows with each Gritty post. 
Top Words, Hashtags, and Mentions 

Looking at our top words/mentions/hashtags report likewise for Gritty, a few things stand out here. The first being that one of the top words for Gritty is "ugly". This goes back to Philadelphia's embracement of what Gritty is. He's ugly and everyone knows it. But that is his brand that has been created and it has been embraced. Being able to develop this persona for Gritty and getting it to stick was a bold move but it paid off in the end for the Flyers' team.
Another thing you will see is that @TheSimpsons is the top mentioned account after Gritty himself and the Flyers official account. In late October, Gritty tweeted a picture on Twitter, tagging the Simpsons, showing a purple Gritty from a cell phone. Is there a common likeness between Flyers fans and The Simpsons fans? Good question, but nonetheless, it worked, with the post getting over 7K likes. Nonetheless, the fact The Simpsons were willing to use the likeliness of Gritty in a Halloween special episode shows 1. that Gritty has national brand recognition and 2. is deemed as scary for Halloween, again flowing into the persona of who Gritty is.
Takeaways
:
Be bold! The Flyers' organization had been long without a mascot and they didn't hold back with Gritty. Nobody could have 

actually thought

 Gritty "looked good", but he works because he has a personality that suits his looks. 

 

Embrace your strategy. As 

mentioned

 and shown multiple times, although just a mascot, Gritty has his own persona. The Flyers' let this persona mold into its own following the 

reveal

 of Gritty, one that took a few days to 

actually be

 embraced, but once he showed his antics, it was over; Gritty won the love of Flyers' fans.

 
Conclusion:
The biggest takeaway from this analysis is the true value these two accounts have created for their teams. The near 2:1 ratio on impression value to engagement value for both Captain and Gritty is what speaks volumes to us. Generally speaking, when analyzing other audiences, the impression value to engagement value is roughly 5:1-15:1. Yet, at least on Twitter, both Captain and Gritty fall into ratios much more favorable for engagement. It cannot be denied truly what these two accounts have created for their respective teams and fanbases.
Even if you are not a Captain, Gritty, nor an NHL fan in general, these guys are worth the follow on Twitter, because, especially in Gritty's case, you never know what you are going to get. Both are putting up impressive numbers, and it's still only October—there are seven more months of hockey! Let's see if Gritty can top Captain's numbers as the season progresses.   
For more social analytics and stories regarding all things sports and social, follow us on Twitter @zoomph or check out our website Zoomph.com.