Back-to-back Formula 1 races to kick off 2022 – how lucky are we? While it'd be tough to beat all the drama of Bahrain, the Saudi Arabian Grand Prix still delivered an exciting weekend of F1 racing, and our analyst Geoffrey Blosat did some back-to-back work of his own with another data report recapping the weekend on social.
Off Track Social Standings
This week once again saw race results directly reflected in the F1 team social standings, with Red Bull moving up the ranks, but a scary crash by Haas driver Mick Schumacher during qualifying also had fans showing their support via Haas' social channels.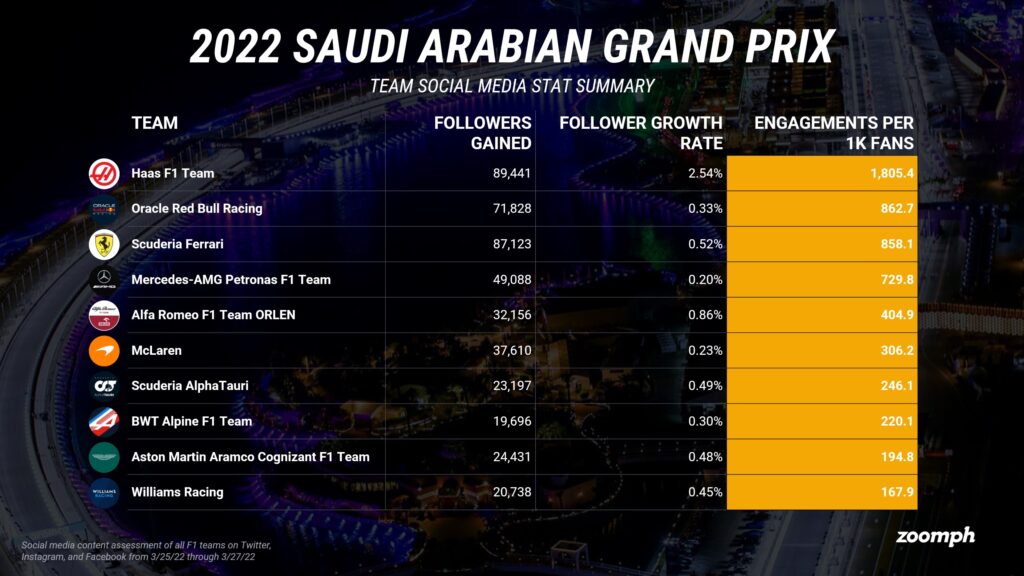 For the second week in a row Haas led all teams in engagements per 1K fans and follower growth across Twitter, Instagram and Facebook. Haas used their socials to update fans after Schumacher's accident on Saturday. Coupled with a P9 finish in the points for lone driver Kevin Magnussen on Sunday, Haas received lots of love from Formula 1 fans throughout the weekend.
Great to see Mick already back at the track this afternoon!#HaasF1 #SaudiArabianGP pic.twitter.com/kARlTXEBsi

— Haas F1 Team (@HaasF1Team) March 27, 2022
After last week's zero-point finish, a pole position qualifying lap by Sergio Perez and race-winning weekend for Max Verstappen gave Red Bull a massive boost on social. They were the only team to improve their social performance across the board from last week, upping their engagements per 1K by 89% to take the #2 spot.
Following The Race On Twitter
Without the hype of kicking off a new season, there was a small 15% dip in Twitter activity surrounding the weekend, but overall the Saudi Arabian Grand Prix still held plenty of fans' attention with over 1.7 billion impressions. Compared to last year's second race, the Emilia-Romagna Grand Prix in Italy, activity was up 60%, more evidence of F1's massive global growth.
Qualifying drove driver mentions in Jeddah, with Sergio "Checo" Perez's pole position qualifying session helping make him the most mentioned driver of the weekend.
Que grande @SChecoPerez #PolePosition 👏🏼👏🏼👏🏼👍🏼👍🏼👍🏼

— Rafa Marquez (@RafaMarquezMX) March 26, 2022
On the flipside, users also logged on to discuss teams and drivers who struggled. Even with Mercedes' disappointing weekend, they were the most mentioned team with over 469K Tweets tagging them. Another tough moment from the weekend, Mick Schumacher's crash on Saturday, had fans checking social for updates, with Haas' Tweet confirming he was okay earning the highest engagement.
We've heard that Mick is conscious, out of the car and currently on his way to the medical centre. #HaasF1 #SaudiArabianGP #Quali

— Haas F1 Team (@HaasF1Team) March 26, 2022
Brand Performance
Our Logo AI technology had another busy Grand Prix, and just like in Bahrain, the top-performing team on track racked up the most brand value for their sponsors. However with overall social activity down, total brand value also dipped compared to Bahrain. Unlike last week, no brand earned over $1M in social value.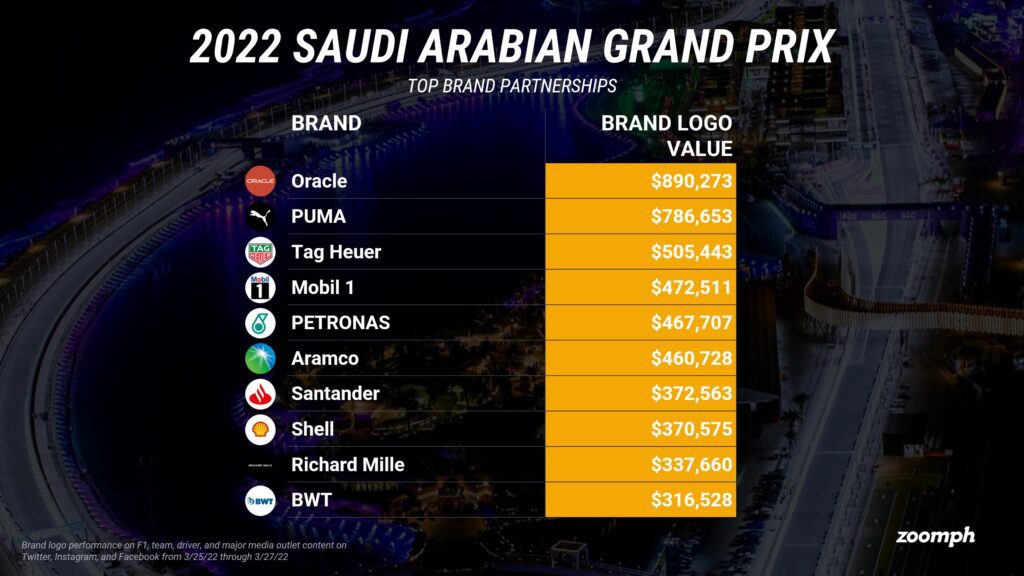 With pole position secured on Saturday and a P1 finish on Sunday, it's no surprise Red Bull's title sponsor Oracle earned the most brand value. Looking at how logos performed on different assets – cars, suits, hats, helmets, etc. – we were able to see which logo placements maximized value. While cars are obviously center stage during the race, on social shots of drivers and teams in racing suits and other branded apparel drove up value significantly. Compared to appearances on the car, Oracle's logo performed 4.3x better on Red Bull clothing and racing suits. Other Red Bull sponsors that made the top ten were Puma, Tag Heuer and Mobil 1, all featured prominently on the chests of Sergio Perez and race-winner Max Verstappen.
Puma, an outfitter for Red Bull, Mercedes and Ferrari, held steady in value week-to-week despite less social activity, dropping only slightly from $849K+ in Bahrain to $786K+ in Saudi Arabia. Track-lining GP sponsor Aramco and Alpine's very pink partner BWT were other notable newcomers to the top sponsors this week.
Audience Shifts In Jeddah
This weekend showed how an individual driver can make big waves on social. In Jeddah, that driver was Sergio Perez. Earning pole position on Saturday drummed up social participation from his core fan base in Mexico, making it the top country for the weekend. Compared to Bahrain, the Mexican audience grew by 166% as Checo's fans celebrated his qualifying session. As a result, Saturday's audience was 21% more likely to be from North America, but on Sunday the audience shifted back to a European majority.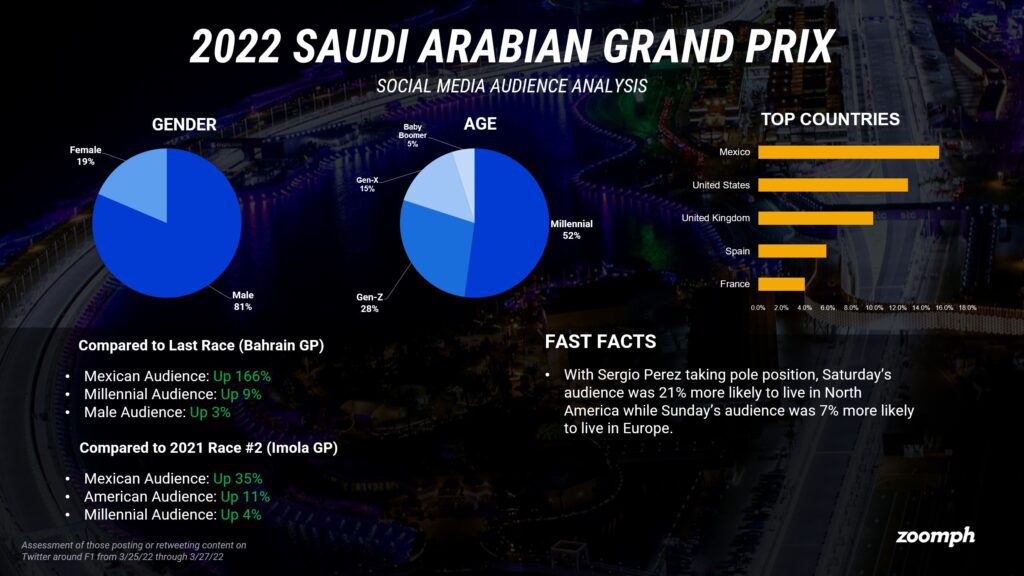 We have a weekend off from F1, but rest assured we'll be back for the Australian Grand Prix in a couple of weeks.