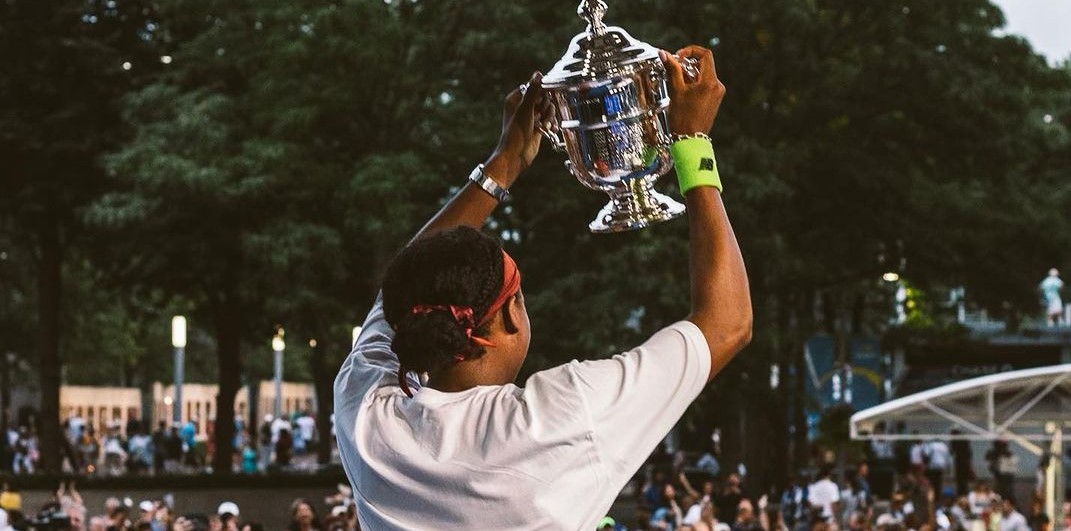 Data & Insights
Call Her Coco Gauff: The US Open Launches New Face of American Tennis
The new face of American tennis is here, and her name is Coco Gauff. 
With her first singles major win at the 2023 US Open, the 19-year-old tennis phenom became the star of the tournament and a star, period. Gauff has been making waves since she made her WTA debut and won her first WTA Tour title in 2019 at fifteen years old. Fast forward to 2023 and Coco Gauff has been on an absolute heater. Heading into the US Open, she had just won the DC Open and Western and Southern Open. Expectations were high, and she delivered.
From start to finish, Coco Gauff's championship run in New York was fun to watch. While millions tuned in to full match broadcasts, millions more followed along via social media.
The US Open Chronicles Coco
US Open social media accounts shared all the biggest stories from Coco Gauff's title journey. From entertaining interviews to incredible match moments, fans online got to see her best bite-size moments.
Match-to-match the social performance for the US Open varied on Coco Gauff's match days, likely depending on what the full slate of matches was for each game. Besides the finals, her contentious Round of 16 against Caroline Wozniacki and dominant quarterfinals were other tournament peaks on social. For the women's singles finals on Saturday, the US Open's engagement, impressions and social value skyrocketed.
An American winning at the American Grand Slam? The US Open couldn't write a better script. As a result, they earned over 160 million impressions and 5.36 million engagements across social media, equating to $4.8M in social value the day of the finals.
Engagement for the women's finals across Twitter, Instagram and Facebook was slightly lower than the men's finals on Sunday, but social media exposure hit a tournament high, helping make it the most valuable day on social media for the US Open. Compared to the US Open's social performance for the Novak Djokovic's win, Gauff's big day earned 18% more social media impressions and 12% more social value.
Thanks in large part to the active US Open TikTok, for two weeks seemingly everyone was on 'TennisTok' – a tennis-centric side of TikTok that blew up during the US Open. The tournament's official account managed to break multi-hour tennis matches down to quick clips perfect for TikTok. Interview sound bites, fantastic points, celebrity crowd shots and more flooded 'For You' pages, creating several viral moments and accumulating over 404 million views.
There were several standout players and moments throughout the tournament, but Coco Gauff was definitely a star on the US Open's page with tons of videos highlighting her personality and play. In total, US Open TikToks about Gauff accounted for 130 million views, over 32% of their total TikTok viewership.
Based on the US Open's engagement for Coco Gauff's big moment, fans loved seeing her come across their 'For You' page. TikToks about the women's singles finals alone earned over 77 million views, 10.3 million engagements and $10 million in social value. Compared to TikToks for the men's finals, these videos had 59% more views, 4.1x more engagements and 3.8x more social value. 
Coco Gauff Becomes A Social Superstar
Long before the US Open, Coco Gauff was already one of the most active pro tennis players on social media, regularly posting to Instagram, Twitter/X and TikTok. As she made her way through the tournament, her starpower only continued to grow as everyone was eager to support the new American tennis icon.
After qualifying for the finals, Coco Guaff's Instagram passed 1 million followers. After winning the US Open, she now has over 1.4 million followers. In total, Gauff gained around 552K Instagram followers during the US Open, a 60% increase. Her Twitter/X profile also jumped 23% and her TikTok following, where she's truly a star, more than doubled. Across the three platforms, she earned around 925K new followers while playing in Queens. 
The Gen-Z tennis phenom has mastered TikTok, evidenced by the virality of her post-win videos. Gauff's four TikToks from the US Open racked up over 18.3 million total views as of the Tuesday after her win. With 4.28 million engagements, the total social value of these TikToks is a stunning $4.05 million.
New Balance's Brand Moment
Coco Gauff has been a New Balance athlete for her entire professional career, signing with the athletic brand in 2018. Beyond appearing in ad campaigns and repping the brand in every tournament, she released a shoe with them in 2022 – the New Balance Coco CG1. 
Of course, she wore a couple full New Balance looks and her signature shoes during the US Open, but the real brand moment for New Balance came after she won. 
Immediately after winning, New Balance was ready, immediately distributing 'Call Me Coco Champion' to her family, friends and coaches. An update of the 'Call Me Coco' shirt released after Gauff made headlines at Wimbledon in 2019, the new (now sold out) shirt popped up all over social media and was available on the New Balance website right away.
Clips of her dad in the shirt went viral as she talked about him in her post-match interview. The US Open's TikTok alone has over 4.6 million views, with media outlets like ESPN also sharing the clip. In one post the US Open even pointed out the shirt directly. 
Of course Coco posted in the shirt as well, showing off the now iconic tee on Instagram and sharing the link to buy it on her Instagram story. It also made a cameo in a TikTok with over 1.8 million views.
Sports are full of magical moments, and an American teenager winning her first major at the US Open certainly qualifies as one. Although she was already a star in the tennis world, with the excitement around her US Open title Coco Gauff is now ascending into a new level of notoriety.