Purpose drives value. Angel City FC is proof.
In their first year, Angel City FC has gone above and beyond typical expectations of a new sports franchise, women's or otherwise. People paying attention to the growth of the NWSL and Angel City's build-up to 2022 shouldn't be surprised at their incredible inaugural season, but nonetheless they serve as an example for the women's sports world and beyond.
In order to better evaluate their success relative to the global sport ecosystem, we projected the yearly post value per 1000 fans for Angel City FC – $13,728. Comparing this to the NWSL, top Premier League teams, top European women's soccer teams and top American franchises like the Yankees and Cowboys, Angel City came in THIRD!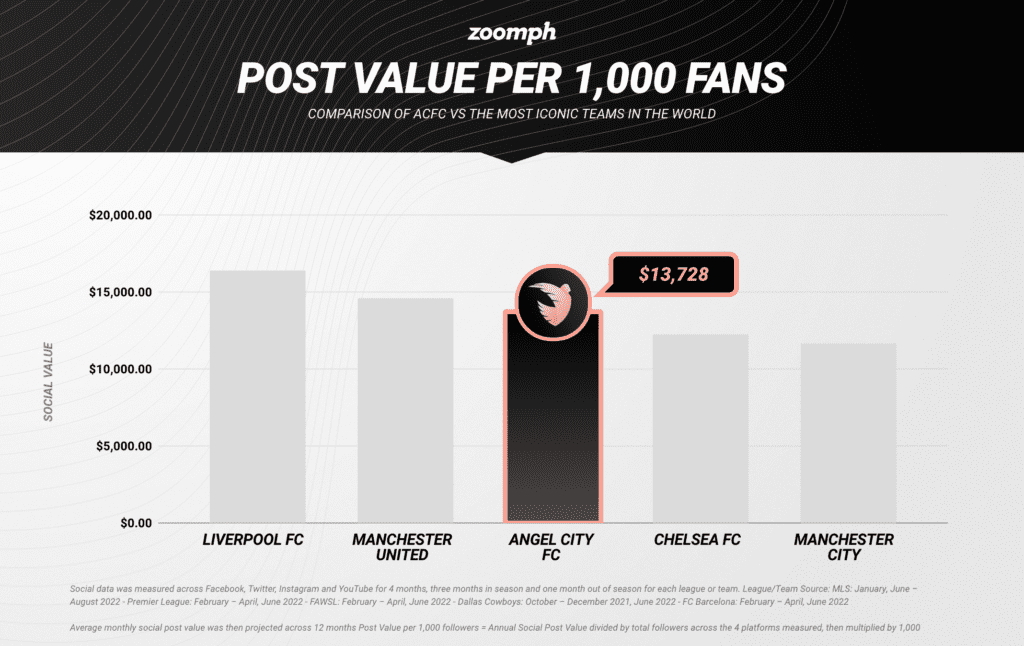 This metric allows us to benchmark Angel City's post value relative to the size of their social audience. With this, we can see although they have a smaller fan base on social media (for now…), it's more engaged than many major franchises, in soccer, men's sports and more, maximizing value for investors and partners. Only Chelsea FC and Manchester United were ahead of the nascent NWSL team.
How did they achieve this? They said it best.
We are building a different type of organization – where mission and capital come together.
Purposeful investment combined with excellent vision drives results, and Angel City was able to create effective social content with their mission in mind. In the digital age, franchises thinking like a media brand as well as a sports team is key for future success. Do your best to win on the field, of course, but also create a valuable and purposeful product off the field for sustained fandom.
Angel City FC gets it, setting a precedent for women's sports, expansion teams and the future of the sports industry.