What a weekend it was at the US Open! Over the weekend we witnessed a first-time Women's Champion where 19-year old Bianca Andreescu outlasted a comeback from the legend Serena Williams to hoist the trophy for the first time soaring up the world rankings to 5th overall. On the men's side, we saw an epic battle from Rafael Nadal as he beat Daniil Medvedev in a five-set final that lasted 4 hours, 49 minutes and landed him his 19th major title.
As you can imagine, these two finals and the entire US Open exploded across social channels and we used the Zoomph platform to measure and analyze content around the US Open.

Social Summary
The Social Summary shows us just how active the conversation was around the US Open. Individuals took to social to share in the event, share their fandom, talk about the matches and participate in the history that was made producing over 627.K organic posts and an amazing 46.3B impressions.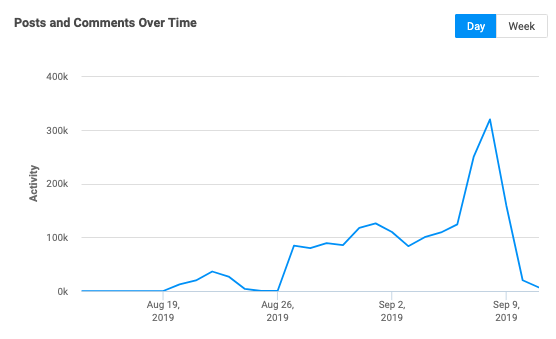 Top Activity
As we might expect, the final two matches in singles play produced the most activity on social channels. While semi-finals also produced a lot of activity, September 1, which saw one of the top men's seeds (Novak Djokovic) and one of the women's (Ashleigh Barty) bow out produced over 125K posts.
The US Open
The US Open has built itself into an in-demand event with sponsors. According to Ad Age, there were 22 official sponsors at this year's U.S. Open and in 2018, the two-week-long event generated $65 million in sponsorship deals. Attendance is up, with a record 737,872 fans going through the gates to watch matches and as we have noted, social participation was also explosive.
This year's event drove in over $253.2M in social impression value and provided significant returns for some of the top sponsors of the event including ESPN, the official broadcast partner, AMEX, a top tier partner, and IBM and Deloitte second-tier partners as seen in the table below:

Bianca Andreescu – The Breakout Star
First-time women's champion, 19-year old Bianca Andreescu also saw an amazing online buzz, generating 3 Billion impressions during her amazing run to the trophy. With over $19.8 Million in social impression value, brands will be lining up at her door to work with her as her career takes off. Not only a target for brands from her home country, Canada, Andreescu is also building a brand that will be attractive to a global audience who is watching this resurgence of tennis in record numbers.

For more social insight stories in sports and entertainment, check out our blog on Zoomph.com or follow us on Twitter @Zoomph.