With 2022 just around the corner, Zoomph figured it's time to reflect…on big social moments that is. We took a look at each major league to find their most viral post based on impressions.
MLB: Field of Dreams Intro Video
Impressions: 36,175,281
Engagements: 376,490
Engagement Rate: 1.04%
Social Value: $1,037,498
MLB's Field of Dreams intro video was a social and cinematic masterpiece starring Kevin Costner, Aaron Judge and lots of corn. The Facebook post had 36 million impressions while the nearly 5-minute video has accumulated over 8.1 million views.
MLS: NYCFC Thiago Goal
Impressions: 18,344,364
Engagements: 593,534
Engagement Rate: 3.24%
Social Value: $956,913
Honestly, when doesn't a slow motion soccer goal play on social media? New York City FC had massive social success with over 18 million impressions on a clip of Thiago Andrade's impressive race down nearly the entire field for a goal.
NASCAR: Memorial Day Tribute at Charlotte Motor Speedway
Impressions: 5,055,778
Engagements: 218,425
Engagement Rate: 4.32%
Social Value: $322,413
NASCAR's viral moment was a video of a touching tribute for Memorial Day at Charlotte Motor Speedway. A 4.32% engagement rate shows that fans appreciated NASCAR taking the time to recognize fallen military personnel.
NBA: Steph Curry 62-Point Game
Impressions: 25,681,721
Engagements: 247,062
Engagement Rate: 0.96%
Social Value: $449,008
The NBA tapped into one of their biggest stars to make a big splash on social early in 2021. Steph Curry scored 62 points against Portland, and the post scored over 25 million impressions on NBA's Facebook.
NFL: Patriots Release Cam Newton
Impressions: 23,545,493
Engagements: 79,029
Engagement Rate: 0.34%
Social Value: $253,853
The Cam Newton saga has been a major football story for 2021. NFL's post when the Patriots released Newton right before the start of the season naturally drew eyeballs, over 23 million sets of them on Facebook alone.
NHL: Mat Barzal Dice Art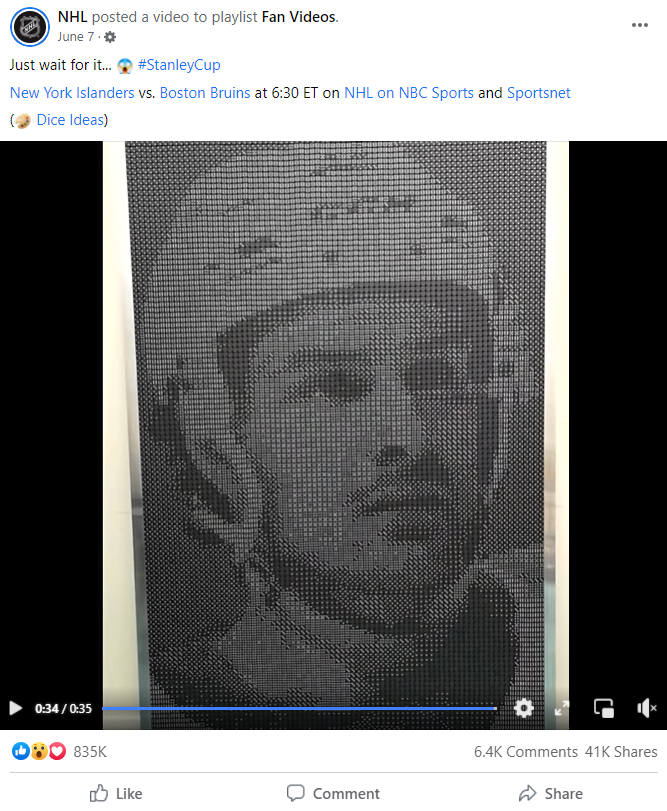 Impressions: 129,854,654
Engagements: 785,743
Engagement Rate: 0.61%
Social Value: $3,118,897
Thank goodness this video found some viral success, because this dice art looks like it took a lot of time. Coupled with the fact that it was the Stanley Cup Playoffs, the $3.1 million of social value and nearly 130 million impressions seems fitting.
NWSL: OL Reign Le Sommer Goal
Impressions: 10,226,060
Engagements: 185,477
Engagement Rate: 1.81%
Social Value: $350,044
Again, fans love a slo-mo goal. Add in Eugénie Le Sommer breaking a defender's ankles and social success was pretty inevitable for this clip. OL Reign's post beat the rest of the league with over 10 million impressions and more than 185,000 engagements.
PGA Tour: #TOURVault Jonathan Byrd Hole-In-One
Impressions: 45,724,706
Engagements: 240,245
Engagement Rate: 0.53%
Social Value:$1,059,250
PGA unlocked the #TOURVault for their big social moment, a walk-off hole-in-one from Jonathan Byrd on the 2010 PGA Tour. Repurposing their old content built hype for the same Shriners Children's Hospital Tournament happening that weekend and generated a quick $1M+ dollars in social value.
PHF: Boston Pride Win Isobel Cup
Impressions: 148,460
Engagements: 3,580
Engagement Rate: 2.41%
Social Value: $4,073
Fans love celebrating a championship on social media, so it makes sense that the Boston Pride's post about winning the 2021 Isobel Cup had the most impressions for the league and a solid 2.41% engagement rate.
PLL: 9/11 Welles Crowther Memorial Post
Impressions: 324,817
Engagements: 62,358
Engagement Rate: 19.20%
Social Value: $158,981
A sentimental post remembering 9/11 and honoring 9/11 victim Welles Crowther, a former Boston College lacrosse player, reminds us of social media's power to share important stories and honor outstanding individuals beyond the field.
WNBA: Scripps Spelling Bee Champion's Basketball Skills
Impressions: 49,976,017
Engagements: 379,482
Engagement Rate: 0.76%
Social Value: $1,225,896
The WNBA's big moment centered around the Scripps National Spelling Bee Champion, because why not! Zaila Avant-garde's skills at spelling and hoops got a shoutout from the WNBA that accumulated just shy of 50 million impressions.
That's a wrap on 2021, but Zoomph will be keeping an eye out for more viral content in 2022!