Build an Engaged Fan Base
Starting from scratch as a franchise, Charlotte FC used social media as a tool to build their fan base before and during the 2022 season. Once they had these fans, they needed to continue creating content that would keep them locked in, even after the excitement of having a new team in town wore off.
Action: Charlotte FC creates the content, Zoomph measures its effectiveness. 
Throughout the season Charlotte FC leaned into the fans, on-field wins and the atmosphere of the MLS experience to inspire their content. Using Zoomph, they focused on metrics like engagement rate to analyze what content worked and make subsequent content decisions. 
Result: A creative and successful social strategy that captured major moments. 
Charlotte FC finished the season with the highest engagement rate in MLS on Instagram and 3rd highest on Twitter. Their social media successfully celebrated big fan moments, like breaking the MLS attendance record at their inaugural match, and creatively highlighted team wins, like posting a crushed Red Bull can after beating the New York Red Bulls.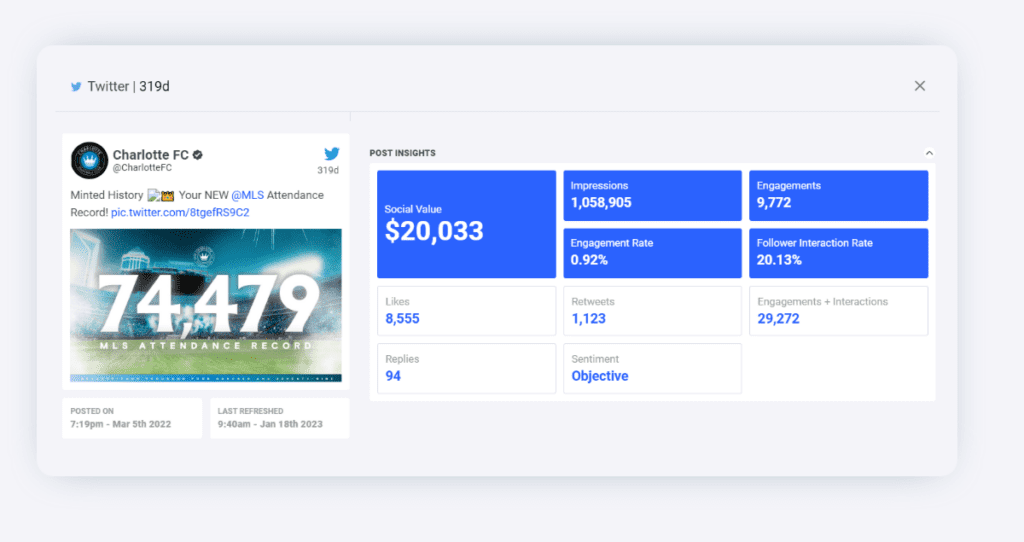 Zoomph provides comprehensive metrics for every social post, as seen here with Charlotte FC's Tweet celebrating a new MLS attendance record.